Protesters Continue Amid Threat of Lawsuit From Private Prison Company GEO Group
"They thought this letter that has no legal standing would scare us into hiding. It's going to take more than that," explained Phillip Agnew, co-director of the Dream Defenders.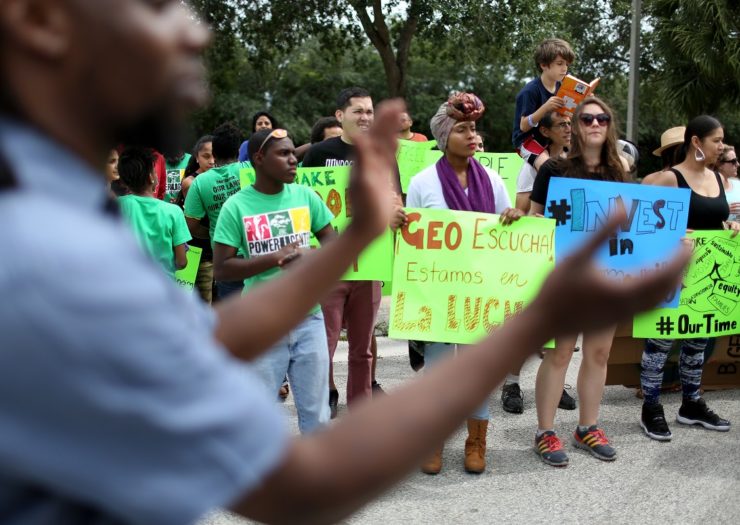 Days after receiving a cease-and-desist letter from the nation's largest private prison company, a civil rights organization has moved forward with its nationwide protests against GEO Group.
"The thing I found most striking is how much they underestimate us and how much we possibly overestimate their intelligence," Phillip Agnew, co-director of the Dream Defenders, told Rewire.News in a phone interview early this morning. "They thought this letter that has no legal standing would scare us into hiding. It's going to take more than that."
The 16 actions taking place in more than a dozen cities today are part of a months-long campaign that first launched in Florida by the Dream Defenders. In late July, the group released a video called "Dream Killers," featuring a young member of the group named Yaya the Awesome. She begins the video saying she is "on a mission to expose the people" who don't want her to "grow up and be free," and then goes on to clarify how the GEO Group is a "dream killer" for communities of color and poor white people, in conjunction with lawmakers enacting policies that continue the cycle.
As part of its campaign, the Dream Defenders has also successfully pressured the Florida Democratic Party to pass a resolution to ban political donations from private prison companies like GEO, which is headquartered in Boca Raton and is reportedly "one of the most powerful political donors in Florida." All four of Florida's major Democratic candidates for governor have signed the Dream Defenders' "Freedom Pledge" vowing not to accept funds from private prison companies. Some unexpected elected officials have also signed on, including Rep. Debbie Wasserman Schultz (D-FL), who in 2011 signed a letter in support of a private-prison company building an immigrant detention center in Florida. 
Roe has collapsed and Texas is in chaos.
Stay up to date with The Fallout, a newsletter from our expert journalists.
Agnew said that while the Trump administration's inhumane immigration policies have made many people in the United States aware of the injustices perpetuated by private prison companies, it's important to understand the larger systems at play.
"Private prison companies have flourished under many presidents since the 1980s, including President Obama, President Clinton, and President Bush. Donald Trump is a particularly polarizing figure, and a fool, so it makes it quite easy to tie this to him. But for years, each president has been a part of growing this machine and this system," Agnew said.
"We have ignored these companies for too long and they are poised to continue making millions, if not billions of dollars, because we haven't found answers to address peoples' basic life needs like food, shelter, and work. People need to understand that historically, the [immigration and mass incarceration] systems have ensnared Black and Latino folks, but poor white people are also being ensnared in this. Once something is privatized, as these systems are, it's all about greed and money; they are the sole driver. These systems do not care about your humanity."
Agnew explained that for six years the organization has been speaking out against the influence of "dirty money" on Democrats in Florida, and that it has received a great deal of pushback for "attacking the wrong side." This even though, according to Agnew, "Florida Democrats have taken more money from the GEO Group than Republicans in other states."
Agnew said he "strongly believes" that when Democrats brand themselves as "representatives of the community," they should live up to that. Today's protests are a sign to the co-director that "everyday people" are beginning to learn about the influence of private prison companies and beginning to see that mass incarceration, detention, deportation, and the separation of families "are not enacted by a ghost."
"There are real people who run real companies and they make very real money doing this work. Every day people are learning about this, and they are standing up. What you will see today is people fighting back," Agnew said.
Yesterday, protesters set up camp outside of CoreCivic, the second largest private prison company in the United States, headquartered in Nashville. The protesters told reporter Natalie Allison they planned to remain in place until "CoreCivic is abolished." Ashley Dixon, who identified herself as a former CoreCivic guard, participated in the protest. Dixon told Allison she quit the private prison company eight months ago because she "witnessed two people die due to medical neglect," though the two men she cited have not been confirmed as in-custody deaths by Immigration and Customs Enforcement (ICE).
GEO Group is ICE's single largest contractor, with more than $400 million in federal contracts to run private prisons and detention centers. The group, which a lawsuit alleges made an illegal $225,000 donation to a pro-Trump political action committee in 2016, has flourished financially under the Trump administration, despite having a long history of in-custody deaths and other human rights abuse cases, including allegations of torture.
In organizing its campaign to shut down GEO, the Dream Defenders garnered the attention of the private prison company. On Friday, attorney Carolyn P. Short, who once was one of Philadelphia's "most feared corporate defense attorneys," according to a Forbes profile, sent a cease-and-desist letter to the Dream Defenders on behalf of the GEO Group. Short is known for routinely subpoenaing psychiatric records "as far back as ten years" if a plaintiff said their workplace was hostile and characterized a "vast majority of discrimination cases" as "hogwash," reported Forbes.  
"It is clear that Dream Defenders published knowingly false statements regarding GEO in an attempt to incite others to engage in potentially violent and harmful behavior directed at GEO facilities," Short's letter read. The Dream Defenders responded to the letter with a point-by-point defense, backing up each of the accusations to show that GEO is complicit in separating families; caging children; putting Black, Latino, and poor white people in jail; and influencing the U.S. political system. 
"You had the audacity to allege that the Dream Defenders, a group of young people of color who are advocating for our basic human rights, are exhibiting 'threatening and violent behavior toward GEO,'" the Dream Defenders' response said. "We are advocating the end to your harmful and violent carceral behavior, which countless news reports, lawsuits, and government investigations have already established."
Agnew said he didn't find Short's letter "threatening at all."
"Just like they are a real company with real people and real CEOs making millions of dollars off of our tax dollars to inflict real human suffering, we are real committed to fighting back," he said. "Reading their letter, collectively I think it filled us with joy. It showed that this company has flourished under a shroud of darkness and just a smidgen of light on what they've done has scared them into looking foolish."