Some States Ignore Black Maternal and Infant Mortality Rates. Not New Jersey.
"We have failed to reach communities of color with services that we know have worked for a broader population, especially for Caucasians, especially for people of higher income."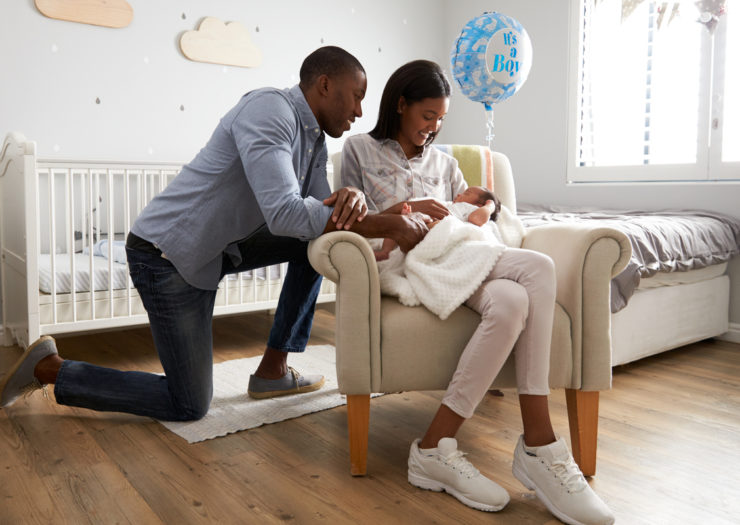 A Black infant in New Jersey has two to four times the likelihood of dying within the first year of life as a white infant, and Black women are more than four times more likely to die from pregnancy-related complications as white women.
That's "inexcusable," said Dr. Shereef Elnahal, New Jersey's health commissioner. 
As the nation faces a stark gap in access and health care for Black mothers and infants, the Garden State recently allocated more than $4 million to six maternal and child health centers to help close it. The state has one of the lowest infant mortality rates in the United States (4.7 per 1,000 live births versus 5.9 per 1,000 live births in 2015) but the numbers spike when it comes to Black infant mortality (9.7 per 1,000 births as opposed to 3.0 per 1,000 births for white infants).
"We have failed to reach communities of color with services that we know have worked for a broader population, especially for Caucasians, especially for people of higher income. So we know we should do better by these women and their families," Elnahal told Rewire.News.
Roe has collapsed and Texas is in chaos.
Stay up to date with The Fallout, a newsletter from our expert journalists.
"It's a priority because New Jersey is falling short and has fallen short for many years," Elnahal said.
The funding for the Department of Health's "Healthy Women, Healthy Families" initiative will help save lives by making sure the community collaboratives selected for the grant refer Black women to essential services like prenatal care, home visiting programs, and early childhood resources.
New Jersey is ahead of the game on maternal mortality while legislators in New York are struggling to create a review board. The Medical Society of New Jersey initiated a maternal mortality review in 1931 and partnered with the Department of Health in the early 1970s. In 1999, they revised the maternal mortality review process to include a multidisciplinary review of maternal deaths using the CDC definitions of pregnancy-associated and pregnancy-related deaths. New Jersey has collected years of critical data to show the root causes of the high mortality rate—preeclampsia, hemorrhage, and morbidity with cesarean sections.
States have long struggled with maternal mortality rates, with the exception of California, which has focused to reduce the common serious complications by adapting care and monitoring.
Reports indicate that the United States is the most dangerous place in the developed world to give birth, with up to 60 percent of hypertension-related deaths and up to 90 percent of hemorrhage-related deaths are preventable with proper care, according to USA Today. The report fails to mention that Black women are three to four times more likely than white women to die from pregnancy-related complications.
The issue has lately received national attention and it's "very encouraging" to see New Jersey officials take a proactive stance, said Nadia Hussain, maternal justice campaign director at MomsRising, a grassroots organization focused on maternal health and justice.
"Even though it's great that we are seeing some national push for attention, the solutions are not just federal. There really needs to be an investment by the state and local communities to really hunker down, connect with communities, and really address the problem on the ground as well as in the hospitals in the state," Hussain told Rewire.News. "It's very encouraging to see New Jersey and Gov. Murphy's administration tackling this issue head on and not waiting for federal legislation to pass—like California."
The situation is particularly dire in Texas, where GOP legislators are ignoring that pregnant Black women are dying at a higher rate than the rest of the US.
New Jersey's commitment, meanwhile, could be a model for the nation.
Officials say the $4.3 million is spread among six community-based organizations from across the state, with a focus on high-risk areas:
$1,241,389 – The Partnership for Maternal & Child Health of Northern New Jersey (Bergen, Morris, Passaic, Union and Hudson counties; cities of Paterson and Jersey City)

$684,904 – Central Jersey Family Health Consortium (Middlesex, Somerset, Hunterdon and Mercer counties; city of Trenton)

$770,517 – Greater Newark Healthcare Coalition, Inc. (Essex County and the municipalities of East Orange, Irvington and Newark)

$171,226 – Project Self-Sufficiency of Sussex County (Sussex and Warren counties)

$1,112,969 – Southern New Jersey Perinatal Cooperative (Atlantic, Cape May, Salem Gloucester, Cumberland, Burlington and Camden counties; cities of Atlantic City and Camden)

$299,646 – The Children's Home Society of New Jersey (Monmouth and Ocean counties)
This investment represents the commitment of the Gov. Phil Murphy (D) administration to ensure healthier outcomes for women and their babies, New Jersey first lady Tammy Murphy said in a statement. "I find it shameful that race persists as a factor in maternal health and infant mortality rates in New Jersey. We must continue to address the need for greater access to quality healthcare and services for our expectant mothers, especially for women of color," she said.
It won't happen overnight but it can be done by engaging not just health-care professionals and hospitals, but Black women's groups, doula and midwife groups, and community organizations that support those people on the ground, Hussain said. That's just what New Jersey plans to do.
The department has assigned $450,000 to create a doula pilot program in areas with high Black infant mortality rates. The Statewide Parent Advocacy Network (SPAN) will receive $280,000 to create a doula pilot program in Newark, and Children's Futures will receive $120,000 for Trenton. An independent evaluator will receive $50,000 to evaluate the effectiveness of the doula program in reducing the likelihood of certain birth and delivery outcomes such as c-section births.
Doulas are professionals who advocate for women before, during, and after pregnancy and after the birthing process. Training started on Monday and the department plans to collect "rigorous metrics" monthly and quarterly to monitor change.
"We know that institutional and systemic racism has unfortunately led to women being treated differently based on their race. There is a lot of evidence of this in many aspects of health care, OB-GYN services included," Elnahal said. "Having doulas who relate to mothers because they come from similar communities or because they are experienced generally being advocates for mothers, can often get the attention of clinicians in high stress settings in hospitals when they need attention."
A four-pronged approach aims to connect women of color in New Jersey to prenatal care through community health workers and institutions like churches.
"It really establishes a circuitry for us to be able to serve these women for a multitude of issues, not just prevention measures for healthy births. For example, unfortunately many pregnant women are also addicted to opioids. If we establish this referral system, we can get them the right care to get them off opioids and into addiction treatment while they are pregnant, which will improve outcomes for both the mother and the baby," he said.
The idea is to establish a network of referrals, through community, faith-based, and health organizations, and a system of referrals to care in communities that do not have it.
The department intends to expand access to 17-alpha hydroxyprogesterone, an injection that has helped prevent preterm births (a risk factor in infant mortality) in certain women, as well as offer long-acting reversible contraception (LARC) as an option.