Complaint: CVS Pharmacist Refused to Fill Prescription for Transgender Woman
This comes as the Trump administration is attempting to roll back protections for women and transgender and non-binary people in federal health care law.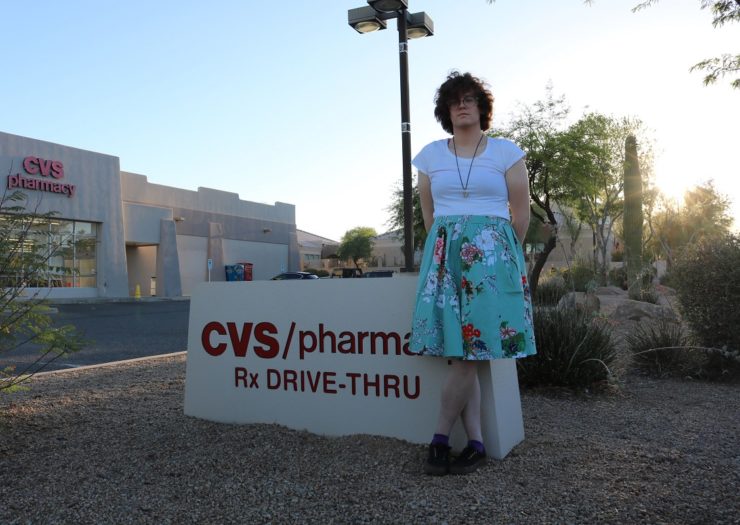 A transgender woman in Arizona has filed a complaint against CVS pharmacy after a pharmacist refused to fill her prescription for hormone replacement therapy.
Hilde Hall said she filed an administrative complaint Thursday with the Arizona State Board of Pharmacy because she was discriminated against for being transgender, according to a statement from the American Civil Liberties Union (ACLU). 
In a redacted complaint provided to Rewire.News, Hall described trying to fill prescriptions for estradiol, spironolactone, and finasteride in April, but said the CVS pharmacist refused to fill her prescription for the hormone finasteride.
"He did not give me a clear reason for the refusal," Hall said in the complaint. "He just kept asking, loudly and in front of other CVS staff and customers, why I was given the prescriptions. I nearly started crying in the middle of the store."
Roe is gone. The chaos is just beginning.
Follow Rewire News Group on Twitter to stay on top of every breaking moment.
The complaint is the state's second in recent weeks.
An Arizona woman last month filed a complaint with the state pharmacy board after a Walgreens pharmacist in a Phoenix suburb refused to fill her miscarriage-related prescription on moral grounds, the Arizona Republic reported. The woman had been prescribed misoprostol, a drug also used in medication abortion, after learning that her wanted pregnancy had stopped developing.
Hall said she went to the Fountain Hills, Arizona, CVS with her doctor's prescription on April 24. She said she felt like the CVS pharmacist was "trying to out me as transgender in front of strangers. I just froze and worked on holding back the tears."
In a statement to Rewire.News on Thursday, a CVS spokesman said the pharmacist is no longer with the drugstore chain.
"The conduct of the pharmacist, who is no longer employed by CVS, violated company policies and does not reflect our values or our commitment to inclusion, nondiscrimination and the delivery of outstanding patient care," CVS spokesman Michael DeAngelis said in an email.
Arizona is one of six states that shield health professionals who refuse to serve customers or patients on religious or moral grounds, according to the National Women's Law Center. A 2012 law signed by former Gov. Jan Brewer (R) prohibits the state from from denying, revoking, or suspending a professional or occupational license based on any actions related to someone's religious convictions.
But Steve Kilar, spokesperson for the ACLU of Arizona, told Rewire.News that "the Arizona law that allows pharmacists to refuse service to customers pertains only to abortion and emergency contraception medicine, which is not what Hilde was seeking. If CVS does not take steps, like written policies and employee training, to protect its transgender customers from discrimination, we may explore litigation."
Hall said the CVS pharmacist gave her no clear reason for refusing to fill her prescription, and refused to return her doctor's prescription note. Hall called the CVS complaint line many times, but "no one has addressed my concerns or offered me an apology." Hall said a local Walgreens eventually filled the prescription. 
CVS spokesman DeAngelis apologized for the company's unresponsiveness to Hall's complaints about her treatment. He noted that CVS is "taking steps to prevent this isolated occurrence from happening again."
The incident comes as Trump administration is attempting to roll back protections for women and transgender and non-binary people in federal health care law, said Joshua Block, senior staff attorney with the ACLU LGBT & HIV Project. The administration in January launched a division of Health and Human Services' Office of Civil Rights dedicated to protecting health-care workers who refuse to provide services for religious reasons.
"No one should have to experience what Hilde did, and yet it is all too common for transgender people and also people seeking birth control around the country," Block said in a statement. "It is critical that CVS ensures no one is harassed when taking a valid prescription into one of their pharmacies."