Trump-Appointed Judge OKs Administration's Attack on Family Planning Funding
"The Trump-Pence administration is trying to impose its ideology on people—no matter how many it hurts."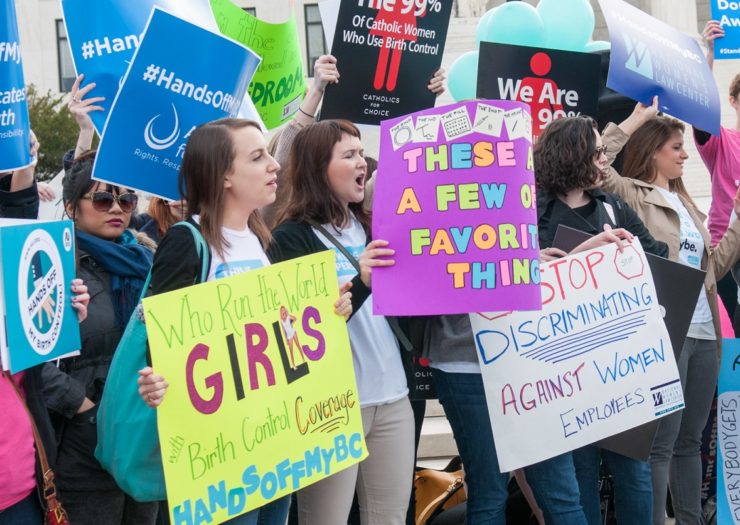 A federal district court judge on Monday ruled the Trump administration could move forward with efforts to restructure the federal Title X family planning program by prioritizing abstinence programs.
United States District Court Judge Trevor McFadden, appointed by Trump in 2017, ruled the courts do not have the ability to review the proposed changes because they are not a "final agency action."
"The substantive tweaks to the program priorities and key issues are neither new nor incompatible with Title X, instead they rephrase similar priorities and issues that appeared in prior funding announcements without objection or notice-and-comment rulemaking," McFadden wrote.
The fight over Title X funding started as soon as the Trump administration took power. In 2017, the Department of Health and Human Services (HHS) announced it was terminating all multi-year grants under Title X. That meant even though competitive Title X grants had been awarded on overlapping three-year cycles, all Title X grantees would need to submit a new application for Title X funds in 2018.
Sex. Abortion. Parenthood. Power.
The latest news, delivered straight to your inbox.
The administration complicated this process when in February 2018, HHS announced dramatic changes to the longstanding Title X grant making criteria. These changes shift the "application review criteria" to now give the most weight to new "program priorities" and "key issues," such as placing "meaningful emphasis" on abstinence as an approach to birth control, even for adults, and cooperating with faith-based organizations, according to the allegations in the complaints.
The new funding opportunity announcement released by the Trump administration omits any reference to contraception or HHS's previously published standards for evidence-based family planning care. Advocates claim those changes are designed to disadvantage reproductive health-care providers like the Planned Parenthood affiliates named as plaintiffs in the lawsuit.
"This administration is attempting to undermine a public health program that was created with bipartisan support and that for decades has provided critical family planning services available to millions of people who could not otherwise afford it," said Clare Coleman, president and CEO of the National Family Planning and Reproductive Health Association (NFPRHA), in a statement following the decision. "We will continue to fight against attacks on family planning to ensure highly qualified health care providers can remain in the program and continue to deliver patient-centered contraceptive care for all who seek it."
NFPRHA (represented by the American Civil Liberties Union) and the three Planned Parenthood affiliates (Planned Parenthood of Wisconsin, Planned Parenthood of Greater Ohio, and Planned Parenthood Association of Utah), in early May sued HHS to stop the agency from changing the criteria. The organizations argue that the administration's proposed changes to the Title X program violate the Administrative Procedure Act because they were made in an arbitrary and capricious manner and without both notice to the public or the opportunity to comment on the proposed changes.
On Monday Judge McFadden disagreed and declined to block the Trump administration's proposed changes.
"This program is meant to ensure that every person—regardless of where they live, how much money they make, their background, or whether or not they have health insurance—has access to basic, preventive reproductive health care, such as birth control, cancer screenings, STI testing and treatment, and regular checkups," Dawn Laguens, executive vice president of Planned Parenthood Federation of America, said in a statement. "The Trump-Pence administration is trying to impose its ideology on people—no matter how many it hurts."
Changing the funding criteria is not the only attack on Title X from the Trump administration. On June 1, the administration published extensive proposed changes to the Title X rules that would end required counseling for all patients when pregnant, require clinicians to provide patients with misleading information, and further attempt to disrupt the network of specialized health centers that the Title X program has relied on for decades. The administration is accepting comments on those proposed changes through the end of July.