The Effects of the Global Gag Rule Are Being Felt Everywhere
In Kenya, desperate pregnant women and girls who lack access to safe medical care because of funding cuts under Trump's global gag rule are turning to "curtain clinics" to terminate their pregnancies. Such clinics are run by people who aren't nurses or doctors.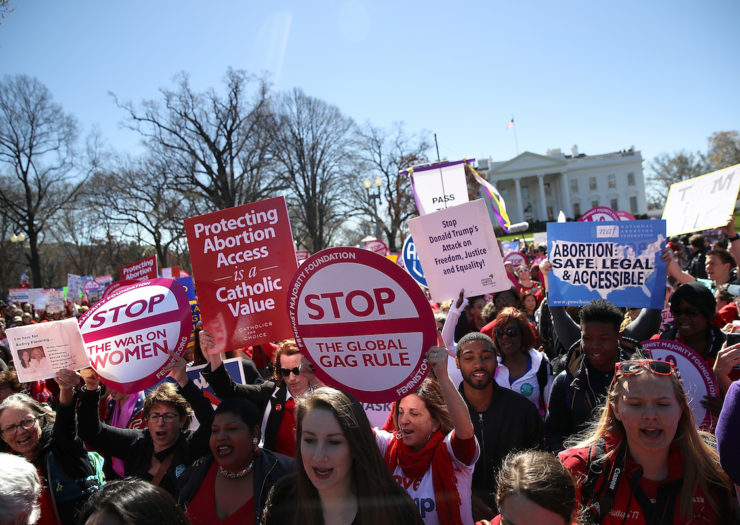 The fallout of Trump's global gag rule is upon us. Not a single week passes in Kenya without devastating media reports documenting how patients are going without needed reproductive health care and medical intervention thanks to the U.S. policy restricting funds to international clinics that discuss pregnancy termination regardless of the circumstance. The global gag rule is forcing health providers to either ignore that challenge or lose desperately needed aid for other services.
Just last month, Family Health Options Kenya (FHOK) closed its Kitengela, Kenya, clinic in response to the funding cuts. Because FHOK disagreed with the terms of the policy, it lost about $2.2 million, including $1.56 million in future funds due to the inability to bid for proposals for U.S. aid. The remaining funds were from a U.S. President's Emergency Plan for AIDS Relief program, funding that was terminated after FHOK declined to sign the policy.
As health-care providers, present and future, our ethical duty to cause no harm, protect our patients' safety, and save lives is paramount. That's why we feel compelled to speak out against the Trump administration's unjust and dangerous policy—one it is moving to bring stateside— which censors health-care providers and restricts the services we can make available. In this way, Trump's global gag rule rips away the core tenet of our provider-patient relationship.
The global gag rule has always taken the form of an executive order that the White House occupant can unilaterally impose or rescind. We must continue to elevate the issue and implore U.S. lawmakers to enact the Global Health, Empowerment, and Rights (HER) Act in Congress, which would create a permanent legislative repeal of the global gag rule, prevent a future president from reinstating the policy, and end the senseless suffering of people, particularly women and girls, worldwide.
Sex. Abortion. Parenthood. Power.
The latest news, delivered straight to your inbox.
When a previous version of the global gag rule was enforced from 2001-2008, researchers at Stanford University found the rate of abortions more than doubled in the African countries most affected by the rule, with a dramatic increase in unsafe abortions.
That has real consequences for real people. People like Awino, who was recently rushed to a FHOK clinic in Homabay with bleeding and in shock.
Awino was denied a safe abortion, due to Trump's global gag rule, and resorted to a "curtain clinic"—which are known for using everything from IV needles to crochet needles to terminate unwanted pregnancies—where someone gave her a pill and an injection to induce an abortion at 21 weeks.
She continuously bled following the procedure and sought help from a chemist, who attempted to stop the bleeding. Instead, Awino's condition deteriorated, and she was rushed to FHOK's clinic. Upon examination, it was discovered that her abortion was incomplete and she was septic. To save Awino's life, a well-trained nurse removed the placenta manually through a safe and quality procedure.
Though abortion is legal in some circumstances under Kenyan law, desperate pregnant women and girls, like Awino, who lack access to safe medical care because of funding cuts under Trump's global gag rule are turning to these "curtain clinics" to terminate their pregnancies. Such clinics are run by people who aren't nurses or doctors.
People like Awino—and there are many—deserve to be aware of and have access to all of their reproductive health options, and providers like us owe that respect to our patients. The global gag rule infringes upon these fundamental principles of medical ethics, and now the Trump administration wants to bring this draconian policy to the United States.
Trump's "domestic gag rule" threatens the most vulnerable people in the country who visit Title X-funded clinics for a wide range of affordable health services. Title X was created to ensure that lower-income women and families had access to unbiased, accurate information and the full range of reproductive health-care options. His policy undoes that guarantee.
The domestic gag rule would limit Title X funding for clinics that counsel about or provide abortion services. For the record, Title X funding does not provide money for abortions. Instead, Title X funding has allowed millions of people annually in the United States to access essential health-care services ranging from contraception to cancer screenings.
Under both of these rules, health-care providers and nurses are forced to make the impossible choice: accept aid and deny patients accurate, complete information and access to the full range of health-care options, or refuse to accept these restrictions on patient care and lose desperately needed funding. The government should not work to undermine health care and the relationship between providers and their patients. The restrictions these rules impose on needed health care must end.
Reproductive health clinics are closing, contraceptive supplies are dwindling, mobile health deliveries are ending, and costs to patients are rising. It's no surprise unsafe abortion rates are expected to rise and public health will suffer. We must resist Trump's war on women at every turn and fight back against his destructive policies at home and abroad by demanding Congress members pass the HER Act to permanently repeal the global gag rule and fight back against any attempt to implement a domestic version.