Trump's HHS Reorganization May Be a 'Calculated Strategy' to Justify Safety Net Cuts (Updated)
Some lawmakers are digging in their heels on Trump's looming proposal, suggesting it could be used as a way to implement cuts and conservative policies.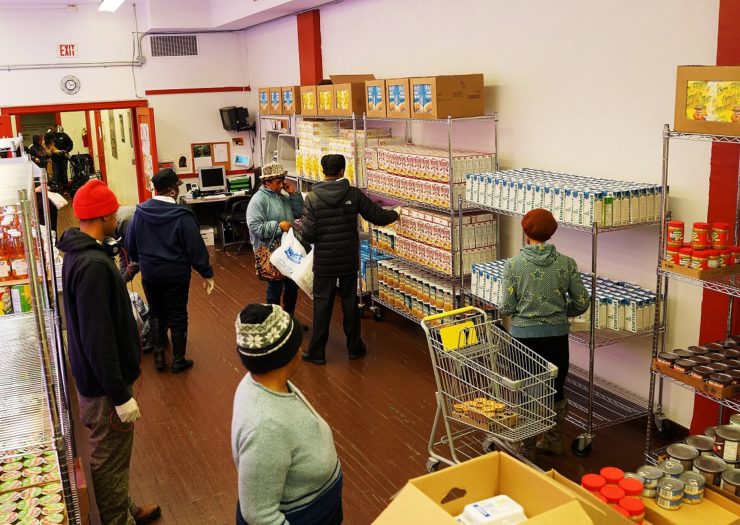 UPDATE, July 21, 1:50 p.m.: The Trump administration on Thursday released its "government reform" plan, which includes a pitch to rename the U.S. Department of Health and Human Services to the "The Department of Health and Public Welfare." It would also move the the Supplemental Nutrition Assistance Program (SNAP) and the Special Supplemental Nutrition Program for Women, Infants, and Children (WIC) to the newly-named agency.
A looming Trump administration proposal to move safety net programs such as the Supplemental Nutrition Assistance Program (SNAP), or food stamps, under the control of the U.S. Department of Health and Human Services (HHS) has drawn concern from advocacy groups that say it's intended to justify cuts to the safety net programs.

First reported last week in Politico, the plan could include the consolidation of federal safety net programs and a name change for HHS to incorporate the term "welfare." It is expected to be released in a report by the Office of Management and Budget (OMB) within the next couple of weeks.
The $70 billion SNAP program is administered by the U.S. Department of Agriculture (USDA), but the Trump administration proposal would reportedly seek to transfer its control to HHS. While exact details won't be known until OMB releases its report detailing the proposal, such a massive reorganization will likely require congressional approval.
But some lawmakers are already digging in their heels, suggesting that the administration could use the reorganization as a way to institute cuts and conservative policies such as work requirements on more programs.
Sex. Abortion. Parenthood. Power.
The latest news, delivered straight to your inbox.
"Under the guise of reorganizing health care programs, the Trump Administration wants to make it easier to slash the basics that families rely on, impose broad work requirements, and further infringe on women's personal decisions," said Congressional Pro-Choice Caucus Chairs Reps. Diana DeGette (D-CO) and Barbara Lee (D-CA) in a statement to Rewire.News. "Families who rely on these programs do so out of necessity—to feed their families, stay healthy, and keep a roof over their heads. Republicans have shown that they have no respect for either women's economic interests or their health care. In Congress, we will fight this dangerous proposal and protect the programs that women and their families need to thrive."
The Trump administration has already issued a series of policies and proposals meant to chip away at SNAP and other social safety net programs. In April, Trump issued an executive order to direct federal agencies to review federal public assistance programs and strengthen work requirements to access federal assistance programs. HHS recently instituted a policy to empower states to impose work requirements for Medicaid recipients, a move advocates say is unnecessary, burdensome, stigmatizing, and harmful to women and their families.
"Instead of listening to the American people and heeding our calls for raising the poverty-level minimum wage, which has stayed stuck at $7.25 an hour for almost a decade, he's decided to dismantle Medicaid, nutrition assistance, and housing assistance all by fiat," Rebecca Vallas, vice president of the Poverty to Prosperity Program at the Center for American Progress, said in a phone interview with Rewire.News. "So I think that's the broader context for this announcement, which comes on the heels of a few other actions by this administration."
"It's also all part of a carefully calculated strategy to try to reinforce myths about programs to help people make ends meet and the people who turn to them for help," said Vallas, who expressed concern over the potential name change for HHS to include the term "welfare."

She pointed to research showing that the term "welfare" conjures up certain racialized images among the general public, such as President Ronald Reagan's infamous "welfare queens." A January Center for American Progress analysis detailed 2014 General Social Survey data which showed that 58 percent of white people thought that the federal government is spending too much on "welfare," whereas 16 percent reported that the federal government is spending too much on "assistance to the poor."
"It's all part of an effort to try to smear everything with the dog whistle of 'welfare' in hopes of trying to make them easier to cut," said Vallas of Trump's coming name change for HHS. "It's a naked dog whistle … in an effort to divide people based on race so that we don't notice that he's coming for the entire working and middle class," she continued.
Federal assistance programs for those with low incomes are popular. A 2017 report from the nonpartisan Kaiser Family Foundation found broad levels of bipartisan support for Medicaid and a recent Center for American Progress report shows widespread public support for federal housing and nutritional assistance programs, such as SNAP.