Pro-Choice Advocates to Rhode Island's Anti-Choice Democrats: Follow Ireland's Lead
"The four Democrats who control the Rhode Island General Assembly, all men, refuse to protect reproductive freedom, including access to safe, legal abortion."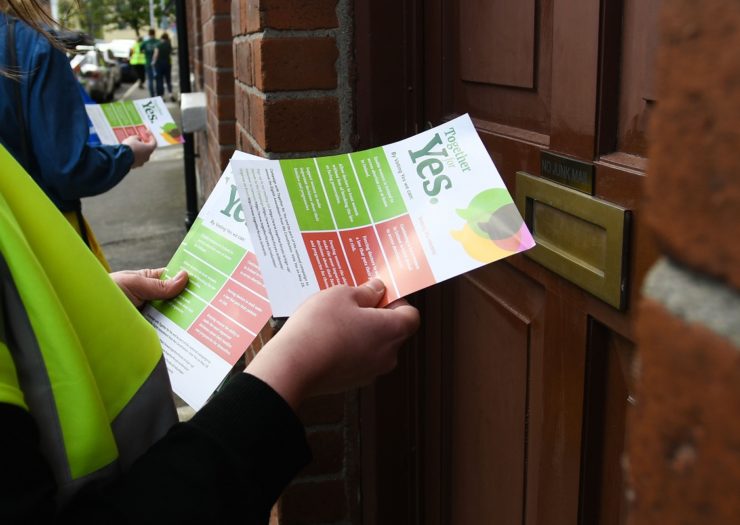 Pro-choice advocates gathered at the Rhode Island State Senate on Thursday to ask anti-choice Democrats to stop standing in the way of the state's Reproductive Health Care Act (RHA), pointing to Ireland's recent landslide vote to legalize abortion care as an example to follow.
The pro-choice legislation, which is stuck in committee, would codify Roe v. Wade protections into state law. If the U.S. Supreme Court were to overturn Roe, abortion would be illegal in Rhode Island unless the Reproductive Health Care Act, S 2163, is passed. Gov. Gina Raimondo (D), 29 representatives, and 11 state senators support the legislation and have spoken out against the Trump administration's assault on reproductive rights.
"One of the biggest issues raised in opposition to the Reproductive Health Care Act in Rhode Island is that this is the most Catholic state in America," Hilary Levey Friedman, president of the Rhode Island chapter of the National Organization for Women, told Rewire.News. "That said, Ireland, a nation founded on the basis of Catholicism, has just made abortion legal, so clearly it can be done."
"We are all here to celebrate Ireland and to learn from them and ask ourselves why the hell aren't we catching up instead of falling behind?" said Mary Ann Sorrentino, former director of Planned Parenthood Rhode Island.
Roe has collapsed in Texas, and that's just the beginning.
Stay up to date with The Fallout, a newsletter from our expert journalists.
Having watched men ignore reproductive health care in Rhode Island for 40 years, Sorrentino said she is fed up.
"I've witnessed the same legislators who oppose me, call me when someone close to them needed me. So I am tired of that and I'm tired of the kind of religious institutional pressure that's been put on this entire legislature. I am tired of hearing of stories privately that people are too afraid to talk about publicly," she said during her testimony at the senate judiciary committee hearing for the bill.
More than 60 percent of Rhode Islanders believe abortion should be legal in most cases, but senate President Dominick Ruggerio (D-Providence) and house Speaker Nicholas Mattiello (D-Cranston) don't deem the issue relevant. Both are endorsed by anti-choice groups and have sponsored legislation to restrict abortion access. Neither responded to emails seeking comment.
Jocelyn Foye, co-founder of The Woman Project, formed last year to advocate for the RHA, testified at the hearing by reading a statement written by local artist Mara Trachtenberg."Contrary to what Speaker Mattiello and President Ruggerio may wish to believe, conservative states such as Iowa are passing restrictive abortion bills with their true goal to have them challenged at the Supreme Court, in effect a challenge to Roe v. Wade," she said. "Our president has stated numerous times that he is now a supporter of the pro-life cause and we know that if given the very real chance, he will appoint another conservative pro-life judge to the supreme court bench. The reality of this is, tomorrow in Rhode Island, women may have to resort to pre-Roe days to receive the health care that they will access regardless of if abortion is illegal."
The Woman Project organized a press conference before the hearing and brought pieces of a quilt signed by about 2,000 people from across the state in support of reproductive rights.
State Sen. Gayle Goldin (D-Providence), who co-sponsored the RHA, wore a green "Together for Yes" T-shirt and held up a copy of the Irish Times showing that all but one county in Ireland voted to pass the referendum and legalize abortion.
"This wasn't a referendum about abortion. It was a referendum about trusting women, recognizing that women represent half the population and deserve to have all equal rights," she said. "It was incredible to see that the most Catholic country in the world could pass that referendum to repeal the Eighth Amendment, and I am hoping that's a message to the most Catholic state in the country that we can speak up for women and trust them."
Dr. Jodi Glass, a longtime advocate of women's rights in Rhode island, shared personal stories of her mother's abortion—a back-alley procedure without anesthesia that led to health complications—and her own abortion years later.
"My partner and I had been together for six years, used protection always. We knew exactly where we stood on choice and every other feminist issue and it is a good thing we did because, I don't care what anti-choice people say, ending a pregnancy is never an easy choice," she said. "In came my dad maybe not loving my choice but living the morals he taught, of a father's love, respecting voice, empathy, and a person's right to choose."
Advocates giving testimony Thursday reminded politicians of separation of church and state and that personal beliefs should not dictate laws in a democracy. They urged leaders to give women leadership of their own bodies by bringing the RHA to a floor vote in the Democratic-held house and state senate.
After hours of testimony that ran late into Thursday night, the bill was held in committee for further study.
"While Rhode Island is a blue state, there are many shades of blue here," Friedman said in an email to Rewire.News.
Friedman pointed to a recent announcement from Democrats for Life of America, shared on Facebook by state Rhode Island Rep. Camille Vella Wilkinson (D-Warwick), for a scholarship essay contest addressing the prompt, "Many people assert that the term 'pro-life Democrat' is contradictory. How would you respond to someone who makes this assertion?"
Craig O'Connor, Planned Parenthood of Southern New England's director of public policy and government relations for Rhode Island, is skeptical about the passage of these pro-choice bills and blames Democratic leadership. 
"The four Democrats who control the Rhode Island General Assembly, all men, refuse to protect reproductive freedom, including access to safe, legal abortion. All four Democrats have been endorsed by anti-choice organizations at some point in their political careers. President Rugerrio, Speaker Matteillo and especially Senate Majority Leader Michael McCaffrey have all signed on to legislation over the years that would restrict abortion rights or stigmatize reproductive health care providers and patients," he said in a statement. "Today, their silence and refusal to act place them closer to Donald Trump than to the platform of the Democratic Party that they lead."
Sorrentino, who was once excommunicated by a Catholic bishop for her work on abortion access, said that it's time to make male legislators understand that we want the RHA to pass.
"We have something fortuitous happening for us in November, and if these turkeys continue to behave the way they are then we need to show them that in November, and what it means to women," she said at a press conference before the hearing.
Sorrentino delivered a gift certificate for oxygen to Speaker Mattiello's office Thursday, in reference to his recent claim he doesn't like to talk about abortion because it takes up all the oxygen in the room.
"I notice that he didn't run out of oxygen talking about the stadium, so what does this tell us?," she asked, referring to his push to finance a Pawtucket Red Sox ballpark in the state. "It tells us that a bunch of guys with cases of beer in their truck who might have to drive to Worcester for a ball game are more of a priority than a woman who has to fly to another country for reproductive health care, and that can't be right."
"We have every reason to worry because we have been the lowest priority in this statehouse for too many years and I've witnessed 40 of them."