Convicted as a Teenager, Abuse Survivor Cyntoia Brown May Have the Chance to Leave Prison (Updated)
Though Brown's story has received an outpouring of outrage and support—including from celebrities—other survivors of gender-based violence continue to languish behind bars with little attention.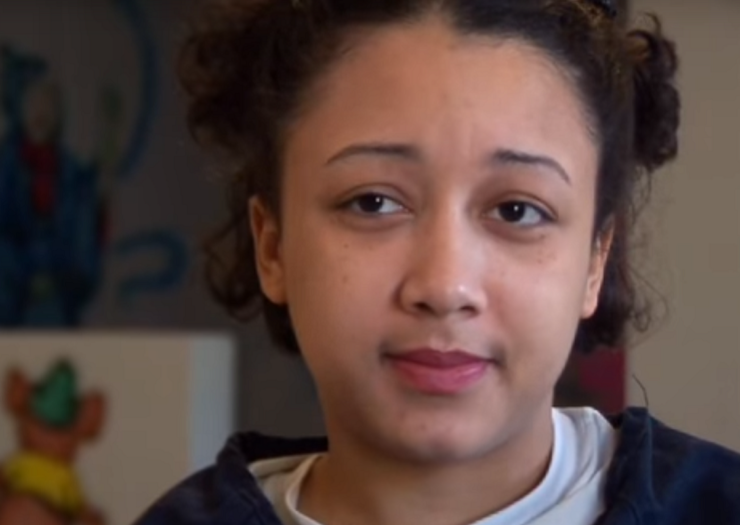 UPDATE, January 7, 12:51 p.m.: On Monday, Gov. Bill Haslam announced that he would grant Cyntoia Brown clemency. She will be released from prison on August 7.

UPDATE, December 11, 3:30 p.m.: On Thursday, the Tennessee Supreme Court said that Cyntoia Brown must serve at least 51 years in prison before she's eligible for release. Tennessee Gov. Bill Haslam said Monday that he is considering whether to grant Brown clemency.
On Wednesday, after 13 years in prison, Cyntoia Brown might be getting a chance at life outside of prison. Brown, 30, will have the opportunity at a clemency hearing to persuade members of a Tennessee parole board to reduce the life sentence she was handed as a teenager.
Brown is one of at least 100 people in Tennessee who were sentenced to life in prison as teenagers—and one of countless women who has survived violence only to end up incarcerated. Though her story has received an outpouring of outrage and support, other survivors of gender-based violence continue to languish behind bars with little attention.
Roe is gone. The chaos is just beginning.
Follow Rewire News Group on Twitter to stay on top of every breaking moment.
In 2004, Brown, then age 16, shot and killed 43-year-old Johnny Allen, who had picked her up for sex at a Sonic drive-in. Brown had run away from her adoptive family and, for the previous three weeks, had been living in a Nashville motel with an abusive boyfriend nicknamed Kut Throat. At Kut Throat's insistence, she engaged in street-based sex work. On the day she met Allen, Brown says, Kut Throat had hit her and told her to bring back some money.
After haggling with Brown about the price for sex, Allen brought the teen to his house. Later, she told a judge that his behavior frightened her: When she said she wanted to go to sleep, Allen kept getting up and standing over her. Then, he seemed to reach for something underneath the bed. Believing he was reaching for a gun, she shot him with the one she kept in her purse. She then left, taking Allen's money and two of his guns; in court, prosecutors argued that Brown had gone to his house intending to rob him.
Two years later, in 2006, a jury convicted Brown of first-degree murder. The 18-year-old was sentenced to life in prison.
In 2012 and again in 2016, the U.S. Supreme Court ruled that life without parole for juveniles—or those who committed crimes before the age of 18—was unconstitutional, a ruling that affected more than 2,000 juvenile lifers across the country. But Tennessee allows the possibility of parole after serving 51 years for everyone sentenced to life in prison. The state has not revised its laws to allow people sentenced to life as juveniles to apply for resentencing. This has left Brown and others convicted as juveniles to languish in Tennessee prisons for at least half a century. For Brown, that would mean waiting until the age of 67 for the opportunity to convince a parole board to allow her another chance at life.
But in 2011, Brown's story caught the attention of filmmakers who produced a documentary called Me Facing Life: Cyntoia's Story. Then late last year, celebrities like Rihanna and Kim Kardashian learned about her plight and drew widespread attention—and outrage—to Brown's situation. Eventually, she was granted a clemency hearing with the state's parole board. Nearly 500,000 people signed a petition to outgoing Gov. Bill Haslam (R) to grant her clemency in the form of a commutation, or a shortening of Brown's sentence. (Haslam, who has the final say over clemency petitions, has not yet granted a single one. He also has the option to commute Brown's sentence even without the recommendation of the board. )
The recent outpouring of attention has framed Brown as a child sex slave and a victim of trafficking. It's important to note that those are terms that Brown herself did not use in court or when interviewed for the documentary. But according to a law passed four years before her arrest, Brown was, technically and legally speaking, trafficked.
In 2000, four years before Brown was arrested, Congress passed the Trafficking Victims Protection Act, ostensibly meant to protect people from being forced into labor (including sex work labor) through force, fraud, or coercion.
When a person under the age of 18 engages in sex work, notes Andrea J. Ritchie, a police brutality attorney and author of Invisible No More: Police Violence Against Black Women and Women of Color, that teenager is automatically considered a victim of trafficking regardless of whether force, fraud, or coercion were involved. Thus, Brown can legally and technically be considered trafficked. Though she was arrested four years after the act had been implemented, however, neither the police nor the prosecutor nor the judge considered the 16-year-old a trafficking victim. It is unclear whether her attorney will invoke this point during Brown's clemency hearing.
However, Ritchie also points out the dangers of relying on the narrative of Brown as a victim of sex trafficking rather than as a Black girl who was scared for her life.
"The problem with the narratives of victimization is that the lines of who gets to be a victim are very raced and very gendered," Ritchie told Rewire.News. "White girls get to be scared. Black girls never get to be scared. Black girls are still seen as inhuman and inherently violent."
"Cyntoia Brown's case is being exceptionalized because she was coerced into sex work," she added. But, she added, the narrative of victimization "doesn't apply to someone else like Bresha Meadows or the vast number of girls who are arrested under mandatory arrest policies for defending themselves against violence in the homes or from bullying and violence in schools."
The narrative of Brown as a trafficked child also excludes potential sympathy and support for adults who have been criminalized and imprisoned for self-defense. Ritchie points out that there has been far less outrage on behalf of Alisha Walker, who was arrested at age 19 for the stabbing death of a sex work client whom she said attacked her. In court, the prosecutor dubbed her a "master manipulator." The Illinois jury concurred, finding Walker guilty of second-degree murder; she was sentenced to 15 years in prison. "There's a notion of the innocence of girls in the sex trade that literally evaporates once they turn 18," reflected Ritchie. But, she continued, "it's not as if conditions change once they turn 18."
In other words, cautions Ritchie, "we need to be very careful about exceptionalizing [Brown's] story and normalizing others."
Indeed, even as support is picking up for Brown, the criminalization of other abuse survivors—especially those whose stories may be more complicated—continues to be normalized. Some Tennessee advocates point out that Shantonio Hunter, a 25-year-old Black woman and domestic violence survivor, has not benefited from the outpouring of support or increased awareness around Brown's imprisonment.
In September 2017, the 25-year-old was sentenced to 28 years in prison for the death of her son at the hands of her abusive boyfriend. Four years earlier, in 2013, Shantonio Hunter, then age 21, and her boyfriend Donald Harris, age 31, were arrested for the death of Hunter's 3-year-old son. Hunter was charged with felony murder, aggravated child abuse, and child neglect. After spending four years in jail awaiting trial, she pleaded guilty to second-degree murder and was sentenced to 28 years in prison. (Harris went to trial, was convicted of first-degree murder, and was sentenced to life plus 75 years in prison.)
"People tend to like sympathetic domestic violence victims," said Mike Engle, Hunter's defense attorney. But he feels Hunter, who is both Black and not well-educated, isn't seen as sympathetic by many prosecutors, court officials, or potential jurors.
The criminal charges leveled against Hunter also kept many domestic violence organizations and advocates from rallying to her defense. "When I explained that Shantonio was the defendant in the case, I got nothing," Engle recounted. "We like our domestic violence victims to be passive. Those who are charged as aggressively acting—or negligently acting as in Shantonio's case—aren't as well-received by the courts or the public."
In addition, Hunter lacked the confidence and ability to tell her story in a way that could have inspired empathy in the courtroom. In the end, he said, she made the difficult decision to plead guilty, avoiding both the possibility of an additional 25 years in prison, but also "having to relate and recant a history that is disturbing, bad and that she feels poorly about, and then being cross-examined [about that story]."
Alex Chambers is an abuse survivor herself and one of the few Tennessee advocates who has been working with Hunter. Chambers told Rewire, "Any survivor in that situation is in an impossible situation. Being incarcerated is incredibly traumatizing. Going to court as a defendant and being in a position where people are blaming you for the harm to others is incredibly traumatizing."
Though Brown, now 30, is older than 25-year-old Hunter, Brown's age at the time of the shooting (belatedly) elicits sympathy and outrage about her sentence, especially after the documentary showcasing her story. Hunter, meanwhile, is an adult—and a mother whose child was killed. As Ritchie noted, "Once you're an adult Black woman, there seems to be no limit to the punishment that society will mete out to you—whether it's a grandma getting kicked out of public housing because her grandson smoked weed or a Black woman prosecuted because a police officer hurt her child."
In November 2017, just as Kardashian was tweeting her outrage about Brown's treatment at the hands of the legal system, Shantonio Hunter was moved from Nashville's county jail to the Tennessee state prison system, where she remains to this day.
If Brown convinces the Tennessee parole board to grant her clemency, it's still up to outgoing governor Bill Haslam whether to give her that second chance at life outside prison walls.
Meanwhile, the outpouring of support for Brown has not translated into greater support for other victims of violence facing criminal charges or prison sentences.
Overall, Ritchie is not surprised. "There's really no limit to how much we'll blame Black mothers for anything and everything," she reflected.