This Week in Sex: Women in U.S. Having Far Fewer Babies
Also, Trump apparently doesn't know the difference between HIV and HPV, and the Argentina soccer team gets a "lesson" in how to pick up Russian women.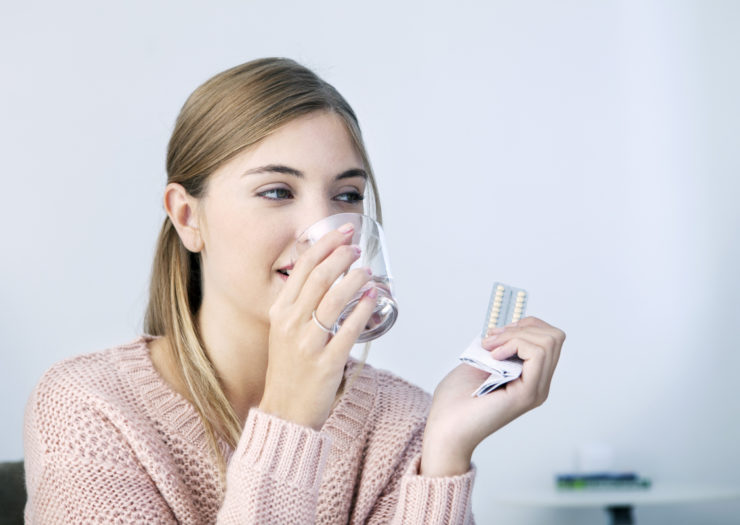 This Week in Sex is a summary of news and research related to sexual behavior, sexuality education, contraception, STIs, and more.
Birth Rate in United States Hits 30-Year Low
The number of babies born in United Sates has fallen to yet another new low according to new research by the Centers for Disease Control and Prevention (CDC). In 2017, there were 3,853,472 births in the United States, the fewest newborns in any year since 1987. The fertility rate among women of reproductive age dropped 2 percent from the previous year to 60.2 births per 1,000 women.
Teenagers have been leading the way—the birth rate among women ages 15 to 19 has dropped 70 percent since its most recent high in 1991. It hit a record low in 2017 at 18.8 births per 1,000, dropping 7 percent since the year before.
Roe is gone. The chaos is just beginning.
Follow Rewire News Group on Twitter to stay on top of every breaking moment.
Teens weren't the only group to have fewer babies last year—birthrates fell 4 percent for women in their 20s. And, despite recent rises among women in their 30s, the birth rate fell a little bit (2 percent) among women in their early 30s as well in 2017. Despite this drop, women in their 30s have the highest birthrate at 100.3 per 1,000 women—that's to say, one in ten women in their 30s had a baby last year.
The only age group to boast a higher birthrate in 2017 were women ages 40 to 44—this rate rose 2 percent to 11.6 births per 1,000 women.
This is preliminary data; researchers and demographers still have a lot to analyze. On the surface, however, it seems to reflect changes in how women arrange their lives with more women focusing on their education and careers in their 20s and early 30s and postponing children until they are older and more financially stable.
Experts say the increase in births among women in their 40s is also influenced by improvement in reproductive technologies. On the flip side, the decrease in births among teenagers has been attributed to better contraceptive methods and education.
Donald Trump Can't Seem to Remember the Difference Between HIV and HPV
In a video of an address to Gates Foundation staff by Bill Gates, which was obtained by and aired on MSNBC's All in With Chris Hayes on Thursday, the Microsoft mogul described interactions with Donald Trump. Gates described two meetings at Trump Tower in which he urged the newly elected president to be a champion for science. According to Gates, Trump asked the same questions at both meetings. The first was about vaccines because he was considering putting together a commission to investigate the disproven links between vaccines and autism. Gates apparently told him not to bother: "No, that is a dead end, that would be a bad thing, do not do that."
At both meetings, the president also asked Gates to describe the difference between HIV, the virus that causes AIDS, and HPV, the virus that causes genital warts and can lead to a host of cancers.
Though the acronyms are close—one stands for human immunodeficiency virus and one stands for human papillomavirus—the viruses and the health problems they cause are very different and few people mix them up.
HIV is spread through bodily fluids such as blood, semen, vaginal secretions, and breast milk. Without treatment, the virus weakens the immune system making the body unable to fight infections. HPV is spread via skin-to-skin contact and is the most common sexually transmitted infection in the United States—an estimated 79 million Americans are infected. The body often clears HPV without a person experiencing symptoms or knowing they're infected. Some types of the virus cause warts on the genitals or cervix and others have been linked to cervical cancer as well as cancers of the anus, penis, vagina, and throat.
Trump's medical misunderstandings overlap as there is a vaccine to prevent HPV, which the CDC recommends that girls and boys get at age 11. However, the general (again, unfounded) distrust around vaccines combined with discomfort about teens and sex has meant that too few young people are being vaccinated.
It is possible Gates set Trump straight as he appears to have given up on his vaccine commission, but we're willing to venture a guess that he still doesn't know the difference between HIV and HPV.
Argentina's Soccer Team Gets a Lesson in How to Pick Up Russian Women During the World Cup
In preparation for the 2018 World Cup which starts on June 14th in Russia, the Argentine Football Association (AFA) held a seminar for players and coaches. The Russian-language teacher who was conducting the course wrote a manual for players entitled, "Russian Language and Culture," which had been allegedly pre-approved by the AFA. In the middle of the workshop, however, somebody changed their minds and AFA officials walked in and literally tore pages out of the wire-bound manual.
The torn pages contained advice to the athletes on how to pick up Russian women. While the concept of helping your athletes get laid by handing out a bunch of stereotypes about local women is clearly disturbing, the advice itself is pretty generic. Suggestions include: "smell good," "Russian girls hate boring men," and "Normally they do not like you to have a monopoly on the conversation."
Some of the suggestions get a little deeper with the author explaining that Russian women don't want to be viewed as objects and they don't want a man who is boasting all the time: "Maybe you try to impress her by talking about the money you have, that you know everything, that you are perfect and the others are poor stupid people. In the end, if the girl has a little sense, she will bounce you."
Again, while we're offended by the concept offering this advice, we really can't argue with the idea that women prefer humble, interesting men who are interested in what they have to say, don't objectify them, and, of course, smell really nice.
The AFA issued a statement explaining how the manual was released in error and suggesting that the manual's views were not those of the organization or its president.