212 Members of Congress Just Told Trump: Don't Mess With Family Planning Funding
Congressional lawmakers wrote in their letters that conservatives have been transparent about their endgame in plowing ahead with restrictions on Title X funds: to end funding to Planned Parenthood.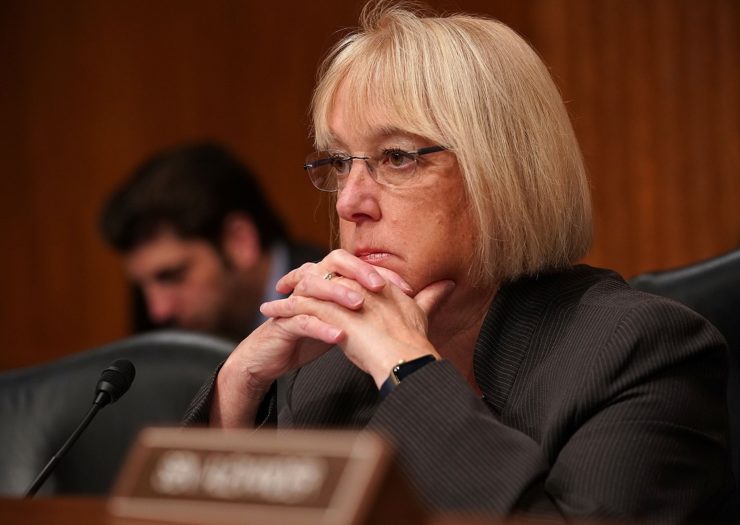 More than 200 members of the U.S. Congress on Tuesday signed letters sent to Alex Azar, head of President Trump's virulently anti-choice Department of Health and Human Services (HHS), voicing opposition to a so-called domestic gag rule that would place restrictions on federal family planning funding.
Both letters refer to a potential "domestic gag rule" championed by anti-choice lawmakers and activists. That policy, as Rewire.News has reported, would reinstate a Reagan-era prohibition on abortion referrals. It previously "required physical and financial separation of abortion related activities from Title X project activities," and "prohibited Title X projects from engaging in activities that encourage, promote, or advocate abortion." It was later rescinded under President Clinton in the early 1990s and formally in a 2000 rule.
"We strongly oppose efforts to undermine the integrity of the Title X program and harm the millions of people who rely on it for care. Federal health policy should be evidence-based and produced with the best interests of patients in mind," said the letter sent by members of the U.S. Senate.
Should the anti-choice restriction be reinstated, organizations such as Planned Parenthood that provide both abortion care and Title X services under the same roof could be ineligible to receive the funding.
Roe is gone. The chaos is just beginning.
Follow Rewire News Group on Twitter to stay on top of every breaking moment.
The letters said conservatives have been transparent about their endgame in plowing ahead with this restriction on Title X funds: to end funding to Planned Parenthood. But they noted that the health provider serves roughly 40 percent of all those reached by the Title X program.
While some abortion rights opponents falsely claim that federally qualified health centers could absorb Planned Parenthood's patient load should it be excluded from the program, members of the Senate noted that "in reality, other providers of Title X-funded care would face immense challenges in attempting to absorb the patients that would lose access to care if Planned Parenthood were eliminated as a Title X provider." They pointed to recent analysis from the Guttmacher Institute that found Title X sites would need to increase their client caseloads by an average of 70 percent to accommodate Planned Parenthood's patients should they be excluded from the program.
The Title X changes would make good on a key campaign promise made by Trump to defund Planned Parenthood. White House counselor Kellyanne Conway—who has allied with anti-choice organizations—reportedly wielded the point during a briefing with Trump in late April. 
The letter from the House notes that reinstating the gag rule would "prevent health care providers from receiving Title X funding if they even mention abortion or abortion-related services to their patients."
The anti-choice restriction to Title X could roll back major accomplishments achieved through the federal family planning program, including reductions in the teen pregnancy rate, the letters state.
In a statement provided to Rewire.News, Sen. Patty Murray (D-WA) vowed to fight against the family planning funding restriction. "These extreme, ideological steps would be a new low in the Trump-Pence Administration's continued efforts to undermine women's health," she said. "Women across the country aren't going to stand for it, and I am going to fight against it at every step."
Sen. Elizabeth Warren (D-MA) said the potential move is part of a broader attempt to chip away at the rights of women. "This attack on Title X is another part of a broader assault by Republicans on the health, safety, and economic independence of women and their families. Americans deserve to access basic medical services—including reproductive health services—without right-wing politicians getting in the way," she said in a statement to Rewire.News.
Dana Singiser, vice president of public policy and government affairs for Planned Parenthood Federation of America, blasted the domestic gag rule in a statement provided to Rewire.News, and lauded the members of Congress who oppose the anti-choice restriction.
"No one should be worried their doctor will be forced to lie to them. No one should be kept from the best medical information and care available. No one should be prevented from getting basic care like birth control," Singiser said.
"Today, more than 200 members of Congress are standing up for people's right to health care and information, and their ability to come to Planned Parenthood. We applaud them. We're at a 30-year low for unintended pregnancy, and a historic low for pregnancy amongst teenagers. Now is not the time to walk that progress back."
The Trump administration in its first days in office reinstated the global gag rule, which prohibits foreign nongovernmental organizations (NGOs) from receiving U.S. family planning aid if they provide abortion care or information about it. Trump's HHS has welcomed anti-choice advocates into its midst and sought to institute a matching agenda.