Advocates Say Indiana's New Abortion Reporting Law Could Further Stigmatize Abortion Care (Updated)
Reproductive rights advocates raised concerns about the further stigmatization of abortion care, and the impact the law could have on pregnant people who are diagnosed with mental illness.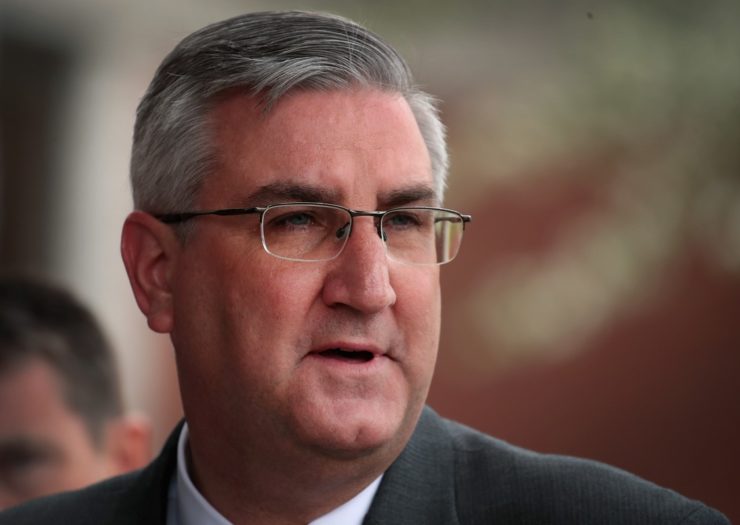 UPDATE, June 29, 10:55 a.m.: A federal judge on Thursday halted Indiana Republicans' latest anti-choice law, deeming the measure too vague to enforce, WBOI reports.
Indiana Republican Gov. Eric Holcomb on Sunday signed a bill that mandates reporting requirements for abortion providers, and requires extensive and detailed information about patients and their health outcomes. That includes a requirement that medical professionals report any "psychological or emotional complications, including depression, suicidal ideation, anxiety, and sleeping disorders," supposedly connected to an abortion.
Reproductive rights advocates raised concerns about the further stigmatization of abortion care, and the impact the law could have on pregnant people who are diagnosed with mental illness. Abortion opponents have often made claims that abortion can independently lead to long-term psychological effects. However, there is no medical evidence that abortion directly leads to mental illness.
Aimee Arrambide, a storyteller with the We Testify leadership program of the National Network of Abortion Funds, told Rewire.News that her ability to access abortion care was critical in her ability to seek treatment for bipolar disorder.
Roe is gone. The chaos is just beginning.
Follow Rewire News Group on Twitter to stay on top of every breaking moment.
"Especially in light of legislation that tries to stigmatize abortion and blame abortion for mental health issues, my abortion actually allowed me to overcome and treat my mental health illness and become a successful person," Arrambide said.
However, having an abortion can make it difficult to access unbiased mental health care. Candice Russell, another storyteller with We Testify, told Rewire.News that when seeking treatment for bipolar disorder, she has been shamed by mental health professionals for having had an abortion.
"I've gone through the process of being shamed by people who were supposed to be giving me accurate medical care," Russell said. "It made a lot of my recovery very difficult."
Christie Gillespie, president and CEO of Planned Parenthood of Indiana and Kentucky (PPINK), said in a statement that the law creates unnecessary restrictions for abortion providers and is the "perfect example of government intrusion" into the relationship between doctors and patients.
"This law is not about enhancing patient safety, and does absolutely nothing to reduce unintended pregnancies," Gillespie said.
Holcomb said in a statement that the legislative language is similar to laws passed in several other states.
"This bill does what 27 other states have done to gather information on these procedures without restricting access to them," Holcomb said.
Indeed, Indiana is the latest state to increase reporting requirements for abortion providers as part of a national effort by anti-choice activists to manufacture data to support the claim that abortion care is unsafe, despite the overwhelming evidence that abortion is a safe and heavily regulated medical procedure.
Elizabeth Nash, senior state issues manager at the Guttmacher Institute, told Rewire.News that extensive complication reporting requirements are a response to court decisions that struck down other laws restricting abortion that were justified with dubious evidence and data.
"This is abortion opponents trying to develop some kind [of] evidence to try to show that abortion is dangerous and that abortion requires restrictions," Nash said.
Forty-six states require medical facilities and physicians that provide abortion services to submit regular reports to state agencies, and 27 states require providers to report post-abortion complications, according to the Guttmacher Institute.
The Indiana law will require physicians, hospitals, and abortion clinics to report to the Indiana State Department of Health each case involving a patient suffering from an "abortion complication" including infections, hemorrhaging, blood clots, and cardiac arrest.
Failure to report an abortion complication would be considered a Class B misdemeanor, which is punishable by up to 180 days in jail and a fine of up to $1,000.
SB 340, sponsored by state Sen. Travis Holdman (R-Markle), will also make various other changes to the state's laws regulating abortion, including creating disclosure requirements for abortion clinic license applications, and mandating annual clinic inspections.
Richard Feldman, legislative chairman of the Indiana Academy of Family Physicians, told the Indianapolis Star that the reporting requirements would interfere with the doctor-patient relationship.
"We opposed this bill and felt compliance was onerous for physicians, especially in light of non-compliance being treated as a criminal violation including jail time," Feldman said. "Further, the list of complications is astonishingly long and many are inappropriate in regard to current standards of care, research value, clinical relevance, or reasonable time frames for patient contact."
Many of the provisions in these laws are similar to those found in model legislation by Americans United for Life (AUL), the self-described "legal architect" of the anti-choice movement. The organization creates copycat legislation and distributes the anti-choice proposals to state lawmakers, who then push the measures through legislatures.
The organization advocates for a federal law to create a national database of abortion statistics and for increased reporting requirements for states.
The law takes effect on July 1.