Will Rhode Island Democrats Ignore Abortion Rights Protections?
Rhode Island does not have a law that makes abortion legal, meaning the medical procedure would become illegal in the state if the U.S. Supreme Court struck down Roe v. Wade.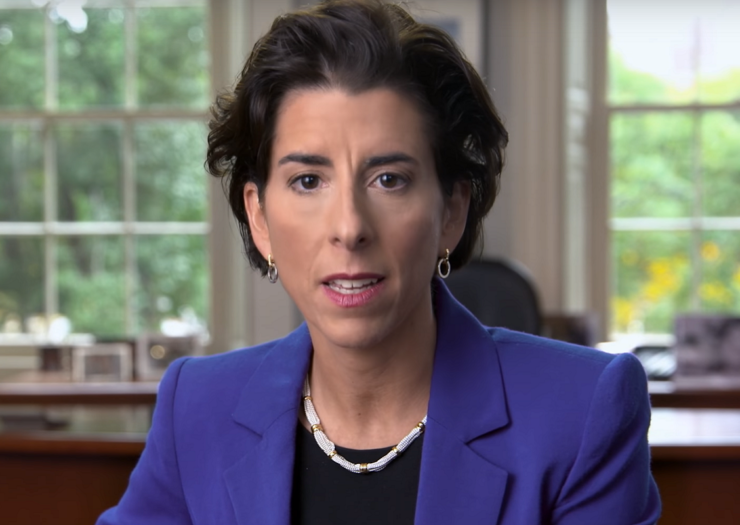 Although the Catholic school she attended removed her portrait from the wall of notables after she took a pro-choice stance in the 2014 election, Rhode Island Gov. Gina Raimondo (D) has been mostly quiet on reproductive rights since she took office.
But with three bills in the state legislature aiming to advance reproductive rights in Rhode Island, Raimondo has confirmed she intends to sign them if they make their way through opposition from state legislators opposed to abortion rights.
Introduced in January, the Reproductive Health Care Act, HB 7340 and SB 2163, protects abortion rights made law in Roe v. Wade—similar to those passed by Democrats in neighboring Massachusetts—in case the landmark ruling is overturned. Sponsored by state Rep. Edith Ajello and state Sen. Gayle Goldin, both Providence Democrats, the bills are pending in committees.
"Gov. Raimondo has been essentially silent since she's been elected on reproductive freedom. This has been disappointing to activists and organizations like ours. She's had the opportunity, repeatedly, especially since the election of Donald Trump, to be the leader that we need on reproductive rights," said Craig O'Connor, director of public policy and government relations at Planned Parenthood of Southern New England. "I believe she's on our side, I believe she would sign good legislation and veto bad legislation, but Gov. Raimondo has not been the vocal leader that these times call for."
Sex. Abortion. Parenthood. Power.
The latest news, delivered straight to your inbox.
Rhode Island has several antiquated laws restricting abortion, according to the Guttmacher Institute, and does not yet have a law that makes abortion legal, making these pro-choice bills all the more urgent. Abortion care would become illegal in Rhode Island if the U.S. Supreme Court struck down Roe v. Wade. 
"We have a president who is anti-choice, no friend of women, and has demonstrated a reckless disregard for the Constitution. We have anti-choice leaders in both chambers of Congress, and a Supreme Court whose balance could help the other two branches destroy the protections provided by Roe v. Wade," Ajello said in a statement marking the 45th anniversary of Roe. "Unless we erase these unconstitutional laws, it is feasible that the women of Rhode Island could be knocked back a half-century to the days of secret, dangerous backroom abortions. This isn't symbolic. It's necessary to protect women's lives and rights."
Another bill, HB 7625, would provide year-round contraception to those who have health insurance coverage.
Josh Block, a spokesperson for the governor, said both bills have Raimondo's support. "She fully supports H7340, which codifies important protections for women into state law. She also believes it is critical that contraceptive care be both accessible and affordable, and she looks forward to working with the legislature to make this happen."
Raimondo has come under attack for her pro-choice stance, and was even slighted by the Roman Catholic Bishop Thomas J. Tobin when he refused to attend her inauguration. The Roman Catholic preparatory school La Salle Academy that removed Raimondo's photo after she gave a pro-choice speech and accepted a Planned Parenthood endorsement, later removed all portraits of notable students from its walls, the Providence Journal reported.
Even with gubernatorial backing, advocates worry that the passage of these laws will be tough in the Democratic-majority state that has powerful anti-choice politicians, including four men who are considered the most powerful leaders of the General Assembly—Senate President Dominick Ruggerio, House Speaker Nicholas Mattiello, Senate Majority Leader Michael McCaffrey and Majority Leader K. Joseph Shekarchi. They have been called complacent and biased when it comes to enacting laws to protect reproductive health.
"I want to be clear that the real obstacle to moving forward is the leadership in the General Assembly. They have the power, nothing goes anywhere except through the General Assembly. That's where are deepest disappointment and concern lay," O'Connor said.
Speaker Mattiello (D-Cranston), for example, is backed by anti-choice groups like Rhode Island Right to Life and wields power in the house to chill open debate on abortion rights, said Jordan Hevenor, co-founder of The Woman Project, formed last year to advocate for the Reproductive Health Care Act.
"One of the biggest challenges has been informing people about the current precarious state of reproductive rights in Rhode Island. Many people don't realize that reproductive health care, including abortion, hangs in the balance based on federal legislative and judicial developments. Rhode Island is a blue state and has a history of electing national leaders who fight for reproductive rights. As a result, people expect the Democrats elected to the General Assembly will lead with a similar vision. The reality is that many of the gatekeepers in the General Assembly, despite being Democrats, are often indifferent or even hostile towards codifying Roe v. Wade," she told Rewire.News in an email.
Despite many Rhode Islanders supporting reproductive rights—including the right to abortion care—the conversation has not been easy in the most Catholic state in the nation where Mass is televised on Sunday mornings.
Hevenor said advocates have found that residents in Rhode Island don't talk about these issues and some members of the General Assembly are uncomfortable having this discussion. When they do, it is often "couched in sexist or paternalistic terms, telling us not to get emotional, stating that the topic is too personal, or saying that there just isn't a threat and we don't have to worry. These statements marginalize us as supporters and activists for important and necessary public policy," she said.
Statistics indicate that Rhode Island residents, 75 percent of whom are Christian, overwhelmingly support legalizing abortion, according to Pew Research Center polling. Yet, NARAL Pro-choice America lists Rhode Island as having the most restrictive abortion laws, worse than GOP-held states like Alaska and Montana.