Here's How Pro-Choice Activists Worked to Keep an Ohio Abortion Clinic Open
Local activists spent years trying to stop Toledo's last abortion clinic from closing. This week, they may have won.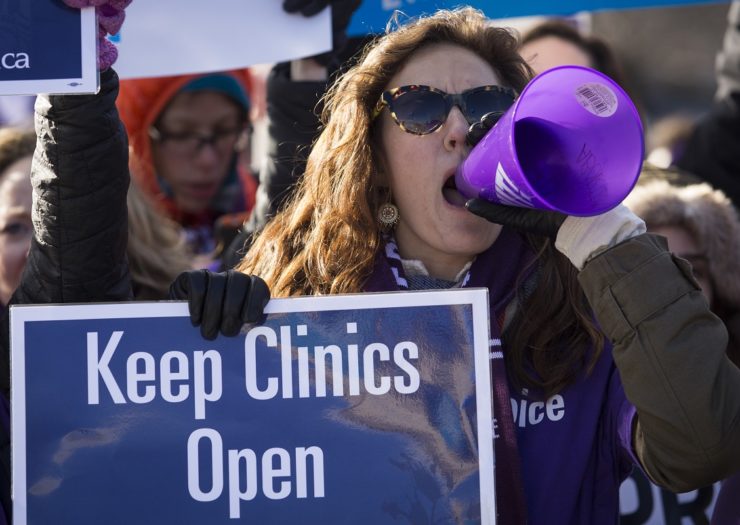 Residents of Toledo, Ohio, and abortion rights supporters around the state started a battle more than four years ago to protect Capital Care Network of Toledo, the area's last abortion clinic, amid Republican-led attacks on reproductive health care.
This week, that battle might finally be over thanks in part to activists on the ground—with ongoing support from NARAL Pro-Choice Ohio, of which I am the board chair—who were determined to do whatever it took, for as long as it took, to ensure that people in the northwestern part of the state will always have somewhere safe to turn when they need an abortion.
A local hospital group agreed on Monday to authorize a transfer agreement with the lone clinic left in Toledo, effectively preventing the state of Ohio from forcing the clinic to cease providing surgical abortions and likely close.
Clinics throughout the state have long been in jeopardy under the leadership of Republican Gov. John Kasich, a vocal abortion foe. In 2013, Kasich signed a state budget that included anti-choice provisions that, among other restrictions, prohibited public hospitals from entering into written transfer agreements with area abortion providers. Another restriction included in the budget signed by Kasich in 2015 required that these agreements only be signed by a hospital within 30 miles of the abortion clinic.
Roe has collapsed in Texas, and that's just the beginning.
Stay up to date with The Fallout, a newsletter from our expert journalists.
By banning transfer agreements between abortion providers and public hospitals, Kasich's administration forced abortion providers into a quick scramble to find replacement hospitals eligible to sign the contracts. Capital Care Network of Toledo was left with few options. ProMedica, a major private hospital system with a location within 30 miles of the clinic, resisted signing the clinic's transfer agreement to avoid being "put into a position of choosing a political position that is only divisive and polarizing," according to a 2013 statement.
Clinic escort Kristin Hady grew up just down the road from Capital Care Network of Toledo and knew how valuable the clinic's services were to her community. She started volunteering after reading an online article about clinic harassment and became the escort group's main organizer when she realized there was no one in that role.
At first, she and the rest of the clinic's escorts were solely focused on protecting patients as they entered and left the clinic. News that the clinic might be forced to close took most of the group by surprise. "We weren't really paying attention to politics," she told me, adding that she never thought of herself as a particularly political or outgoing person.
Hady's part-time clinic escorting hobby quickly turned into a massive community organizing project to protect the reproductive health provider. When she wasn't busy caring for her young children or finalizing weekly escort schedules, she was setting up phone banks, coordinating petition circulators, and organizing protests.
This was new territory, but she was eager to do whatever she could to protect the clinic. "Most of us realized we had no choice," she recalled to me. "We didn't want to be in such a defensive position, but we had to fight back."
"It seemed endless sometimes, like we weren't accomplishing anything," Hady said of the years-long legal battle over the clinic's future. Still, she said, the core group of about 35 escorts and volunteers never wavered, alternating between advocacy work and escort work. They often used positive, heartfelt interactions with patients and their families as opportunities to decompress and get motivated for another round of fighting to keep the clinic open. The experience was an emotional rollercoaster for the volunteers and the patients they sought to protect.
Amanda Patton, a freelance web designer and founder of the Columbus-based abortion advocacy group Pro-Choice Cats, heard about Capital Care Network of Toledo's troubles during the summer of 2014 when she attended a rally to support the clinic and decided to take action. "I just stayed involved after that because the case never really ended until this week," she told me.
Patton quickly identified a need to reassure prospective patients that the clinic was, in fact, open. "With all the ups and downs, some people got confused about whether or not [Capital Care Network] was still open. I've encountered people who weren't even sure if abortion is still legal in Ohio because of the heartbeat bill and things like that," she said, pointing to a failed effort in the state to ban abortion once a fetal heartbeat is detectable—before many women even know they are pregnant. "So, it's important to have that information readily available for anyone who is looking at a reproductive healthcare facility's website."
Patton eventually began working with Capital Care Network. To reassure patients that the clinic was open, her first project involved redesigning their website. Now, when visitors navigate to Capital Care's home page, they're met with "Yes, abortion is legal in Ohio. Yes, our doors are open."
Activists like Hady and Patton found the energy to keep fighting for years while courts deliberated on the future of the clinic. Many hoped for a quick, positive resolution when the Ohio Supreme Court announced it would hear an appeal of the case, but knowing that the clinic's fate hinged on a single decision made the wait excruciating. "We could feel the tension at our events and happy hours," Hady said. "The prospect of losing this fight was heartbreaking. We'd heard so many of our patients' stories by that point. We didn't know what would happen to them without access to the Toledo clinic."
In the end, the Ohio Supreme Court ruled against Capital Care Network of Toledo, and all hope seemed to be lost. Activists in Toledo weren't ready to give up, though, and with NARAL Pro-Choice Ohio (though I did not work on this specific effort) the group launched one final, herculean push to pressure ProMedica's board of directors into reconsidering their refusal to sign the clinic's transfer agreement. The public started to pay attention, and pressure on the hospital group quickly mounted. Even Gloria Steinem spoke up in defense of the clinic.
On Monday evening, while Hady and about 50 other volunteers rallied outside of ProMedica's Toledo hospital, the hospital group decided to enter into an agreement with Capital Care Network of Toledo. Doing so "aligns with ProMedica's mission and values, including our focus on being a health system dedicated to the well-being of northwest Ohio and our belief that no one is beyond the reach of life-saving health care," explained ProMedica spokesperson Tedra White in a written statement. "Furthermore, we believe that all individuals should have access to the best care in their neighborhoods."
The clinic's fate isn't sealed yet. Officials from Capital Care Network said on Wednesday that it had submitted a signed transfer agreement to the Ohio Department of Health. According to the Toledo Blade, "Whether the department will cancel its pending order to revoke Capital Care's operating license remains to be seen. The department did not respond to repeated requests for information Wednesday." And on Friday, an attorney for Capital Care Network reportedly filed a motion with the Ohio Supreme Court asking it to reconsider revoking the clinic's license in light of its new transfer agreement.
For the clinic escorts in Toledo, things are back to business as usual. Hady and her peers are looking forward to continuing to serve people in Toledo through their escort work. When asked if she would step up to the plate again if the clinic faces another challenge, she didn't hesitate. "Of course," she said. "We have no choice. Our patients need us."
UPDATE, February 16, 1:55 p.m.: This piece has been updated to note that Capital Care Network filed a new motion to the Ohio Supreme Court.