Ohio Abortion Clinic Meets GOP's Unnecessary Requirement in Hopes of Staying Open (Updated)
"If Capital Care closes, patients would be forced to travel out-of-state or to cities like Columbus, Cincinnati, and Cleveland," said Kristin Hady, a Capital Care volunteer clinic escort coordinator.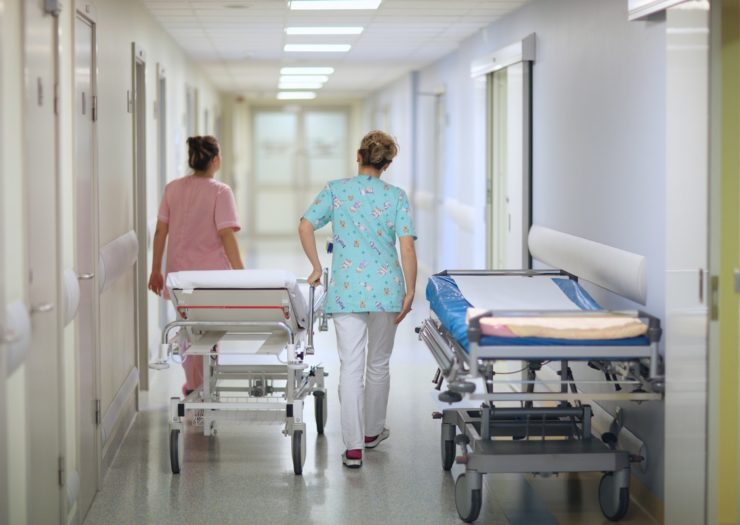 UPDATE, February 16, 12:25 p.m.: An attorney for Capital Care Network filed a motion Friday for the Ohio Supreme Court to reconsider revocation of the clinic's license after the clinic reached a medically unnecessary transfer agreement with ProMedica Toledo Hospital, reports the Toledo Blade. 
The last abortion clinic in Toledo, Ohio, may be able to continue providing surgical abortion care after a local hospital approved a patient-transfer agreement that would allow the clinic to comply with medically unnecessary regulations passed by state GOP lawmakers.
Capital Care Network has been engaged in a legal battle with Republican Gov. John Kasich's administration over the enforcement of targeted regulation of abortion providers (TRAP) laws that impose medically unnecessary regulations designed to erode access to abortion care. Anti-choice activists and legislators justify hospital transfer agreements by framing abortion as dangerous, though the common medical procedure is exceedingly safe. 
The Ohio Supreme Court last week reversed rulings by lower state courts and upheld the Ohio Department of Health's order that Capital Care Network cease providing surgical abortion care after it failed to meet the transfer agreement mandate. 
Sex. Abortion. Parenthood. Power.
The latest news, delivered straight to your inbox.
Pro-choice activists organized a campaign to call on ProMedica Toledo Hospital or St. Luke's Hospital in Maumee to sign a transfer agreement with Capital Care Network.
The board of trustees at ProMedica Toledo Hospital announced the transfer agreement on Monday evening. Tedra White, a spokesperson for ProMedica, said in a statement that the agreement "formally puts in writing" the organization's policy of providing emergency medical care, reported the Toledo Blade.
"Entering into this agreement aligns with ProMedica's mission and values, including our focus on being a health system dedicated to the well-being of northwest Ohio and our belief that no one is beyond the reach of life-saving health care," White wrote. "Furthermore, we believe that all individuals should have access to the best care in their neighborhoods." 
The hospital's decision came just hours after pro-choice advocates staged protests in front of the hospital. Some feared that without the agreement, the clinic would be forced to close its doors.
"If Capital Care closes, patients would be forced to travel out-of-state or to cities like Columbus, Cincinnati, and Cleveland," said Kristin Hady, a Capital Care volunteer clinic escort coordinator, during the rally. "For patients already struggling to afford the initial procedure, they must factor in reliable transportation and the added cost of gas, reliable childcare, securing two days off work (most of the time unpaid and not factoring in any needed recovery time), and finding someone to be able to travel with them. These added costs and factors would put abortion care far out of reach for those who need it."
Kasich in July 2013 signed the Republican-controlled state legislature's budget, which included several TRAP provisions. The budget required that abortion clinics maintain transfer agreements with a local hospital while barring public hospitals from entering into agreements with facilities that provide "nontherapeutic abortions"—what the budget calls elective abortions.
Kasich and the GOP-controlled state legislature used the budget process to pass further restrictions on abortion providers in June 2015, this time requiring transfer agreements with local hospitals at least thirty miles away from the abortion clinic. 
The Department of Health rejected Capital Care Network's transfer agreement with University of Michigan Health Center, which is located about 50 miles away in Ann Arbor.
Jennifer Branch, an attorney representing Capital Care Network, told the Toledo Blade that the organization would file the transfer documents with the Ohio Department of Health to stop the department from revoking the clinic's license.
"Thank you to ProMedica for stepping up and taking care of the women of northwest Ohio," Branch said. "This is great news."