Facing Years in Prison for Fleeing Abuse: Cherelle Baldwin's Story Is Far From Unique
Starting Monday, 12 jurors will begin to hear evidence about Cherelle Baldwin, a 24-year-old Black woman from Bridgeport, Connecticut, whose attempts to escape her ex-boyfriend ended in his death.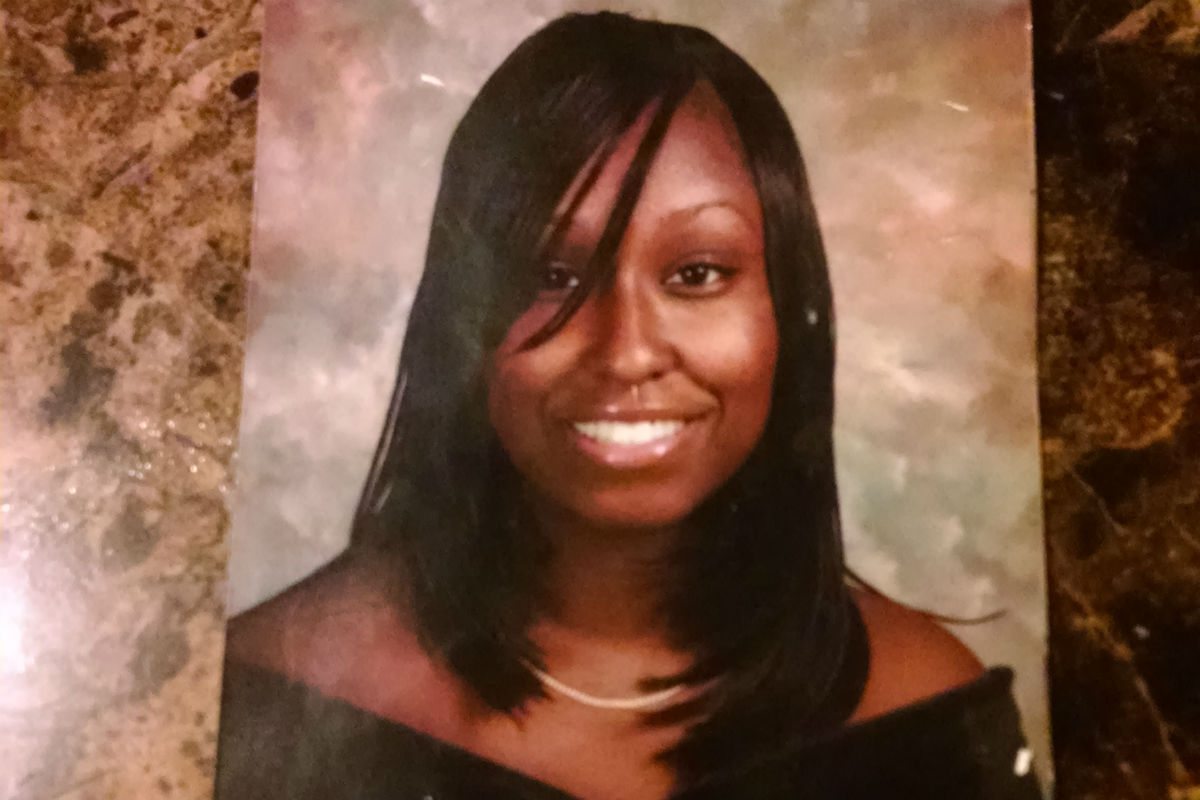 Who has the right to self-defense? Starting Monday, 12 jurors will hear evidence about Cherelle Baldwin, a 24-year-old Black woman from Bridgeport, Connecticut, whose attempts to escape her ex-boyfriend ended in his death. Baldwin has been detained for nearly three years awaiting her second trial on charges of murder. Her first trial, which lasted six weeks in early 2015, resulted in a hung jury and mistrial. If convicted this time, she may spend decades in prison.
In 2013, Baldwin had been granted a court order against her ex-boyfriend Jeffrey Brown. But the piece of paper didn't stop Brown from continuously texting, calling, and showing up at Baldwin's house to demand access to their toddler son as well as his ex-girlfriend's phone and cash, according to Baldwin's family.
On the morning of May 18, 2013, Brown sent Baldwin a series of texts. At 6:49 a.m., he texted, "I said what I said so u could take it however u want u but after today u will have to call the cops cuz it over today." When Baldwin told him to leave her alone, he responded, "N u will see how crazy shit will get today."
Shortly after, he showed up at her house. According to a police affidavit obtained by AlterNet, Baldwin told them that Brown had climbed through her window, then attacked her: "He pulled a knife and choked her with his belt." Baldwin managed to escape, running outside and into her car. "He managed to get in the car and proceeded to choke her again," the affidavit stated. "Then she got out and fell as she did and the car ran over her leg and that he also got out to chase her[,] and the rest happen[ed] too fast and she wasn't sure how he ended up in front of the car."
Roe has collapsed and Texas is in chaos.
Stay up to date with The Fallout, a newsletter from our expert journalists.
When police arrived, Brown was dead and Baldwin had a broken leg. The baby was in the house, unharmed. Baldwin was taken to the hospital; three weeks later, she was charged with first-degree murder. Her bail was set at $1 million, an amount her family was unable to afford, so Baldwin was sent to the state's women's prison, York Correctional Institution in Niantic, to await her trial. In early 2015, after five days of deliberating (and listening to tape-recorded testimony from Baldwin herself), 11 jurors wanted to either consider lesser charges or acquit Baldwin altogether. One juror held out, and so the judge declared a mistrial. The prosecutor vowed to retry her case, and Baldwin was sent back to Niantic to await her next day in court. She has been there ever since.
Baldwin's experience illustrates how the justice system frequently criminalizes and prosecutes abuse survivors, often after this same system failed to stop the domestic violence. Because self-defense laws frequently don't explicitly take domestic violence into account, the onus is on survivors like Baldwin to convince a dozen strangers that they were truly in fear for their lives when they took the actions that landed them in court.
"When Jeffrey Came, It Was a Whole Different Story"
In 2010, 19-year-old Baldwin was a student at Porter and Chester Institute in Stratford, Connecticut, studying to become a medical specialist administrator and working two jobs. While filling her tank at a gas station, she met Brown. The two talked, exchanged numbers, and began seeing each other.
"The next thing I know, Cherelle is not coming home at night," said Baldwin's mother, Cynthia Long, with whom Baldwin had been living at the time, in an interview with Rewire. But Baldwin didn't bring Brown to meet her mother until the following year. By then, she was two months pregnant, and she and Brown were planning a future together.
Weeks before the baby was born, Baldwin called her mother and asked if she could spend the night. Long told Rewire that her daughter, usually a peaceful sleeper, was fighting and crying in her sleep. "I had to wake her up," she recalled. But if she had any recollections of her dreams, Baldwin kept them to herself. She also kept quiet about any problems she and Brown were having.
Long does recall that Brown was controlling. At family gatherings, she recounted, "When he said, 'Let's go,' she had to be ready to go." Baldwin also began behaving differently, needing to clear things with Brown before making decisions.
"She always had to check with him," her mother recalled. "That wasn't Cherelle. Before that, she always made her own decisions—she pretty much held her own. But when Jeffrey came, it was a whole different story."
Baldwin also began to pull away from other family members. Baldwin had always been close to her cousin Latreesh, with whom she had grown up. But once she started dating Brown, Latreesh, who asked that her last name not be used, said they "grew apart." At the time, however, Latreesh chalked it up to being busy with the new relationship and holding down two jobs.
When they did see each other, Baldwin would tell Latreesh about money being missing or times that Brown would take her car keys so that she wouldn't be able to leave the house. But, Latreesh reflected, Baldwin may have remained silent about the extent of the abuse because "she probably didn't want to put us in harm's way."
On New Year's Day 2012, Long received a phone call. Brown had been in a car accident, wrecking Baldwin's car. Baldwin told her mother that, when she asked Brown about the accident, "he shook her and the baby while she was holding the baby," Long said. Then, Long said, he tried to break her phone. Long told her daughter that she was coming over and told her to call the police.
But, before she could leave the house, Baldwin called her again. "She said not to come because Jeffrey's mother was coming," Long said. Despite her mother's urgings, Baldwin did not call the police. That was the first time that Baldwin had actually told her mother about any abuse.
Baldwin's silence is not unusual. "A lot of times victims don't disclose to anyone," said Lenina Trinidad, an attorney who has represented abuse survivors in court proceedings, in an interview with Rewire. Trinidad has extensive experience working with abuse survivors and around issues of domestic violence. In addition to representing survivors in court, she has also served on several committees dedicated to examining domestic violence legislation and policy, improving court responses to domestic violence victims, and promoting public awareness about the issue.
There are several reasons that survivors may not tell their family and friends about the abuse, she told Rewire, including a lack of awareness that their loved one is abusing them. "Everyone has a different idea of what domestic violence or interpersonal violence looks like," she explained. "Often, it begins with certain behaviors"—such as being controlling and encouraging isolation from friends and family—"then it escalates."
But, Trinidad noted, physical violence often occurs once or twice at the beginning of the relationship. "From then on, fear of physical aggression keeps the victim under the control of the abuser. This is not a person walking down the street with bruises or lumps. But in essence, this person is being terrorized," she said.
In addition, escalation can be gradual and people being abused may not notice until it is too late: "It's a terrible analogy," she said, "but it's like the frog in boiling water."
Trinidad also noted that it can be dangerous to disclose abuse: doing so risks even more escalation if the abuser finds out. At the same time, she stated, people in abusive relationships may not necessarily want to end the relationship; they simply want the abuse to end. Friends and family members, once told about the abuse, may pressure the survivor to walk away. Furthermore, the fear of being judged prevents many survivors from telling others.
Brown began confiscating his girlfriend's phone, her family said, preventing her from calling relatives and friends. Baldwin began working at Yale-New Haven Hospital, which required Brown, who was not working at the time, to stay home with the baby. "He'd take the car and disappear and not return until late morning," her mother recalled. Not having anyone else to watch their son, Baldwin was often late for work. According to Long, when she did get to work, Brown would then call her repeatedly. After a few months, Baldwin was fired.
By 2013, the couple had split and Brown had moved in with another woman. But ending the relationship doesn't end the danger. According to Trinidad and many other domestic violence advocates, it is actually the most dangerous time for a survivor. Approximately 75 percent of women killed by their abusers have been killed after trying to end or ending the relationship. In Baldwin's case, sharing a son with Brown made it nearly impossible to sever all contact with him.
Despite their separation, Brown continued to terrorize Baldwin. In February, he showed up at her house and began tossing her clothes out. When she tried to call 9-1-1, he grabbed her phone and threw it onto the ground, breaking it. He was arrested and eventually pleaded guilty to breach of peace. Baldwin was issued a court order. But neither the arrest nor the order stopped his harassment, threats, and violence. According to Baldwin's mother, only days later he showed up and grabbed their son, forcing Baldwin to drive down the wrong side of the street to retrieve the toddler.
"She was really, really scared," remembered Latreesh, who began watching the boy while Baldwin worked at her new job. Latreesh recalled one particular night when, after picking her son up, Baldwin asked her cousin to accompany her home even though she lived only a block or two away. "She thought he was following her," Latreesh recalled. In the car, Baldwin told her cousin that Brown had been threatening her, that he had put his hands on her before, and that she was frightened.
In May 2013, Brown called Latreesh looking for Baldwin. When he learned that she was celebrating Mother's Day with her mother at a local restaurant, he appeared outside the restaurant and called her, demanding that she bring their son outside. If she didn't, he would come into the restaurant and make a scene. Baldwin capitulated and, although her family had already paid for her and her son's meals, abruptly left the restaurant.
Six days later, on Saturday, May 18, Long received a distraught call from her son. Unable to make out more than the fact that something had happened involving Brown and Baldwin, she called Baldwin's father, who lived in the apartment above his daughter. He told her that Brown was in front of the car and Baldwin, barely moving, was beside the car. He had already called 9-1-1. They were taken to separate hospitals. Brown was declared dead; Baldwin was treated for her broken leg and questioned by police.
Two days later, Baldwin began complaining about her back. That was when her mother saw the belt marks on her back, the bruises on her side, and the bruises around her neck. Long immediately took photos, but said that the police waited until that Thursday to do so. By then, Baldwin's skin had begun healing and the marks were much less visible.
Three weeks later, the mail brought a warrant for her arrest.
Her family accompanied her to the precinct a few days later, where she turned herself in. Since then, she has spent nearly three years in prison. Her son, who will turn 5 years old in October, splits his time between Long and his paternal grandmother. He only sees his mother during prison visits twice a month. Although visits are supposed to last at least one hour, both Long and Latreesh said that they can sometimes be as short as 20 minutes.
Criminalizing Survivors
Baldwin's story, of a domestic violence survivor criminalized for taking action against her abuser, is far from unique. One of the most famous examples is that of Marissa Alexander, the Florida mother who tried to argue she had been acting in self-defense—specifically, that she had been covered under the state's "Stand Your Ground" law—by firing a warning shot into the ceiling to stop her husband's assault. She was unsuccessful and was initially sentenced to 20 years in prison for aggravated assault with a deadly weapon. Her conviction coincided with the arrest of George Zimmerman, who successfully claimed Stand Your Ground in his shooting of 17-year-old Trayvon Martin; the timing drew wider attention and support for Alexander. The following year, an appeals court ruled that the judge's instructions on self-defense were faulty and reversed her conviction. In January 2015, nearly four-and-a-half years after her arrest, Alexander agreed to a plea bargain for time served and two years of house arrest. She is now in her second year.
Alexander's case is exceptional only in that it garnered such widespread attention and support. Across the country, stories of other abuse survivors serving long prison sentences for defending themselves have emerged—from Tewkunzi Green in Illinois and Cierra Finkley in Wisconsin, to Donna Jelenic in California and Valerie Seeley in New York.
But it's difficult to know exactly how many other abuse survivors are in similar positions: Little documentation is available about the number of people who have claimed self-defense stemming from domestic or other types of violence. In 1999, the U.S. Department of Justice released a report stating that nearly half of women in local jails and state prisons had been abused prior to their arrests. That report, now 16 years old, is the most recent data available.
Self-defense laws don't often reflect the reality of domestic violence. The law in Connecticut, for example, states that a person is justified in using "deadly physical force" against someone else if they believe both that their own life is in danger and such force is necessary to stop the attack. However, the law also states a "duty to retreat": In other words, a person is required to retreat instead of using deadly physical force, if "a completely safe retreat is in fact available" and if doing so "will avoid the necessity of using deadly physical force."
This exception does not take into account the fact that domestic violence is not limited to a single instance of violence from which a person can safely retreat. It also doesn't consider that the survivor is reacting not only to the immediate actions, but the entire history of abuse and coercion.
Connecticut's law does contain an exception for violence that happens in a person's home; if the assailant does not also live in the home, according to the law, there is no duty to retreat. In Baldwin's case, given that Brown no longer lived with her, it should seem that even if she feared for her life, Baldwin had no duty to retreat from her own home, where her child was inside.
Domestic violence is more likely to be fatal for Black women. The Institute on Domestic Violence in the African American Community found that, although they comprise 8 percent of the nation's population, Black women make up 29 percent of all women killed in domestic violence homicides. Black women are twice as likely to be killed by an abusive spouse and four times more likely to be murdered by a boyfriend or girlfriend than white women.
In many cases, however, turning to the police and court system can be even more harmful. Trinidad pointed out that many "have no faith that the court system will offer any relief. Many people have been involved in the court system [before] and had their lives torn apart."
For instance, in jurisdictions with polices that require officers to arrest someone when responding to a domestic violence call, victims risk being arrested or further brutalized by police. That means, in many cases, that means survivors must devise their own safety plans.
Cindene Pezzell is the legal coordinator for the National Clearinghouse for Battered Women. She also spent five years as an assistant public defender in Philadelphia; during her last year, she represented many abuse survivors in family court. She noted that prosecutors often resist survivors' attempts to introduce claims of abuse into their defense and raise skepticism about abuse claims.
"That's where you'll see questions like, 'Why didn't you leave?' or 'Why didn't you call police?'" she said. She also noted that, for many abuse survivors, there is no paper trail, which further fuels disbelief that violence has occurred.
Even when there is proof of violence, prosecutors tend to downplay and dismiss evidence of abuse. If the relationship has ended at the time of the incident, as was the case with Baldwin, the survivor frequently is depicted as a jealous and vindictive ex-girlfriend. (Brown's family has been quoted in local media making similar claims, along with denying that Baldwin's life was in danger.)
But if the relationship was still happening, that too can be used against a survivor in court. In California, for instance, Kelly Savage was charged with murder and torture after her abusive husband killed her 3-year-old son. The prosecutor argued that Savage enjoyed the beatings and, because she had not yet left the relationship, was equally responsible for her son's death. The jury believed this explanation; Savage was convicted and sentenced to life without parole.
In addition, race plays an important factor. "It's really hard for people to accept Black women as victimized," Trinidad stated. "In my experience in the criminal court system, Black women are inherently questioned and inherently distrusted. The system and the players don't find them as credible." The most recent statistics on imprisonment seem to back Trinidad's observations: Black women are up to four times more likely to be imprisoned than white women. However, just as there is little data on the number of domestic violence-related convictions, there is nothing readily available about conviction rates of Black women claiming self-defense.
Police, prosecutors, and courts already have practices to interview people who have experienced trauma, Pezzell pointed out. Many jurisdictions use such techniques when interviewing police officers who are involved in shootings, for instance, or abuse survivors who are filing charges against their partners. But these practices and techniques have largely been disregarded, she said, when abuse survivors are the ones on the defense.
In her time as public defender, Pezzell has represented abuse survivors accused of violating civil protection orders, a misdemeanor that is adjudicated in family court. Each time, she recalled, she informed the prosecutor that her client was a battered woman; each time, the prosecutor ordered an investigation before proceeding. If the investigation turned up findings of abuse, the prosecutor would sometimes reduce the charges or dismiss them altogether.
Pezzell similarly urged police and prosecutors to investigate allegations of abuse for self-defense claims. "It can take some time, but it will have a better end result," she stated. She also advised that they use trauma-informed interview techniques rather than re-traumatize the survivor with accusatory—and often hostile—interrogations.
At the same time, she said, domestic violence service providers, such as social workers and nonprofit agencies, need to support survivors facing prosecution. "We need to make sure that the stories of these survivors don't disappear because they're facing charges," she said.
Cherelle Baldwin's trial begins on Monday. It will be up to Baldwin and her lawyer to convince all 12 jurors that she feared for her life, and that she should therefore be acquitted of her charges on self-defense grounds. But she may face an uphill battle in the coming weeks.
As Trinidad said, "It's hard for people to accept that a woman could defend herself using lethal force against a man or that it's necessary in any way."