Hearing Reignites Calls of 'Justice for Sandra Bland'
Judge David Hittner announced at the hearing that the trial would start on January 23, 2017, for a wrongful death lawsuit brought by the family of Sandra Bland, a 28-year-old woman who died in police custody under controversial circumstances this past summer.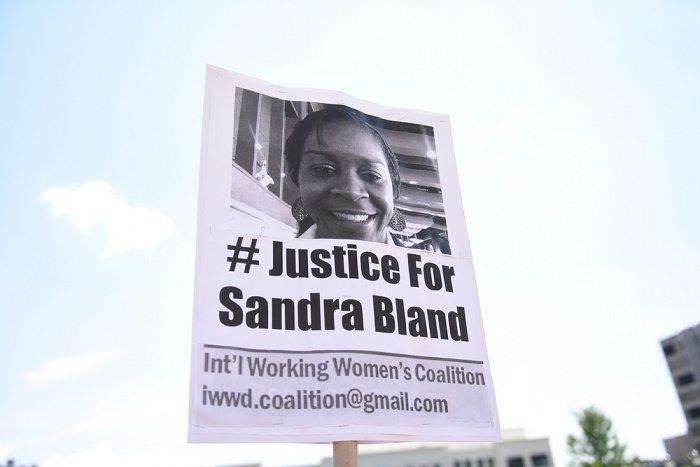 Dozens of activists in Houston, Texas, packed a federal courthouse Thursday, where Judge David Hittner heard arguments ahead of an official trial for a wrongful death lawsuit brought by the family of Sandra Bland, a 28-year-old woman who died in police custody under controversial circumstances this past summer.
The judge announced at the hearing that the trial would start on January 23, 2017.
Bland had only recently moved to Texas from Chicago to take a position as a college outreach officer at Prairie View A&M University, and was driving home after a campus meeting on July 10 when a state Department of Public Safety trooper, Brian Encinia, pulled her over for allegedly failing to signal a lane change.
A dashcam captured the subsequent interaction between Bland and the officer, which quickly turned hostile and ended with Encinia slamming Bland into the ground while her hands were cuffed behind her back. She was then placed under arrest, allegedly for "assault on a public officer" and taken to the Waller County jail, about 50 miles northwest of Houston, where she reportedly attempted to post the $5,000 bail.
Roe is gone. The chaos is just beginning.
Follow Rewire News Group on Twitter to stay on top of every breaking moment.
On Monday, July 13, three days after her arrest, the Waller County Sheriff's Office said in a statement that Bland had been found dead in her cell at nine in the morning, chalking her death up to "what appears to be self-asphyxiation."
Bland's friends and family have aggressively denied authorities' attempts to paint her death as a suicide, pointing to the fact that she'd just secured a new job, and never displayed any suicidal tendencies prior to her arrest.
On August 4, amid widespread outrage over what activists labeled the "execution" of a young Black woman in state custody, Geneva Reed-Veal, Bland's mother filed a wrongful death lawsuit in a Houston federal court, naming Encinia, the sheriff of Waller County, Texas, two of the jailers, and the Texas Department of Public Safety as defendants.
Protesters who gathered outside the courthouse for the rally on Thursday held signs saying "Justice for Sandra" and "The Whole Truth and Nothing But the Truth," echoing demands for transparency and accountability that took social media by storm the summer that Bland died.
Under the hashtags #SandySpeaks and #SayHerName, the latter coined by the African American Policy Forum earlier this year to refer to the long list of Black women who have died at the hands of the police, Twitter users for months have been calling for an investigation into Bland's death. Rallies and marches held under the banner of the Black Lives Matter movement have similarly invoked Bland's name in their larger calls to end police brutality.
Bland's name has also appeared alongside the names of Black women and girls like 27-year-old Shelly Frey who was shot and killed by Walmart security in 2012 for suspected shoplifting, 22-year-old Rekia Boyd, who was shot dead that same year by an off-duty Chicago detective while she was standing in an alleyway with her friends, and 7-year-old Aiyana Stanley-Jones, killed by a Detroit police officer while she lay sleeping in her grandmother's home in 2010.
One Huffington Post article identified 15 Black women who've lost their lives during encounters with the police in the last 15 years alone.
Bland's death also inspired the #IfIDieInPoliceCustody hashtag, which amounted to a catalog of "unofficial advance directives" to family members and society as a whole for what to do in the event of a death at the hands of law enforcement personnel.
#IfIDieInPoliceCustody don't trust any report of me being aggressive, I put my humanity aside in interactions w/ cops to come home to my kid

— jamilah (@JamilahLemieux) July 17, 2015
#IfIDieInPoliceCustody do not say "I was a good kid" because this does not pertain to my life value. Every single black life matters.

— petty wap (@carefreesista) July 17, 2015
#IfIDieinPoliceCustody Protest and throw out all notions of respectability. Have the courage of a rioter. — Charlene Carruthers (@CharleneCac) July 17, 2015
"That black people feel they must preemptively endorse investigations into their own deaths speaks to both law enforcement's troubled track record on the issue and the deluge of state violence to which black people have been subjected in the United States over the years," said Zak Cheney-Rice at Mic.
Texas is notorious for fatal encounters with the police. In the last ten years alone more than 4,200 people have died in police custody, according to an investigation by the Guardian. While the report did not specify how many of these deaths involved Black people, research has shown that Black people are disproportionately incarcerated across the state, and an analysis of government data by the American Civil Liberties Union revealed that Black drivers in Texas faced the sharpest disparities of any ethnic group when it came to traffic stops and tickets for traffic violations.
Thursday's hearing on Reed-Veal's civil case comes as a grand jury in Waller County is nearing a decision on whether criminal charges against anyone are warranted in Bland's death, according to local news reports.
A medical examiner ruled that she had hanged herself in her cell using a trash bag. Her family initially refuted these claims, but reportedly is now "open" to the possibility of suicide as a cause of death. According to an article in Chicago magazine, "The premise of suicide now forms the basis of [Reed-Veal's] wrongful death lawsuit … [which] claims Bland 'was exhibiting signs and symptoms of distress and hopelessness,' including 'bouts of uncontrollable crying,' and 'should have been placed in a mental health high-risk status, provided medical care,' and not left unobserved 'for long periods.'"