Alabama Legislators Move Closer to Further Restricting Abortion Access
A GOP-led Alabama house committee passed three bills Wednesday that would restrict reproductive rights in the state, including one proposal that targets Alabama's lone abortion clinic.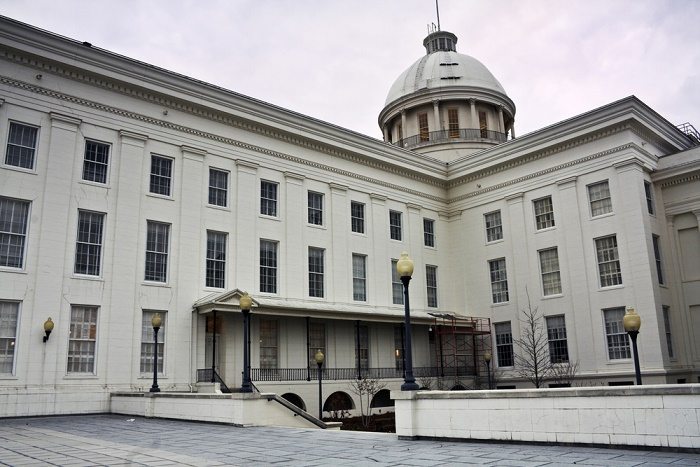 A GOP-led Alabama house committee passed three bills Wednesday that would restrict reproductive rights in the state, including one proposal that targets Alabama's lone abortion clinic.
The committee heard testimony last week from the lawmakers who introduced the bills, along with anti-choice and pro-choice advocates.
"These bills are an affront to women and limits their access to a constitutionally protected medical procedure," Susan Watson, executive director of the ACLU of Alabama, said in a statement, reported the Montgomery Advertiser. "Politicians need to stop meddling in medical affairs and putting a woman in harm's way. Regardless of how we feel about abortion, we can all agree that a woman needs and deserves the highest quality medical care possible. And we can also all agree that Alabama's pocketbook can't afford any more unnecessary litigation."
HB 405, sponsored by Rep. Terri Collins (R-Decatur), would prohibit a physician from performing an abortion on a pregnant person without first determining if the fetus has a detectable heartbeat. If a heartbeat is detected, an abortion may only be performed if the pregnant person's life is in danger; the bill provides no exceptions for rape or incest.
Roe has collapsed and Texas is in chaos.
Stay up to date with The Fallout, a newsletter from our expert journalists.
Collins' bill could effectively ban abortion as early as six weeks into a pregnancy, before a woman may know she is pregnant.
There have been six so-called heartbeat bans introduced in state legislatures this year. The Republican-led Ohio house is the only chamber so far to pass such a bill, which does not have the support of GOP Gov. John Kasich or anti-choice advocates in the state because it is clearly unconstitutional.
HB 527, sponsored by Rep. Ed Henry (R-Hartselle), would empower the Alabama Department of Public Health to reject applications or refuse to renew a health center license for facilities providing abortion or reproductive health-care services that are located within 2,000 feet of a public school.
The legislation targets the Alabama Women's Center, the only clinic in the state providing abortion care and a longtime subject of the state GOP's anti-choice regulatory proposals.
Henry said he had been asked by several Alabama anti-choice groups to file the bill, and that the legislation is necessary to protect school children from protests at abortion clinics staged by the same anti-choice activists who advocated for HB 527.
HB 491, sponsored by Rep. Arnold Mooney (R-Birmingham), would allow health-care professionals to refuse to participate in care that violates their conscience, ethical, or religious convictions. This could include performing abortions, sterilization, human cloning, and human embryonic stem cell research.
Similar bills have been introduced in at least five states this year. However, the same concept has been used to justify so-called "religious liberty" bills that have been introduced in several states this year.
An Alabama house committee passed a bill last month that would prevent clergy and other religious officials from being required to officiate marriages to which they have religious objections. The bill would also protect them from being sued for refusing to officiate.
Opponents believe the intent is to discriminate against same-sex couples under the guise of religious freedom.
All three bills now move on to the full house for further consideration. Republicans dominate the state house, holding a 72-33 majority.