Colorado Lawmaker 'Very Proud' of South Dakota Legislator Who Compared Planned Parenthood to ISIS
Controversial Colorado state Rep. Gordon Klingenschmitt, who once suggested that a gay Congressman would "join ISIS in beheading Christians," has said he's "very proud" of a South Dakota legislator who compared Planned Parenthood to the Islamic State.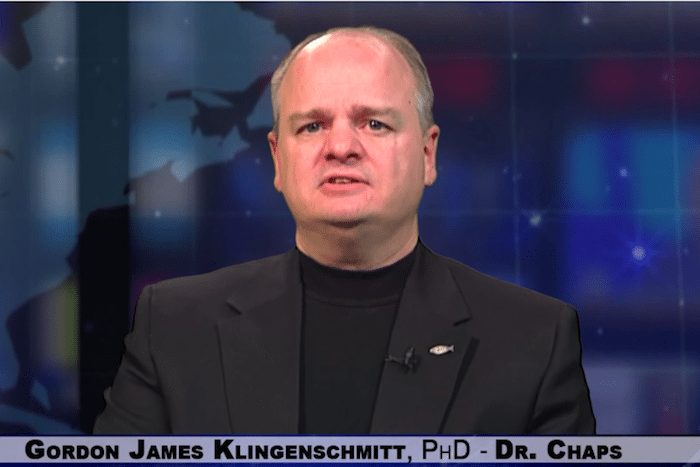 A Republican state representative in Colorado is "very proud" of South Dakota state Rep. Isaac Latterell, an anti-choice lawmaker who wrote a blog post last month comparing Planned Parenthood to the Islamic State.
"I am discerning the spirit of God on this state rep from South Dakota," Colorado state Rep. Gordon Klingenschmitt said in Tuesday's edition of his online video series called "Pray in Jesus' Name." "His name is Issac Latterell. And he is taking a stand to protect the innocent, and I am very proud of that."
Klingenschmitt, a former Navy Chaplain who refers to himself as "Dr. Chaps," concluded his video comments on the matter, beginning at the 6:45 mark here, with, "God, wake us up as a nation to stop the slaughter of innocents."
Klingenschmitt, whose comments have roiled many in the Colorado GOP, has been spotlighted for his bizarre comments about social issues, including abortion. He might be best known for allegedly performing an exorcism on a lesbian soldier, during which he claims to have said, "You foul spirit of lesbianism, this woman has renounced you, come out of her in Jesus' name."
Roe is gone. The chaos is just beginning.
Follow Rewire News Group on Twitter to stay on top of every breaking moment.
But since taking his seat in the Colorado legislature in January, Klingenschmitt has kept a low profile and mostly stayed out of the headlines.
His comments endorsing the accusation that Planned Parenthood is comparable to ISIS come as Republicans in Colorado are locked in an internal battle to pick their new state chair. The current chair, Ryan Call, faces a Tea Party-backed challenger, Steve House, a former gubernatorial candidate.
Neither Ryan Call nor the house has denounced Klingenschmitt's comparison of Planned Parenthood to the Islamic State.
But Call distanced the Republican Party from Klingenschmitt last year when Klingenschmitt suggested that U.S. Rep. Jared Polis (D-Boulder), who is gay, will "join ISIS in beheading Christians, but not just in Syria, right here in America."
GOP state chair Call responded to Klingenschmitt in 2014 by telling KDVR Fox31 Denver, a local TV station:
"Gordon, as I've said before, does not speak for the Colorado Republican Party," Call told FOX31 Denver. "His views do not reflect my personal position or the position of the party.

"But this tired, ineffectual tactic of trying to brand all Republicans based on these comments — the Todd Akin approach — it's not going to work this time around," Call continued. "Voters are too sophisticated. They know that one legislative candidate in Colorado Springs doesn't reflect the views of Bob Beauprez or Cory Gardner."
At the time, the outgoing Colorado Republican assistant house majority leader, Mark Waller, denounced Klingenschmitt when he invoked ISIS.
Waller said at the time that his "11-year-old son can identify that as a hateful speech."
"I think it was horribly inappropriate to say," Waller said. "It doesn't matter if he's a person running for state representative or a person on the street. I think it's terrible to say.
"Obviously, he does not speak for me or the Republican Party."
Later, Klingenschmitt said his comments regarding Polis were "hyperbole" and that "some Democrats do not have a sense of humor."
Republicans vote on their new state leader Saturday, but so far none of the candidates vying for state party leadership have spoken out on Klingenschmitt's latest ISIS statement.
In his blog post, titled "Planned Parenthood Is Beheading Children and Lying about It," Latterell, the South Dakota state lawmaker, wrote that "Planned Parenthood abortionists in Sioux Falls are similarly beheading unborn children during dismemberment abortions."
A spokesman for Planned Parenthood in Sioux Falls has said D and E abortions are not performed in South Dakota. A bill introduced by Latterell to ban the procedure in South Dakota was gutted last month.