Progressives: Don't Talk Turkey This Holiday Season
When Grandma They're Taking Our Jobs starts up with you over the sweet potatoes about all the babies you're killing, refuse to engage. Instead, start a new conversation: one that shifts the conversation to the things you believe in.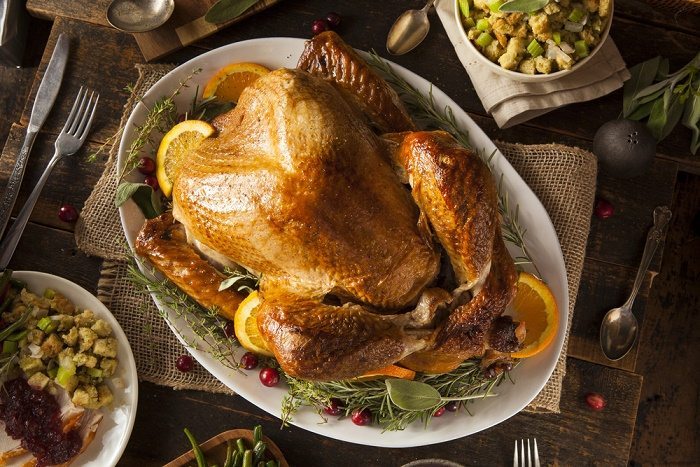 Merry Thankschrismakuh! The holiday season of hollering about politics at, with, and around our beloved relatives is among us. In keeping with the season, it is appropriate, I think, that I begin this piece with a parable. A tale as old as time, a story we all know so well. Children are involved:
On Sunday morning, I had the pleasure of joining a panel of Texas political experts, party leaders, and writers for a discussion about the recent midterm elections at the fall Texas Junior State of America conference for high school students.
It was pretty cool. Students got to fill up the seats on the Texas House of Representatives floor, where our actual state reps sit in during our legislative session. They had the opportunity to ask questions of Will Hailer, the executive director of the Texas Democratic Party, and John McCord, the political director of the Republican Party of Texas.
They also got to see, live and in person, what happens when a Democrat tries to argue about facts with a Republican. This is where the tale-as-old-as-time part comes in. Or at least the tale as old as Texas Democrats losing every statewide race in the last two decades to Republicans.
Roe has collapsed and Texas is in chaos.
Stay up to date with The Fallout, a newsletter from our expert journalists.
In the course of the panel discussion, Hailer launched into a pointed criticism of Texas' voter ID law and noted that a federal judge had called the law a racist "poll tax." Not surprisingly, McCord jumped at the opportunity to refute Hailer's claims, taking particular issue with a figure Hailer had mentioned—specifically, the number of people who didn't have a valid photo identification when the voter ID law was passed. Then, of course, it was Hailer's turn to explain his side.
Suffice to say that what ensued was a pretty predictable pissing match, with each guy jumping up to the microphone to address the other guy's claims. Things got a little testy. A little awkward. And, frankly, kind of boring for a lot of people.
You will probably not be shocked to learn, for that matter, that Hailer wasn't able to get McCord to concede the point he wanted him to concede: that the voter ID law is intended to disenfranchise minority voters. Instead, I watched a couple hundred politically motivated, go-getter high school eyes glaze over.
It was an instructive moment in a larger conversation about what progressives could do to encourage more Democrats and left-leaning voters to get out to the polls—something we'd discussed just minutes earlier on the same panel. And Hailer demonstrated precisely what doesn't, and hasn't, worked. He walked into the trap that liberals and progressives set for ourselves time and time again: He tried to use facts and logic to win a policy argument with a conservative. In the process, he lost the support—and the interest—of all the neutral potential allies standing by.
I want you to remember this throughout this holiday season, when you're sitting down to break bread with your Tea Party uncle, your Republican aunt, or your libertarian cousin. You will never win the fights you have with these people, even if you ultimately "win" them. Hours, days, weeks later—however long it takes, you might eventually secure a grudging concession. But even if, under the best and most unlikely of circumstances, you eventually get your opponent, as it were, to agree to any part of your argument, you will have lost the ears of those around you—and a very important opportunity in the process.
What opportunity? The opportunity to stop talking about policy on conservative terms, and to shift the conversation to something more productive: offering affirmative progressive alternatives.
Sure, the Democrats in that audience on Sunday probably felt validated to hear Hailer say what was on their minds. I know I did. And no doubt the Republicans enjoyed seeing McCord refute his points; certainly McCord seemed pleased at the opportunity to tout the necessity of voter ID laws. But the debate was beneficial for us—people who already knew the answers we were looking for. It wasn't for folks who are looking for something more relevant to their daily lives, like the high schoolers in the audience.
And I'm certainly not saying that we shouldn't have discussions—even heated discussions—about voter ID, or any other political issue. I'm not saying that those topics don't have an impact on folks' everyday existence. They do. But although having these arguments is a necessary and important part of civic engagement, they rarely show unengaged voters a new path. Instead, they help people who have already made up their minds shore up their own points of view.
So this kind of dialogue, where folks are entrenched in their own beliefs and interested only in scoring points with the other side—if it can be called a "dialogue" at all—doesn't advance the ball. At least, not in the meaningful way that Democrats need to advance it if, in Texas, they're ever going to end the GOP domination of politics in a state with the lowest voter turnout in the country. People on the outside of these debates aren't seeking "gotcha" points. They're looking for reasons to vote for a person who espouses a policy that will help them in their daily lives. And I think a lot of what they hear when these conversations happen is something akin to Charlie Brown's teacher: wooaaaahh waaaah waaaaaaaaah, with a Democratic or Republican accent.
Instead of getting into weedy and wonky arguments that put Republican policies and ideologies front-and-center, Democrats need to start a new conversation about what they'd like to see happen. We need to stop getting defensive, or putting Republicans on the defensive.
This holiday season—and, hell, in the months that follow—stop engaging in bad-faith debates about whether Republican policy is bad, and start talking about progressive solutions to the problems presented and magnified by right-wing legislators. There's a fundamental disconnect that I see when progressives engage conservatives, and it has to do with the fact that we're not engaging each other on the same basic terms. Liberals believe in battling systemic oppression perpetuated by the state, for example, in the form of things like voter ID laws and abortion restrictions; Republicans, on the other hand, couch these things as protecting fundamental freedoms.
We're not on the same starting line. We're not even playing on the same field when it comes to our respective political ideologies. When Democrats try to argue that voter ID laws are racist, or that abortion restrictions are meant to, well, restrict abortion access, they expect that Republicans are playing the same game. They're not. They're not even playing the same sport. And honestly, there are barely any spectators.
By contrast, we've seen that when Democrats propose progressive changes, or take bold stances on issues like abortion and immigration, the response is positive, and people who otherwise might not take an interest in politics get engaged and excited. We saw it in Texas at the state capitol during Wendy Davis' filibuster. We've seen it in the days since Obama's immigration reform announcement.
That doesn't mean there aren't criticisms to be made, or that every progressive is pleased with any given Democratic policy, but it shows people—potential voters who are exhausted by the talking-heads game and turned off by negative political advertising—that there's more to politics than tit-for-tat exchanges that inevitably put Democrats on the defensive.
What if people like us simply said: I believe in ending private prisons, implementing a minimum wage increase, same-day voter registration, marriage equality, immigration reform, or affordable health care, and talked about why, and let those ideas simmer with our friends and loved ones?
Here's what I suggest: if the conversation turns, over turkey, to the Fox News Headlines of the Day, refuse to engage. And y'all know this kind of thing is coming for you, because ole' Uncle Tri-Corner Hat has already spent every day since last Thanksgiving thinking of new ways to get the mouthy feminist at the table all riled up over abortion again. Then he gets to give his impassioned lecture about the baybeeeees again, and you get to throw up your hands in frustration because that's what happens when you try to argue with a self-aggrandizing brick wall.
I don't mean refuse to speak. I don't mean change the subject to the great Black Friday deals at Kohl's tomorrow. I mean refuse to engage with the idea that you, as a progressive or a feminist or a liberal or a Democrat owe anyone, least of all Auntie Anchor Babies, a full accounting of your personal political beliefs.
Yes, talk about why you believe the things you do. But don't feel obligated to respond to right-wing talking points that presume you're the bad guy, that force you to defend positions you don't have. Yes, Grandma They're Taking Our Jobs thinks you want to chew the U.S. Constitution to tiny bits and grant asylum to serial killers. It's tempting to try and refute those claims, because they feel so wrong and so hurtful. You know they don't reflect your beliefs or your actions. Don't give them the opportunity to entertain the idea in the first place.
What do we get at the end of these kinds of arguments, most of the time? Bad feelings, frustration, and antagonism. Maybe some validation. Maybe some more wine. What we don't get are new conversations about solutions that might help people live more economically sound, healthier lives.
Have a look around at some proposals that Democrats have made in your particular geographic area. If you live in Texas, you can check out some of the bills that have already been filed in advance of the 84th Legislature coming up in January. Rep. Celia Israel has proposed a bill that would allow for electronic voter registration. Rep. Mary Gonzalez filed a bill that will lower the age requirement for participation in the Texas Women's Health Program. A number of Democrats have proposed raising the minimum wage and starting universal pre-K programs for underprivileged and at-risk kids.
Talk about why you support these ideas. Talk about why you think they're good for your city, your county, your state. Acknowledge that Cousin Pull Up Your Pants disagrees, and move on.
Because somebody at your table is dying to witness more than a pissing match that taints the gravy. Somebody at your table is dying to hear new alternatives, and they're anxious to hear about them from someone they love.