Asylum-Seeking Women and Children Are Treated Like Dangerous Criminals When They Arrive
Thousands of women and children fleeing violence or abuse will soon be detained in American facilities run by profit-driven private prison companies—at the instruction of the Obama administration.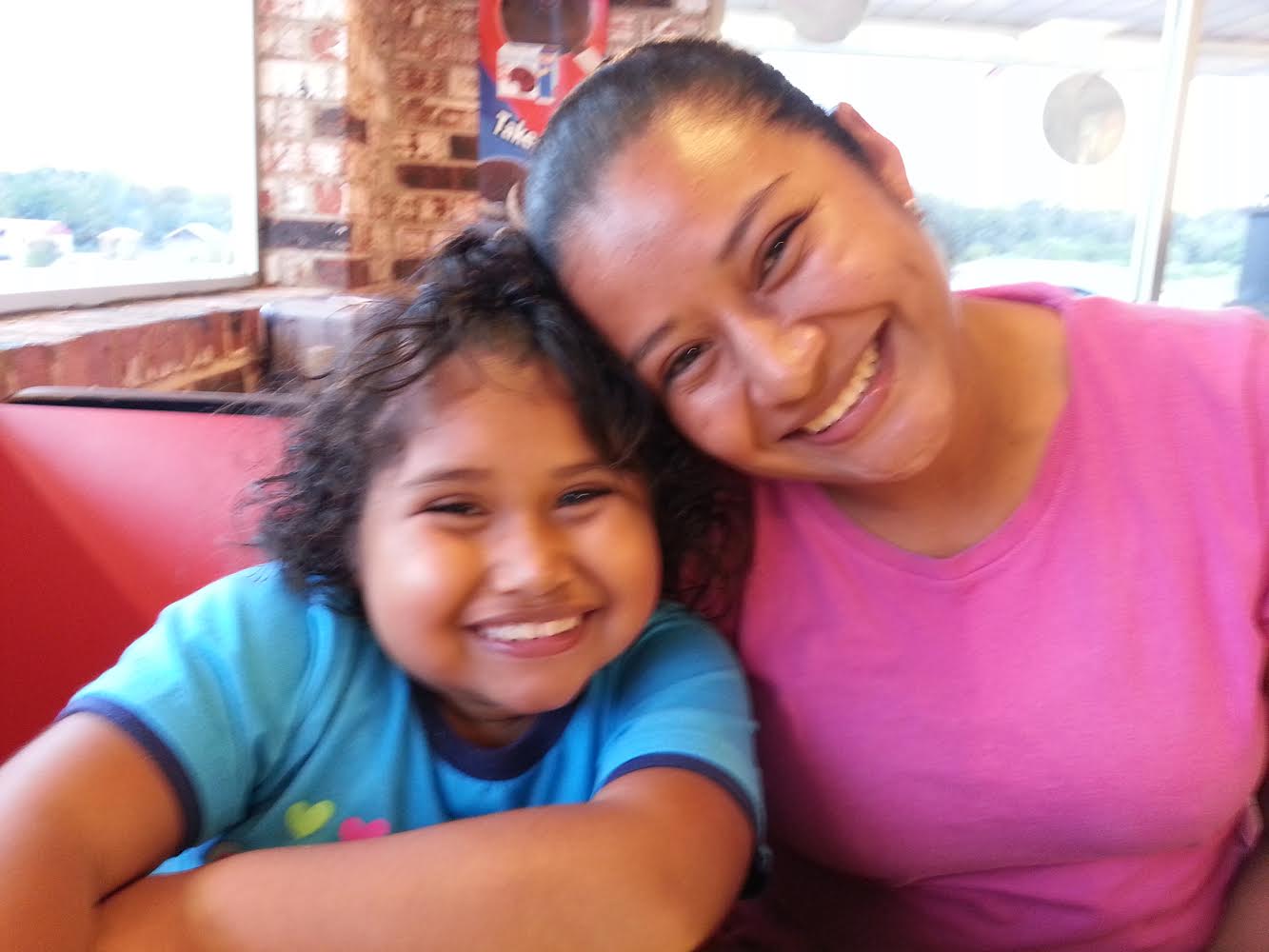 A private prison company could be making hundreds of dollars each day keeping 7-year-old Nayely Beltran under lock and key.
Instead, on one warm October morning, Nayely is zooming around a home in East Austin, Texas, showing off her new braids and handing out hugs to anyone who'll take one. She's finding a lot of takers at Posada Esperanza, a nonprofit shelter for immigrant moms and kids—currently about 20 people—who are seeking asylum in the United States.
"She's learning more positive patterns," Nayely's mom, Sara Beltran, told Rewire. Beltran speaks only Spanish for now, though she's learning English at Posada Esperanza. A staffer helps translate her story to Rewire.
Beltran says that seeing her daughter happy and healthy is why the two of them spent weeks taking buses, trains, and, eventually, a floating rubber tube across the Rio Grande to the United States. They did it all in the hopes of escaping from their dangerous and troubled home in El Salvador, where they faced both domestic abuse and drug cartel violence.
Roe has collapsed and Texas is in chaos.
Stay up to date with The Fallout, a newsletter from our expert journalists.
But Beltran's arrival in late July coincided with a new federal push to incarcerate immigrants escaping violence in Central and Latin America. When Beltran sought asylum from officials after reaching McAllen, Texas, she and her daughter were placed in a cold, sparse holding cell—"like jail," she said—with no beds, for five days. Then, authorities transferred them to a central Texas prison-turned-detention facility, the Karnes County Residential Center, where they were held with more than 500 other immigrants for two months without the opportunity to seek bond.
The treatment Sara and Nayely received at the hands of government officials is reportedly far from uncommon. According to a new report from an Austin-based immigrant justice group Grassroots Leadership and the research organization Justice Strategies, thousands of asylum-seekers will soon be detained in American facilities run by profit-driven private prison companies—at the instruction of the Obama administration.
A Move Toward Incarceration
Beltran's lawyer, Kate Lincoln-Goldfinch, who works for a private immigration law firm, says that from the moment Beltran arrived on American soil, she did everything right in seeking legal asylum. She'd presented herself to authorities and made a solid case for her reasons to flee, explaining the extreme perils she and her daughter faced back in El Salvador. And yet, immigration officials treated Sara and Nayely like dangerous criminals for months. Department of Homeland Security (DHS) leadership has said that it expressly intends this kind of behavior to act as a deterrent to people fleeing into the United States.
The latest push toward immigrant and family detention began in the summer of 2014, as people from Central America—many of them unaccompanied minors—crossed the Rio Grande into South Texas, seeking refuge from increasing violence in their home countries. Texas politicians took the opportunity to be seen on patrol with border agents and called for increased militarization along the United States-Mexico border; humanitarian and religious groups worked to house and feed minors and families in their own communities.
According to data from the U.S. Citizenship and Immigration Services, more than 36,000 people—about 30 percent of all unauthorized immigrants—sought asylum in the 2013 fiscal year by requesting "credible fear" interviews in the United States. The majority of those asylum-seekers came from the "triangle" of El Salvador, Honduras, and Guatemala; U.S. authorities found those immigrants' claims of danger to be legitimate in 85, 86, and 75 percent of cases, respectively. Those numbers have only increased since then: From October 2013 to July 2014, more than 52,000 unauthorized Central American children were taken into Immigration and Customs Enforcement (ICE) custody.
Lincoln-Goldfinch told Rewire that immigrants who do not make asylum claims—usually caught within two weeks of their arrival—are placed in "expedited removal," with little access to legal representation. If unauthorized immigrants want to stay in the United States, asylum is their best option.
Asylum-seekers need to show that they fall into one of five protected categories in order to stay; for decades, immigrants fleeing domestic violence have argued, often with little success, that their abuse qualified as persecution. In August of this year, a landmark ruling from the Board of Immigration Appeals (BIA) finally confirmed that domestic abuse survivors can be eligible for asylum, a move that could give thousands of women like Sara Beltran firmer legal footing in their own cases. Many women, like Beltran, fear both domestic violence and cartel threats.
"Almost everyone in those triangle countries are fleeing cartel violence," explained Lincoln-Goldfinch. "They're all afraid of gangs. Even the domestic violence cases I've seen also have a gang violence component." When it comes to abuse cases, Lincoln-Goldfinch said, "Now we have a real firm court decision that backs us up."
However, thanks to stricter government policies, women and children could now face weeks or months in detention before getting the opportunity to make their asylum cases. From 2009—when the Obama administration stopped holding families at the T. Don Hutto Residential Center in Central Texas—until this summer, the general protocol for most immigrants seeking asylum was to give them court dates, then release them into the wider community.
This strategy was largely effective: Data shows that 74 percent of immigrants who aren't detained do appear for legal hearings. When they are given access to legal representation—something often difficult to find in crowded detention facilities—those numbers rise even higher. Even now that the government is moving toward incarceration, single immigrant men without criminal records are still often allowed to walk free.
Immigrant women and children, however, are a different story. They'll likely be detained in a privately run facility, sometimes for up to six months, while they go through the asylum process and attempt to obtain legal representation through pro-bono lawyers like Lincoln-Goldfinch or, if they have enough money, private attorneys.
The ostensible reasoning for the shift back to detention? Immigrants who come to the United States with their children are part of what DHS calls "active migration networks," which some officials believe can act as a smoke screen for drug cartels.
Grassroots Leadership's Cristina Parker, however, called that "network" terminology just "government speak" for "families."
"It's all cloaked in 'national security,'" said Parker, but "these are vulnerable women and children."
And the women and children detained in these facilities have little to do with themselves during the waking hours they spend behind locked doors. Sara Beltran said she was "depressed" during her two-month stay in Karnes, and that her daughter would cry "all the time," and hide under the covers in her bed.
"[Immigration officials] see detention as a deterrent, and they mean for it to be punitive," said Parker. "They want people to know that if you come here, you'll be locked up."
Lincoln-Goldfinch, who is one of about three dozen lawyers who are working pro bono for the 532 immigrants currently detained in Karnes, pointed out that the incarceration model won't stop people from running for their lives; it'll just make things harder for them once they arrive. "They're fleeing murder," Lincoln-Goldfinch argued. "That's not going to stop them from coming here."
It didn't stop Beltran from traveling thousands of miles with Nayely, after all, even though the 7-year-old had a growing brain tumor—a condition for which she wasn't able to get treatment when officials placed both of them in Karnes. After Lincoln-Goldfinch and Grassroots Leadership contacted local media and implored their supporter base to make repeated calls to ICE, the Beltrans were released to Posada Esperanza in late September; Nayely was able to have surgery to slow the growth of her tumor.
Lincoln-Goldfinch credits public outrage over Nayely's incarceration as the main reason for Nayely and her mom's release. Nayely's medical condition alone wasn't enough for officials to take action, she maintains: She reports that law enforcement had access to Nayely's MRI scans from El Salvador before she even got the Beltrans' case. "Nothing was done," she said, until more people got wind of the story and put pressure on ICE.
"It wasn't until the media campaign started, and the phone campaign started, that the deportation officer called me," she said. "Literally after it went public."
But Nayely and Sara were lucky, in a sense—often, people are left in detention for months, with little outside support and for no crime beyond trying to save themselves and their children.
And the number of those people is likely to increase. At the beginning of the year, Parker estimates that fewer than 100 people were in family detention; by the end of 2014, advocacy groups forecast that number will have skyrocketed to around 4,000. ICE will fill beds—they must keep 34,000 full at any given time—and the private companies tasked with operating these centers will see their profits swell.
"At every level, their bosses are shareholders," said Parker about the corporations. "The only thing they really have to do at the end of the day is be profitable."
Putting a Price on Detention
The two most powerful prison operators, GEO Group and Corrections Corporation of America (CCA) both have a sordid, documented history of abusing the people in their care. Immigrants—mostly men—detained in GEO facilities in Texas and Washington went on hunger strikes earlier this year to protest prison conditions.
The last time the federal government detained families seeking asylum at anything close to present numbers, it was at the CCA-run T. Don Hutto Residential Center outside of Austin, a facility that stayed open for family detention until September 2009. The ACLU reports that CCA received $2.8 million a month from ICE to detain immigrant families there.
The facility, which opened in 2006, echoed norms established at other privately run detention facilities. Sexual violence, refusal of medical care, and limited access to legal representation had reportedly become the status quo, prompting numerous lawsuits and investigations from human rights groups. According to these organizations, Hutto had hundreds of families packed in cells with open toilets, forced to eat and bathe in 15- and 30-minute blocks; children were given little access to toys or education. An ACLU counsel told Grassroots Leadership and Justice Strategies that she had spoken to children there who had not been outside in four weeks.
The ACLU and the University of Texas Immigration Clinic filed suit against Hutto and settled with DHS in 2007. As part of the settlement, Hutto operators pledged to improve conditions, removing requirements that immigrant children wear prison uniforms, and increasing the amount of time immigrants could spend outside and the kinds of toys children could keep. They also promised to serve more nutritional food. Guards were "instructed not to discipline children by threatening to separate them from their parents."
External groups continued to monitor conditions at Hutto, and human rights organizations organized daily protests and opposition events during Barack Obama's first 100 days in office in 2009. Even after the last family was released in September of last year, officials have still used the facility to house women detainees.
Despite the litigation and controversy, the government has continued to contract with major corporations to run their facilities. It is unclear just how much private prison companies stand to make, in total, off of immigrant detention, though just two family detention facilities—one in New Mexico, and another in Pennsylvania—are currently operated by the federal government. The Grassroots Leadership report credits GEO Group CEO George Zoley with telling shareholders on an August 2014 "earnings call" that his company projected annual revenues of around $26 million after taking on the family detention contract at Karnes—up from the $15 million it received when the institution only housed men.
And soon, CCA will open a 2,400-bed facility in Dilley, Texas, remodeling an area used for a state prison and a "man camp" intended to house oil and gas workers into a detainment center for women and children escaping violence south of the border.
Grassroots Leadership has called the Dilley facility "the largest family detention project in the U.S. since Japanese internment."
This doesn't bode well for those seeking asylum. In these privately run facilities, said Parker, "We see sexual abuse as such a recurring thing, and abuse and violence seem to happen all the time." Indeed, just weeks after Karnes began to detain families, allegations of assault began to crop up.
This mistreatment and abuse is a consequence, Parker suggested, of management companies "cutting services, cutting corners when they need to," and paying lower wages to guards than those earned by peers in government-run facilities.
In addition to the safety and well-being of those in detention, Lincoln-Goldfinch said she worries, too, about "the precedent we're setting, and also the history we're writing" by returning to a detention model.
"We're doing something shameful that's going to haunt us for years in our memories," she says. "That our response as a nation is to detain people, the children who come here, seeking help, is really shameful."
Beltran told Rewire that she brought Nayely to the United States so that her daughter could "learn that violence is not okay." But living in a prison—albeit one with a few cartoon characters painted on the walls in common areas, an attempt to liven up a facility previously used to house detained men—only caused her to act out in frustration.
Now that they're both living at Posada Esperanza, Beltran says that they're drawing strength from the other immigrant women that surround them and learning skills to help them build what they hope will be a new life here in the United States.
Beltran enjoys working with her hands. In addition to wanting to find work as a hairdresser, she said, she wants to help "other people like me" who've come to the United States seeking asylum. Her eyes welled up with tears when she thought about being deported—something that she still fears, even though her lawyer has told her she has a good case.
"I don't want to go back," she said. "No puedo."