Iowa Senate Candidate Ernst Has an Ever-Growing List of Controversial Statements
Iowa State Sen. Joni Ernst (R-Red Oak), candidate for U.S. Senate, has quickly become a national figure by making outlandish statements that appeal to the far right, including comments charging that she would use a gun to defend herself "from the government."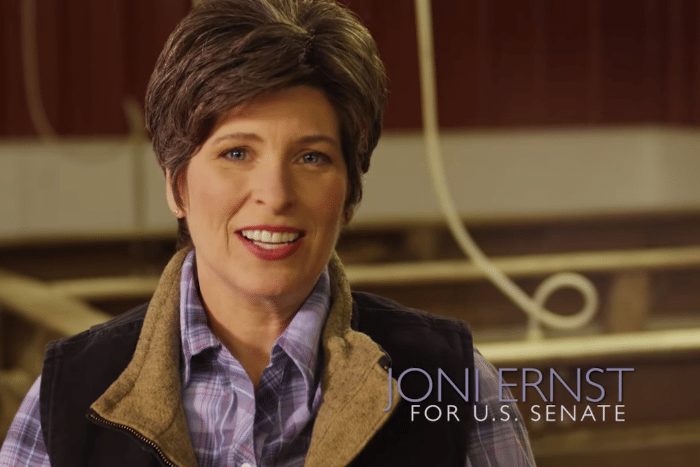 Iowa State Sen. Joni Ernst (R-Red Oak), candidate for U.S. Senate, has quickly become a national figure by making outlandish statements that appeal to the far right, including comments charging that she would use a gun to defend herself "from the government."
"I have a beautiful little Smith & Wesson, 9 millimeter, and it goes with me virtually everywhere," Ernst reportedly said in 2012 at the NRA and Iowa Firearms Coalition Second Amendment Rally in Searsboro, Iowa. "But I do believe in the right to carry, and I believe in the right to defend myself and my family—whether it's from an intruder, or whether it's from the government, should they decide that my rights are no longer important."
Other attention-grabbing statements Ernst has made include support for legislation that would allow "local law enforcement to arrest federal officials attempting to implement" the Affordable Care Act (ACA), voicing supporting for the fringe "nullification" theory that says states could ignore laws passed by Congress, and calling President Obama a "dictator" who should "face the consequences," including impeachment.
Iowa's senate battle has become one of the most important—if not the most important—contest in the 2014 midterm elections.
Roe has collapsed in Texas, and that's just the beginning.
Stay up to date with The Fallout, a newsletter from our expert journalists.
Ernst's support for "personhood" legislation, which would grant full legal protections to an embryo from the moment of conception, has become a campaign issue. After backtracking on her support for the radical "personhood" measure, Ernst recently changed course and forcefully supported the position during an interview with the Sioux City Journal editorial board.
Allegations have surfaced that Ernst witnessed male colleagues sexually harass a female employee while she was serving in the Iowa Senate and "did and said" nothing to stop the abuse. The claim comes from a lawsuit filed by a former Republican senate staffer, according to reporting by Mother Jones.
The lawsuit does not name Ernst as a defendant.
Ernst has not answered questions, according to reports, about the allegation or any of the other controversial statements she reportedly made. She cancelled her endorsement interview with the editorial board of the Des Moines Register on Thursday, and also snubbed meetings with other Iowa papers, including the Cedar Rapids Gazette and the Dubuque Telegraph-Herald.
Ernst campaign spokeswoman Gretchen Hamel released a statement blaming the Des Moines Register's perceived bias as the reason for the cancellation: "Recent editorials in the Des Moines Register make their position in this race perfectly clear, and it's one that many voters across our state seem to disagree with. With less than 12 days to go, time is precious and Joni wants to spend every minute talking to undecided voters, hearing their concerns, and demonstrating why we need a change in Washington."
Control of the U.S. Senate could come down to a few increasingly close races in traditionally red states such as Kansas, Georgia, and Iowa. The election forecasters at FiveThirtyEight are predicting that Iowa will be a "key" factor in determining if the Republicans can gain control of the Senate.
Ernst holds a two-point advantage over her Democratic opponent, U.S. Rep. Bruce Braley, according to the latest Quinnipiac University poll released Thursday.
The direction the 4 percent of undecided voters break in the last week of the campaign may have a significant impact on determining who wins the Iowa race and, ultimately, which party controls the Senate come 2015.