Gillibrand's Drive Challenges Senate Power Brokers on Military Sexual Assault Remedy
Studies suggest that Gen Xers like Kirsten Gillibrand question authority and reject seniority, while Baby Boomers like Claire McCaskill treasure loyalty and play by the rules. A proposal to stem the military's sexual assault crisis may just be the result of generational divide.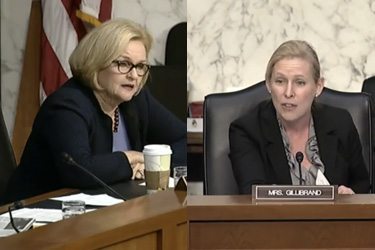 UPDATE, September 23, 1:32 p.m.: Politico reports this morning that three retired generals have now expressed their support for Gillibrand's Military Justice Improvement Act.
In the Senate Armed Services Committee hearing room last June, an extraordinary spectacle took place as the Joint Chiefs of Staff, together with other top military leaders, assembled at a long table for a dressing-down by the senators over the epidemic of sexual assault taking place within the ranks—an epidemic that appears only to have grown since it first became known 20 years ago, and spilled into public view once again this year with a rash of news reports and the release of the latest data on the crisis by the Department of Defense.
By the Pentagon's own accounting, an estimated 26,000 incidents of unwanted sexual contact were experienced by members of the military in 2012, often at the hands of perpetrators of higher rank. Yet only 3,300 reports of sexual assault were made that year, and a mere 302 went to trial.
Among the generals' toughest critics on the committee that day were two women—Sen. Kirsten Gillibrand (D-NY) and Sen. Claire McCaskill (D-MO)—whose questions were as pointed as their rejoinders were barbed.
Roe has collapsed in Texas, and that's just the beginning.
Stay up to date with The Fallout, a newsletter from our expert journalists.
At one point, McCaskill lectured a panel of commanders on Lt. Gen. Craig A. Franklin's decision to overturn the sexual assault conviction of Lt. Col. James Wilkerson, citing a letter written by the general to justify his action as "astoundingly ignorant." Referencing the general's assumption of the victim's culpability in her own assault, McCaskill said, "Are you frickin' kidding me?"
Gillibrand, too, erupted with incredulousness at what she sees as military leaders' failure to appreciate the depth of the sexual assault epidemic. Some commanders, she said, "can't distinguish between a slap on the ass and a rape."
While the two share a penchant for outspokenness, particularly on the subject of sexual assault, their solutions to the crisis in the military diverge widely, and they are as different in style as the generations they represent.
Gillibrand's 'Question Authority' Generation X Style
McCaskill, like most of her female colleagues in the U.S. Senate, exemplifies the ethos of the Baby Boomers, as described by a bevy of academic studies: Work hard, play by the rules, and behave with loyalty and deference to those above you in the organizational chart.
The future of the Senate, however, belongs to Gillibrand and her fellow Gen Xers who, according to social scientists, tend to rebel against authority, have little regard for seniority in the workplace, and believe in solving problems immediately—qualities that, especially when possessed by a woman, will jar any observer steeped in the conventions of an earlier generation.
Gillibrand wants to remove the reporting and prosecution of rape, sexual assault, and other serious crimes from the chain of command—a change she and victims' advocates say will encourage more victims to come forward—and is meeting fierce resistance by military leaders. There's no getting around the fact that Gillibrand's Military Justice Improvement Act (S.967) would represent a profound change to the very structure of the justice system in the armed forces.
McCaskill has aligned herself with Armed Services Committee Chairman Carl Levin (D-MI), who accepts the claims of Pentagon leaders that removing any authorities from commanders will destroy "good order and discipline" in the ranks, and favors instead a new entity staffed by civilians in each of the armed services that would review any case that a commander refuses to pursue.
If the social scientists are right, the generational difference between two of the Senate's strongest women may account, in part, for the fact that Gillibrand's proposal is still alive and gathering support, even after being voted down in the Armed Services Committee, while McCaskill's reward for playing by the rules in the battle over how to fix the military's sexual assault has been deserted by nearly all of the other Democratic women in the Senate, who have either co-sponsored or expressed support for Gillibrand's measure.
Unburdened by the Boomers' reverence for hierarchy, Gillibrand, in her refusal to bow to the will of her committee chairman or the military brass, forced the women of the Democratic caucus to choose between the remedies favored by victims' groups or those favored by the male military leaders who have presided over a crisis that has only gotten worse over the last two decades. But in siding with Gillibrand, they're not merely expressing a desire for structural change in the military; they're weakening the bonds of gentlemanly protocol in the Senate.
As Congress approached its August recess, the battle between Gillibrand and McCaskill became tense, with military brass, via McCaskill and Levin, publicly opposing Gillibrand, and a victims' advocacy group allied with Gillibrand launching an unexpected broadside at McCaskill.
Won't Back Down
When Levin, as committee chairman, shot down Gillibrand's attempt to include the provisions of her proposal in the mark-up of the 2014 National Defense Authorization Act (NDAA), he likely thought that was the end of it.
The two are, after all, in the same party, and Levin is Gillibrand's senior, by far. In the culture of the Senate, few attributes are venerated more grandly than seniority.
In order to address the sexual assault crisis, Levin included a hodgepodge of measures, ranging from the creation of a victim's advocate position, proposed by Sens. Patty Murray (D-WA), Kelly Ayotte (R-NH), and Richard Blumenthal (D-CT); to removing a commander's ability to overturn a sexual assault conviction, proposed by McCaskill, and criminalizing retaliation against victims by commanders.
But leaders of advocacy groups say that while helpful, these measures fall short of the kind of fundamental change needed to solve a problem that has only grown worse in the more than 20 years since it was first exposed with the Tailhook scandal, when 80 women and several men were assaulted by Marine and Navy pilots at an annual convention in Las Vegas.
Instead of folding her tent after her remedy was shunted from the mark-up, Gillibrand soldiered on, mounting a campaign to bring her Military Justice Improvement Act to the Senate floor, buttonholing colleagues and building a coalition of support that includes such unlikely allies as Ted Cruz (R-TX) and Rand Paul (R-KY), both Tea Party darlings and aspirants for the 2016 presidential nomination (and fellow Gen Xers who have no compunction over defying the leadership of their own party).
At last count, according to sources in Gillibrand's office, her military reform measure had garnered the support of 46 senators (including its author)—just five shy of the 51 she will ultimately need to convince Senate Majority Leader Harry Reid that her measure is worthy of a floor vote.
Reid expects to allow that vote to go forward, according to an aide in the majority leader's office, who hastened to add that observers should expect to see, in addition to jousting over the Gillibrand measure, a "robust debate of over 30 provisions to combat military sexual assault" when the NDAA comes to the floor later this fall.
An aide to Gillibrand told Rewire that supporters of her measure include nearly all 16 of the Democratic women senators. Two—Sens. Debbie Stabenow (D-MI) and Amy Klobuchar (D-MN)—have yet to express a view on the bill, and none are standing publicly against it, except for one: McCaskill. (Emails and phone calls by Rewire to the press secretaries of Stabenow's and Klobuchar's offices were not returned.)
A former county prosecutor who specialized in sexual assault cases, McCaskill asserts that putting such cases in the hands of prosecutors who work outside the chain of command will lead to fewer cases being tried, not more. A new class of military prosecutors will be loath to move forward with difficult cases, she says, in order to protect their win-loss record.
As Washington bureau chief of the St. Louis Post-Dispatch, Bill Lambrecht has covered McCaskill since she first came to the Senate in 2007. "My sense is that she comes to this issue feeling that she has a lot of experience, and understands motivations and prosecution, and how prosecutors think, because she was one," he told Rewire.
At a July news conference, McCaskill herself put it this way, according to ABC News:
"I think anybody who knows my record, who knows that I've been working at this for years, who understands my time in a courtroom, no one in the Senate has cried with more victims of sexual assault than I have," McCaskill said. "No one has looked more juries in the eye and said, 'Put this man in prison for as long as the law allows.' No one has had more experience with these kinds of crimes than I have. The notion that I would ever be a roadblock to prosecutions, is enough to give me a stomachache."
The Fairest Adjudication
When the Department of Defense released those jaw-dropping estimates of sexual assault incidents in May, they appeared against the backdrop of relentless news reports of rape and sexual assaults committed by military officials ranging from military recruiters to the lieutenant colonel then in charge of the Air Force's sexual assault prevention unit.
The media's attention was partly drawn to the decades-old sexual assault crisis by a devastating, Oscar-nominated documentary, released in 2012, on the military's rape culture: The Invisible War, directed by Kirby Dick.
Dick says that while he appreciates McCaskill's concern about a new prosecutorial structure possibly inhibiting numbers of cases that are brought forward, "the much more important bottleneck is how many people report [having been assaulted]," Dick says. "And right now, with less than 10 percent of people [who have been assaulted] reporting, the first objective of any legislation should be to increase reporting … and that's where the Gillibrand bill is so effective."
Today, when a soldier reports that she's been raped or sexually assaulted by another in her unit, it is her commander who decides whether or not the case goes forward. Often the perpetrator is of a higher rank than the victim, who commonly finds that her commander is more inclined to protect the career of a fellow officer than to seek justice for a lower-ranking member.
And it's not simply a matter of justice denied; retaliation against victims who report the crimes perpetrated against them is common. A Pentagon survey found that among victims who reported having been sexually assaulted, 62 percent said they had suffered retaliation for having done so. Sometimes the retaliation is career-destroying—not just ending the victim's military career, but impairing her or his civilian career, as well. It is not uncommon for victims to be saddled with a mental health diagnosis after reporting a sex crime by a superior. Brian Lewis, a Navy veteran who spoke at a press event convened by Gillibrand in May, said that he was tagged with a personality disorder after he reported having been raped by a superior.
Gillibrand's proposal would refer cases of sexual assault and other violent crimes to a new class of prosecutors, trained in the Uniform Code of Military Justice, removing the conflicts of interest that often occur when victim and perpetrator serve under the same commander.
The Gillibrand proposal echoes the practices of many of the nations the U.S. counts as its allies, including Israel, the United Kingdom, Canada, and Australia. (Cases specific to military duties, such as charges of going absent without leave [AWOL] or dereliction of duty, would remain under the purview of the chain of command.)
Amos Guiora, a law professor at the University of Utah and former judge advocate in the Israel Defense Forces (IDF), has been watching the Senate drama unfold.
"I haven't really seen anything that's remarkably compelling as to why [the adjudication of sex crimes] should stay within the chain of command," he told Rewire, speaking via Skype from his home in Israel. Instead, he said, the arguments he hears from Gillibrand's opponents in the U.S. military amount to, "'We've always done it like that' and 'Only the commander knows what's good for the unit.'"
In Israel, said Guiora, who also served as commander of the IDF School of Military Law, the judge advocate decides whether or not a case goes forward. In that role, he said, "I informed the [unit] commander of my decision, but I didn't consult with him as to my decision, and I didn't require his permission as to my decision."
In the rhetorical contest between McCaskill and Gillibrand, neither have produced data to support their claims as to whether the outside-the-chain-of-command adjudication structure used by U.S. allies for the prosecution of sexual crimes would increase the number of reported assaults, as Gillibrand asserts, or reduce them, as McCaskill says it would.
But that's not the point, said Guiora. "I think the issue is: What's going to enable the fairest adjudication of any particular incident? I think that should be the focus," he said. "What's important is whether or not he or she—the victim—believes that the attacker, the case against them, will be prosecuted to the fullest extent of the law."
McCaskill Blindsided
In Gillibrand's quest to keep her Military Justice Improvement Act alive after the Armed Services Committee voted against including its provisions in the annual defense spending bill, she began lobbying fellow senators one by one, Politico reported, keeping track of supporters on a big whiteboard in her office.
On July 17, she won a lot of attention when Rand Paul and Ted Cruz signed on as supporters, and appeared with Gillibrand at a press conference. That, and the subsequent article by Politico's Darren Samuelsohn and Anna Palmer, seemed to have set her opponents scrambling, and in less than a week, Levin and McCaskill produced letters from top military officials that detailed their contention that the Gillibrand measure would spell disaster for the armed forces.
The next day, a full-page ad appeared in the Post-Dispatch featuring an open letter to McCaskill from Navy veteran Terri Odom, who tells of having been raped and left for dead by a trusted colleague (with a rank superior to hers) when she was in the service, and then forced out of the Navy in retaliation for reporting the assault.
"How can you possibly be against the creation of a professional, independent, impartial military justice system?" Odom says in the ad.
Accompanying the lengthy text is a photograph of Odom from her Navy days—young and pretty, a smiling, dewy-eyed teenager in uniform, purse on her shoulder.
The ad was placed by Protect Our Defenders, a victims' advocacy group whose president, Nancy Parrish, testified before the Armed Services Committee on the day the brass lined up to take their lumps from the senators for failing to have fixed the military's rape culture. By all accounts, McCaskill was blindsided by the ad. (Requests by phone and email from Rewire for comment from McCaskill's office received no replies.)
When asked if McCaskill had been given a heads-up before the ad ran, Protect Our Defenders Executive Director Taryn Meeks, a former judge advocate in the U.S. Navy, told Rewire that she had not. However, members of her group had met with McCaskill in the past, she said, "and there were obvious differences of opinion."
"The reason that our response was appropriate was based upon many statements that had been made recently by Sen. McCaskill that warranted and necessitated a response," Meeks said, rattling off three such statements, including McCaskill's contention, stated in the July 20 episode of the MSNBC program Morning Joe that the Pentagon's estimates of 26,000 unwanted sexual contacts included "somebody looking at you sideways, saying you look nice in a sweater." (In fact, the Pentagon estimate does not include verbal sexual harassment, only physical contact.)
Another statement that drew the group's ire was one McCaskill made to The Nation while explaining her belief that a case brought forward by an accuser's commander was preferable to one brought by the kind of military prosecutor, working outside of the chain of command, that the Gillibrand bill would create.
"If everybody in the unit knows the commander has said, 'This needs to go to court,'" McCaskill told The Nation's Zoë Carpenter, "that gives you a level of protection you will never have when everyone knows a bunch of outside lawyers have bought your bull."
"Their bull?" Meeks said, with irritation filling her voice. "These are the kinds of statements that we felt really necessitated a response."
She also took issue with McCaskill's assertion that the military should be granted another five years to rectify its sexual assault problem before deciding to change the command structure.
Of the ad featuring Odum, McCaskill told the St. Louis Beacon, "If she would have called, I would have loved to visit with her about it because I think if I would have talked to her, she'd get it."
Pushing Back
Protect Our Defenders was prominently featured at the May Senate event at which Gillibrand unveiled her Military Justice Improvement Act, and the group is viewed as allied with Gillibrand.
The day after the ad appeared, McCaskill convened a press event featuring several retired service members who are women, including Lisa Schenck, associate dean of academic affairs at the George Washington University Law School and a retired Army judge advocate, who argued for maintaining the current adjudication structure for sexual crimes, and expressed support for a proposal put forward by McCaskill that would add a review by civilian experts employed by the military.

Schenck's comments at McCaskill's press conference were reported by ABC News:
"If you take out the command authority from the process, you are essentially gutting the military justice process," Schenck said. "You have to look at why they are there in the first place. They are there for discipline and our military justice process is for discipline. Victims need to be empowered and [McCaskill's] bill empowers the victims."
(Schenck declined to comment for this article.)
At McCaskill's side stood Sen. Jon Tester (D-MT) and the GOP's Kelly Ayotte, and joining Schenck among several women military veterans at the event were retired Marine Col. Ana Smythe and retired Navy Capt. Kathy Beasley. Yet none of those arrayed around McCaskill at that press conference were women who claimed to have suffered a sexual assault while in the military.
On the same day, McCaskill also posted on her website two diagrams pertaining to Gillibrand's bill and the measures included by Levin in the appropriations bill that Gillibrand aides say include text that is misleading. Both of the diagrams on McCaskill's site carry a note that says victims already have several avenues for reporting a crime outside the chain of command.
"Of course they can," Gillibrand's office shot back in a press release issued that same day, "but under the current system, regardless of whom you report the crime to initially, it ultimately ends up on the desk of the commander."
A few days later, on July 30, Gillibrand made her case on the PBS show NewsHour, telling host Judy Woodruff, "The secretaries of defense, since Dick Cheney was secretary of defense some 20-odd years ago, have said, Judy, over and over again: 'zero tolerance' for sexual assault and rape. This has been within the chain of command every one of those years since. Commanders have had every bit of authority they need to tackle this problem and solve this problem, but it's not being solved."
Not to be left on the sidelines while the battle ensued, the Pentagon, in early August, fired some 60 troops who worked as either sexual assault counselors, recruiters, or drill instructors, according to USA Today, for "violations ranging from alcohol-related offenses to child abuse and sexual assault."
A week later, McCaskill appeared on NBC's Meet the Press to say there was no evidence that reporting of sex crimes had risen in the armed forces in countries where the adjudication of such crimes had been removed from the chain of command. She repeated her well-known refrain that to take the prosecution of such crimes from the chain of command was to "let commanders off the hook."
Two days after McCaskill's August 12 NBC appearance, Defense Secretary Chuck Hagel announced a number of measures the Pentagon was implementing to address the crisis, including a prohibition on commanders' overturning jury verdicts rendered in sexual assault cases in the military justice system, which they're currently permitted to do. (That prohibition, via a measure proposed by McCaskill, was already on its way to becoming law as part of the 2013 defense appropriation bill.)
While Gillibrand publicly applauded Hagel on that particular point, she issued a short statement that basically added up to: Nice, but not good enough. Then she went back to summoning support for her bill—the measure opposed by Hagel and the military brass.
The Coming Showdown
In the closing months of the current session of Congress, there's a pile of business to take up—including a battle with Tea Party Republicans to keep the government open—and Gillibrand faces an uphill slog. Reid may have promised that her measure would see a vote (provided she musters enough support), but the comments of his aide suggest it will be presented amid a flood of competing—and complementary—measures.
"[M]y gut here is that [Senate Majority Leader Harry] Reid doesn't want to have this vote on the floor," said Sarah Binder, senior fellow in governance studies at the Brookings Institution and professor of political science at George Washington University, in a telephone interview. "It's rare you see these divisive votes, because the parties don't like to air their disputes publicly."
On the merits of Gillibrand's Military Justice Improvement Act, missing on the list of the measure's supporters is the majority leader. Indeed, when Rewire asked Reid in May if he supported Gillibrand's measure, he gave a noncommittal answer.
Binder went on to explain that under the rules of the Senate, there are a number of ways that a vote could be constructed (or sabotaged), one variable being how cooperative Senate Minority Leader Mitch McConnell (R-KY) deigns to be. But McConnell, normally inclined to side with the Pentagon, may not be so inclined this time around, given the fact that he's up for re-election in 2014, and is facing a primary challenge from the right. That means he needs the full-throated support of Gillibrand's ally Rand Paul, Kentucky's junior senator.
As for McCaskill, she may have won the battle by allying with Levin in voting down the Gillibrand measure in the appropriation bill, but she might just lose the war if Gillibrand wins a floor vote, one in which McCaskill could find herself as the lone Democratic woman in the Senate to stand with the nearly all-male line-up of generals and admirals who acquitted themselves so poorly before the Armed Services Committee during that epic June hearing on the military's sexual assault crisis.
It all has political observers scratching their heads at McCaskill's intransigence on the chain of command question, especially given her well-earned reputation as an adept and strategic politician. (This is the woman, after all, who, expecting a tough re-election fight in 2012, nudged Republican primary voters to pull the lever for Todd "legitimate rape" Akin, correctly seeing him as a weak opponent.) As Brookings' Sarah Binder said, McCaskill's last election "was really all about being on the right side of the women's issue."
"I think that perhaps McCaskill believes that she has more bona fides on this issue than does Gillibrand," said Lambrecht of the Post-Dispatch. Others in the Senate, Lambrecht said, whisper "that maybe Gillibrand is trying to build on her résumé."
Amid those whispers is the notion that perhaps Cruz and Paul aren't the only supporters of the Military Justice Improvement Act who have embraced it with an eye toward the 2016 presidential race.
"There's certainly some personality issue here," Binder said. "I don't normally traffic in those, except to say that Gillibrand is really dogged."
What Binder sees as a personality conflict, though, may be attributable, in part, to the generational values Gillibrand embodies.
Binder noted how Gillibrand managed to achieve a piece of legislation that eluded Hillary Clinton when the former secretary of state, hardly a pushover, held Gillibrand's seat: a bill to compensate workers at the post-9/11 ruins of the World Trade Center for the health consequences many encountered while cleaning up that toxic site.
Then there was Gillibrand's coup in the face of the brass' resistance to allowing gay men and lesbians to serve openly in the military. Speaking to the New York Times after Gillibrand unexpectedly rallied the votes she needed from Republicans to win a repeal of the Pentagon's anti-gay "Don't Ask, Don't Tell" policy in the Senate, Levin told the Times, "She is not shy about her views, and pressing her views and talking to anybody and everybody, on the floor and not on the floor, and in office visits, and in the hallways."
Even if Gillibrand prevails in getting her Military Justice Reform Act to the Senate floor, it's unlikely to pass the House, where Republicans are in the majority. But she'll have kept the issue alive for the better part of a year, called attention to the plight of assault victims, and put the Pentagon on notice that a close eye is turned to its leaders' promise to fix the problem.
And she'll have secured her place as one of the Senate's rising stars, heralding the arrival of the Gen X woman, and the passing of an age of deference.
Correction: A version of this article incorrectly spelled the first name of Politico's Darren Samuelsohn as Darrell. We regret the error.