At What Point Is It Unethical for States to Defend Blatantly Unconstitutional Abortion Restrictions?
The Idaho attorney general's office warned lawmakers their pre-viability ban was unconstitutional, but lawmakers passed it anyway. So how then can the law be defended ethically in court?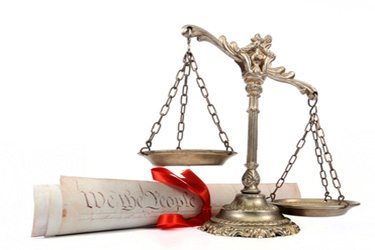 Add Idaho to the growing list of states like North Dakota and Alabama amassing enormous legal fees defending unconstitutional anti-abortion restrictions.
As reported by the Associated Press, the latest attorneys' bill came Thursday when U.S. District Judge B. Lynn Winmill ruled the state owed more than $376,000 to attorneys for Jennie Linn McCormack, the Pocatello woman who had been unsuccessfully prosecuted for a felony because police claimed she had an illegal abortion. McCormack's lawsuit challenged the constitutionality of the prosecution and several other Idaho abortion restrictions, including the state's so-called "fetal pain" pre-viability ban. The lawsuit resulted in a federal court overturning some of those restrictions, including the pre-viability ban.
Because some of McCormack's case is still pending with the Ninth Circuit Court of Appeals, the state won't have to actually pay the nearly $400,000 immediately. That's in part because the outcome of that appeal could determine the final cost. Should the state ultimately succeed before the Ninth Circuit, the amount it owes McCormack's attorney could be reduced. Likewise, should McCormack succeed at the Ninth Circuit, the fee could go up with the state ordered to pay McCormack's appellate costs as well.
Since 2000 and prior to the fees associated with McCormack's case, the State of Idaho had already spent about $365,000 defending other abortion restrictions, including challenges to a parental consent law, a so-called "partial birth abortion" law, and a law that would have denied Medicaid coverage for medically necessary abortions. In addition to the almost $400,000 to defend those laws, it was also ordered to pay an additional $446,000 in attorneys' fees to the plaintiffs in those three cases.
Sex. Abortion. Parenthood. Power.
The latest news, delivered straight to your inbox.
But McCormack's case should raise some ethical questions within Idaho's attorney general's office and with the public at large. According to the AP report, the attorney general's office warned lawmakers that a pre-viability ban was unconstitutional, but lawmakers passed it anyway. Now, it's the job of the attorney general to defend state law, but attorneys also have a corresponding ethical obligation to not advance frivolous claims or defenses. Rule 3.1 of the Idaho Rules of Professional Responsibility dictates that "[A] lawyer shall not bring or defend a proceeding, or assert or controvert an issue therein, unless there is a basis in law and fact for doing so that is not frivolous, which includes a good faith argument for an extension, medication, or reversal of existing law." The rule is designed to give attorneys enough room to creatively advocate on behalf of their clients while preserving the basic compromise that is supposed to form the foundation of all litigation: attorneys can advocate zealously, but they must do so in good faith.
In McCormack's case, state attorneys argue they didn't violate any ethical obligation, because instead of arguing over the merits of the so-called fetal pain law their defense strategy was to challenge McCormack and her attorney on standing, the procedural requirement that allows an individual to bring a claim. But that's a smoke-and-mirrors argument that maybe meets the low bar for ethical clearance set by Rule 3.1 but arguably violates its spirit. McCormack challenged Idaho's pre-viability ban and has been successful, for now, in getting the law blocked. And while that challenge was at times wrapped up with McCormack's other, more visible challenge to the constitutionality of the state's illegal abortion statute, the court did eventually rule on the constitutionality of the state's pre-viability ban. That means the substance and merits of the law was before the court, and the attorney's general office can't claim their strategy of initially avoiding the merits of the law in favor of a stronger, procedural argument did not function as a defense of that law.
State rules of professional responsibility are aspirational—they are standards the profession hopes to maintain. Absent administrative complaints to the state's governing board, they don't, by themselves, create the ability to hold lawyers responsible for their conduct. The vehicle to do that is a legal malpractice lawsuit, and malpractice claims are based on a standard of negligence. Amazingly, violating an ethical rule is not considered per-se negligence, which means it can't be the basis for a malpractice lawsuit. Stated another way, absent some really big screw-up by lawyers, there's not much the public can do to police their conduct. They are left to do it themselves. And as we're seeing in places like Idaho, that's an expensive proposition. It also highlights why the fight over the so-called "science" behind the latest rounds of pre-viability bans is so critically important. Without it, anti-choice litigators cannot ethically claim they are legitimately advancing any "good faith argument for an extension, medication, or reversal of existing law" when they claim any abortion restriction that bans the procedure pre-viability is constitutional in the face of Roe v. Wade.