Sexual Health Roundup: Porn Not So Influential?; Latinos Support Sex Ed; German Textbook 'Too Explicit'
A new study suggests that porn might not influence young people's sexual behavior as much as we thought, and it turns out that even Europeans have limits about how explicit sex education can be, at least when it's for first-graders.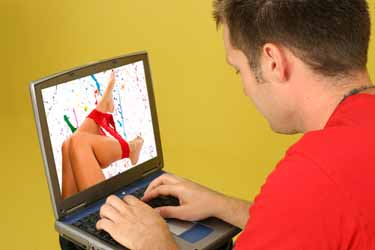 Sexual Health Roundup is a weekly summary of news and research related to sexual behavior, sexuality education, contraception, STIs, and more.
Porn Might Not Be So Bad for Young People
Today's young people are growing up in a very different world than any previous generation. While their parents may have had a copy of Playboy hidden under their mattress or watched a grainy version of Debbie Does Dallas, today's youth have a wide array of X-rated materials at their fingertips. Many parents, educators, and researchers are worried about the impact this has on their attitudes and behaviors around sex, and fear that it encourages riskier sexual behavior and promotes an unrealistic picture of what sex is like. New research out of the Netherlands takes on the first of these issues and finds that pornography might be less influential than feared.
Researchers at the University of Copenhagen conducted an online survey of 4,600 young people ages 15 to 25 in the Netherlands. Participants were asked about their pornography viewing habits as well as their sexual behavior. Specifically, they were asked if they had ever engaged in "adventurous sex," a category that included threesomes, sex with same-gender partners, and "transactional sex." They also asked about "partner experience," which included age of sexual initiation, number of lifetime parents, and frequency of one-night stands.
Roe has collapsed and Texas is in chaos.
Stay up to date with The Fallout, a newsletter from our expert journalists.
The survey found that 88 percent of males and 45 percent of females had seen sexually explicit material through the Internet, magazines, videos, television, and/or other media in the past 12 months. Researchers concluded that consumption of sexually explicit material was significantly associated with "adventurous" and "transactional" sex in ways that control variables (such as demographic characteristics and other media usage) were not. Consumption of sexually explicit material was also associated with partner experiences for women but not for men. Though they were statistically significant, the associations were very modest, accounting for between 0.3 percent and 4 percent of differences in sexual behaviors.
Martin Hald, the study's lead author, said in a press release, "Our data suggest that other factors such as personal dispositions—specifically sexual sensation seeking—rather than consumption of sexually explicit material (SEM) may play a more important role in a range of sexual behaviors of adolescents and young adults, and that the effects of sexually explicit media on sexual behaviors in reality need to be considered in conjunction with such factors."
He went on to say, "These findings contribute novel information to the ongoing debates on the role of SEM consumption in sexual behaviors and risk and provide appropriate guidance to policymakers and program developers concerned with sexual education and sexual health promotion for young people."
These results may be biased, as they are based on a voluntary online survey. It is reasonable to assume that those who chose to participate might be more likely to watch pornography and/or engage in "adventurous" sex than those who did not participate. Moreover, it is unclear if the results could be generalized to other countries, such as the United States, that have very different sexual attitudes than the Netherlands.
New Poll Shows Latino Support for Sex Education and Birth Control
A new poll commissioned by New York University's Center for Latino Adolescent and Family Health and the Planned Parenthood Federation of America (PPFA) surveyed a sample of over 1,000 Latinos over age 18 in both Spanish-speaking and English-speaking families. The survey asked about sex education, teen pregnancy, and birth control.
It found that nine out of ten Latinos think sex education should be taught in high school and middle school. More specifically, a large majority of Latinos polled said they think high school students should be taught about sexually transmitted diseases (97 percent), healthy relationships (94 percent), abstinence (92 percent), birth control (91 percent), and sexual orientation (82 percent).
The poll also focused on teen pregnancy. It found that 87 percent of Latinos said it is very important for teens to avoid getting pregnant or causing a pregnancy. In fact, 51 percent said avoiding pregnancy is even more important for Latinos than for other groups. The respondents also believe that parents, schools, government, and the media have to work together to address teen pregnancy.
Vincent Guilamo-Ramos, a professor and co-director of the NYU center noted in a press release, "This poll is important because there's been so little focus on Latino attitudes toward a problem that affects them disproportionately."
Leslie Kantor, vice president of education at PPFA, added, "The data clearly shows that Latinos see teen pregnancy as a major issue, that they believe we all have a role to play to address it, and that they see access to birth control and comprehensive sex education in both middle and high school as critical."
German Sex Ed Textbook Is Too Explicit

We are used to Europeans having a much more open attitude about sexuality and sex education than we do here in the United States, but last week a textbook in Germany made headlines for being too explicit even there. Originally published in 1991, the textbook is titled Where Do I Come From? (translation). It includes illustrations of a couple, Lisa and Lars, in various stages of having sex, including one picture in which Lisa puts a condom on Lars' erect penis and another in which they have intercourse. The accompanying text reads, "When it's so good that it can't get any better, Lisa and Lars have an orgasm. The vagina and penis feel nice and tingly and warm."
While this might be acceptable if were aimed at older kids (at least in Germany), this book claims to be appropriate for children ages 5 and up and was recently shown to first-graders in Berlin. That school did not immediately respond to parents' complaints, but after the book was reported on by the local press, people began to complain to Berlin's equivalent of a city council. The controversy quickly became national with members of Parliament weighing in.  For example, Dorothee Bär of the Bavarian political party Christian Social Union, noted, "Sex education should accompany the development of children, but not speed it up."
The publisher has since said that it would not reprint the book because it was "no longer up-to-date." It will be replaced with s new version called Was I in Mommy's Stomach Too?
I'm hoping the opening line is "No, you were in her uterus."