North Dakota Governor Justifies Abortion Bills, Local Activist Tries to Get Public Vote on Bans
The governor believes constitutional rights should be reexamined, and one activist believes they should up for public input. But should they?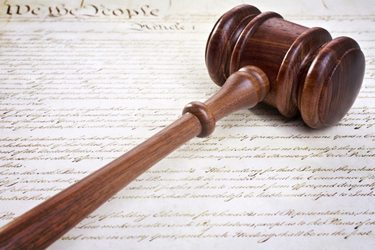 Although North Dakota Gov. Jack Dalrymple pledged to uphold the Constitution when he took the oath of office, he hasn't let that promise get in the way of signing into law unconstitutional abortion restrictions in his state. Now, in a new interview, the Republican governor explains his rationale behind refusing to veto the country's most restrictive abortion bans, and why he sees it as his duty to ensure those bills go to court. Meanwhile, a local activist has other ideas about how abortion measures should be decided.
Gov. Dalrymple has been mostly silent since recently signing major anti-choice legislation into law less than 24 hours after the bills hit his desk. But the governor broke his media silence yesterday on local television station KX4, which shared this preview with Valley News Live. Speaking with reporter Chris Berg, Dalrymple repeatedly said that he's upholding the will of the majority of the legislature, and that the bills can't be ruled unconstitutional until a court determines that they are.
"The constitutionality of these bills is certainly an open question. Otherwise they wouldn't be headed where they're going," Dalrymple said in the interview. "We know that the Supreme Court of the United States has allowed for some restrictions on abortion. Basically, after 24 weeks of gestation, they're saying it's OK to outlaw abortions. Now that they've done that, it's legitimate for people to ask additional questions: How about 20 weeks? How about some restrictions on doctors? And that's basically an open question in terms of the Constitution. The Supreme Court has never ruled on that precise question."
Dalrymple has claimed that he's deferred to the opinions and desires of the majority of the elected politicians in the state legislature. But one activist has decided that the will of the majority of the voters should trump that. According to the Bismark Tribune, Gary Hangsleben from Grand Forks has begun a process that could put all of the abortion bans recently passed up for a vote by the full state, rather than have them decided on by the legislature or the courts. Much like state-based drives to declare a fertilized egg a legal person, the referral process would involve obtaining petition signatures to start a statewide vote over whether or not the bans should be allowed to go into effect.
Roe has collapsed and Texas is in chaos.
Stay up to date with The Fallout, a newsletter from our expert journalists.
Hangsleben, who has started a number of referral petitions on other issues in the state, told the Jamestown Sun that a statewide vote would be the better way to ensure that state law matches the will of the voters. "Nobody has input, and I don't have time to go testify in Bismarck. This way, putting the measure on the ballot, gathering signatures, it's a grassroots way to do it," he said.
It may be the "grassroots" way to do it, but is it the best way to make law? If a right to an abortion truly is a constitutional right, it would continue to be a right regardless of whether a state legislature bans it or a majority of state voters agree that it should be accessible. A popular vote may make it clear that a majority of North Dakota voters believe that women should have the right to control their own reproductive health, but basing that right on whether or not a majority supports it is in many ways as wrong-headed as signing an unconstitutional law into effect simply because a majority of lawmakers support it.