There Is No 'Moderate' Position on a National Abortion Ban. Period.
Don't let the Republican presidential candidates convince you otherwise.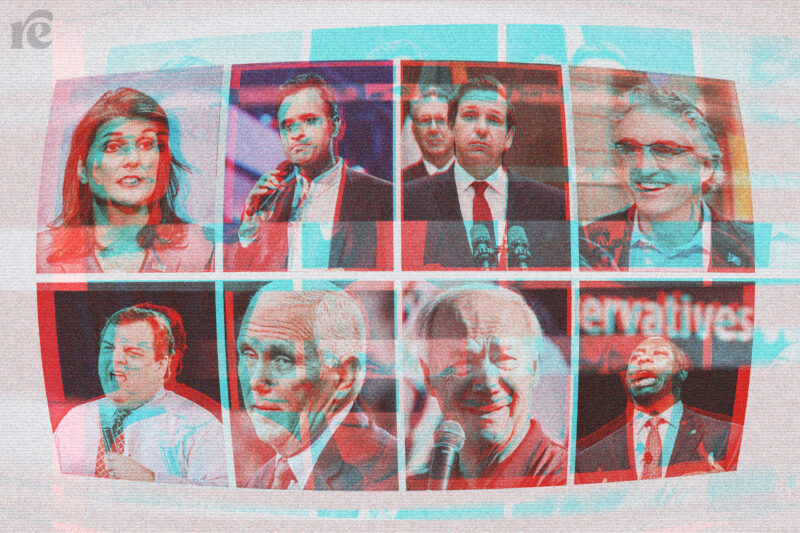 It doesn't really matter whether Nikki Haley supports a national ban and Vivek Ramaswamy doesn't—any abortion ban, which all the GOP presidential candidates support in some way, shape, or form, is extreme. Wikimedia Commons/Shutterstock/Austen Risolvato/Rewire News Group illustration
This piece first appeared in our weekly newsletter, The Fallout. Sign up for it here.
Journalists and experts covering elections toss around the word "historic" quite a bit, but this time around it actually fits. We're officially in campaign season—the first presidential election since the fall of Roe v. Wade. Buckle up folks, it's gonna be a doozy.
Here's what we know about the Republican presidential contenders: They all, in some way, shape, or form, want to ban abortion, whether on a state level or nationwide. Here's what we also know: There is no way to have a "moderate" position on a national abortion ban.
Let me say that again, because it's worth repeating. There's nothing moderate about any nationwide abortion ban. But it will be in Republicans' best interests to try and convince the media—and voters—otherwise. That can't happen.
It doesn't matter if Mike Pence wants to ban abortion nationally at six weeks—before most people know they're pregnant—while Chris Christie says he would only support some mealy-mouthed national ban if states reach a gestational "consensus" (that probably means 15 weeks). In each of these scenarios, patients and providers become criminalized for simply needing health care. And as we've already seen play out in conservative states across the country in the wake of Roe's demise, abortion bans lead directly to both an increase in maternal mortality rates and legislative rollbacks of other health care, like contraception and gender-affirming care.
So no, there's nothing "moderate" about banning abortion, no matter the limit.
It will be important to say that over and over again because abortion will be part of the electoral conversation in ways it never has been before. In state after state, when voters have had a say, abortion rights and access have trounced conservative policies and abortion bans. It's not even close! So it's no wonder Republicans have already turned up the disinformation machine around their policies—they're wildly unpopular and completely undemocratic.
Conservatives don't care about what's popular with the voters, and if we've seen anything in the wake of the January 6, 2021 riots, they have little regard for democracy as well. So that means we can expect the noise around the party "moderating" on abortion will only get louder the closer we get to the Republican primary, too.
Like I said—buckle up. It's going to be one hell of an electoral cycle. And we'll help you get through it.