Upstream USA Promises to Transform Contraceptive Care. Experts Are Raising Red Flags.
"Our greatest fear is that this is the same old coercion wrapped up in modern-day clothing."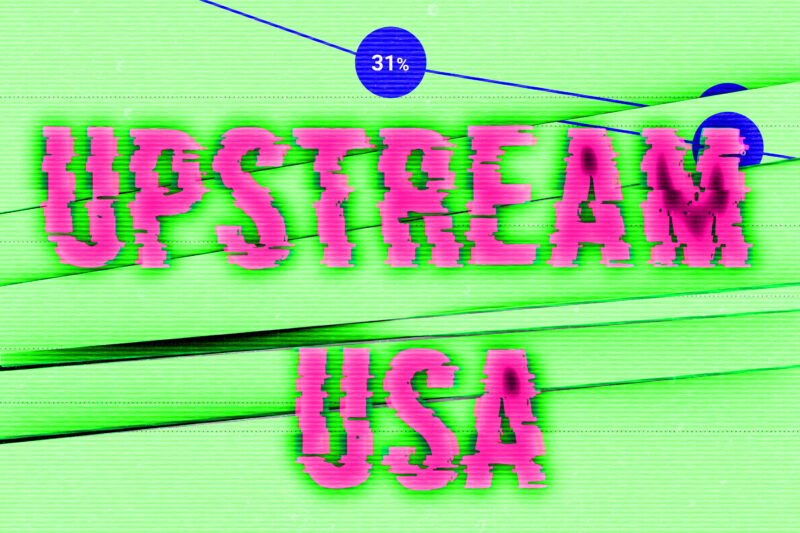 Upstream USA offers training for medical providers and front desk staff on contraceptive education and counseling, and practical skills like IUD insertion. Rewire News Group illustration
UPDATE, June 22, 12:30 p.m.: On June 21, 2023, the Biden administration announced a public-private partnership between the Department of Health and Human Services (HHS) and Upstream USA. In a press release, the agency said the partnership will ensure "all HHS-funded providers and clinics receive appropriate training and resources to address family planning needs … Through a five-year agreement, HHS and Upstream will focus on identifying areas of high need for contraceptive care, where people of reproductive age may lack reasonable access to a health-care center that offers the full range of contraceptive methods."

"It shows the power of white supremacy and patriarchy that at the time we are fighting to get the Momnibus passed, and our ask for a White House Office of Sexual and Reproductive Health and Wellbeing, Upstream has a partnership with HHS," said Dr. Joia Crear-Perry, founder and president of the National Birth Equity Collaborative. "The question for HHS is: Where is the data that shows this partnership is not a continuation of eugenics?"
The Audacious Project, a "collaborative funding initiative" under the umbrella of the "big ideas" nonprofit TED, recently announced this year's grantees. Among them was a contraceptive initiative called Upstream USA.
While the Audacious Project didn't offer specifics on the amount of its grant, Upstream appears to be raising significant funds to support a national expansion. In a statement provided to Rewire News Group, the organization said it plans to "transform contraceptive care in more than 700 health centers across the United States by 2030, reaching 5 million women."
Here's how: Upstream offers training for medical providers and front desk staff on contraceptive education and counseling, and practical skills like intrauterine device (IUD) insertion. The organization also offers technical assistance, such as medical coding and billing guides. According to its statement to RNG, Upstream's programs have already helped "nearly 1 million women access their preferred birth control method" since 2014, in states including Delaware, Massachusetts, North Carolina, Rhode Island, and Washington.
Sounds good, right? After all, barriers to contraceptive access in the United States are immense.
But Upstream has repeatedly faced criticism from experts, particularly advocates, researchers, and clinicians who approach their work through the lens of reproductive justice. Specifically, Upstream has come under fire for its claims that access to contraception can reduce or end poverty, and its prioritization of long-acting reversible contraception (LARC) over other methods.
From Upstream's inception, "many of us were concerned about the narrative that they were basing their entire work on," said Dr. Christine Dehlendorf, a family physician, researcher, and director of the Person-Centered Reproductive Health Program at the University of California, San Francisco, referring to Upstream's anti-poverty message.
"They've kind of elided that down the road, at least within the [reproductive health and justice] community, because they heard loud and clear that that was not something that our field felt was appropriate," she said.
In its statement, Upstream said its programs have "evolved" over time. And it may well have changed the way it trains health professionals to provide care—but from the outside, it's impossible to know.
Liza Fuentes, a researcher who served on Upstream's Medical Advisory Committee from 2014 through 2019, said she never saw the full training curriculum. In total, RNG spoke with seven experts for this story, all of whom have worked or interacted with Upstream at some point between 2014 and the present. None of them were ever allowed to see Upstream's complete training curriculum.
"What makes me very nervous about them as an organization in this space is their reluctance—or complete refusal—to be transparent about the details of how they do things, and most importantly, about being fully open about their results," one researcher said.
The researcher spoke with RNG on the condition of anonymity because they "fear angering the very foundations and funders that all of us look to to fund this incredibly vital research."
"They're putting the cart before the horse"
Upstream was co-founded in 2014 by Mark Edwards and Peter Belden. Edwards, who remains the organization's CEO, previously founded and ran the anti-poverty organization Opportunity Nation and served on the board of the National Campaign to Prevent Teen and Unplanned Pregnancy (now called Power to Decide).
At a 2015 Brookings Institution event, Edwards said, "I will admit my bias: I think that helping women achieve their own goals and become pregnant when they want to is one of the most powerful things we can do to increase opportunity and economic mobility."
This is just one example of numerous statements he and the organization's partners have made to this effect.
Certainly, no one in the reproductive health and justice space would take issue with the idea that people should have control over their own reproduction. Their problem is with the assertion that reducing "unplanned" or "unintended" pregnancy is a poverty cure.
"That's a lot of pressure to put on contraception to solve one of society's major ills," said the anonymous researcher, who heard Edwards give a similar pitch. "The idea that contraception is a cure for under-privilege is ignorant at best and offensive at worst."
Such claims—which are often repeated, and not just by Edwards—are usually based on historical data or estimates. The idea that providing better access to contraception could lift people out of poverty now has not been proven, whereas other interventions, such as giving low-income families more money, are known to work. Plus, suggesting that poor people are poor because they have more children ignores the numerous societal causes of poverty.
"People who have more money have fewer babies, not the other way around," said Dr. Joia Crear-Perry, an OB-GYN, founder and president of the National Birth Equity Collaborative, and a founding steering committee member of the Black Mamas Matter Alliance. "They're putting the cart before the horse."
In a 2019 op-ed in Essence, members of Black Mamas Matter Alliance called on Upstream to "conduct research on Black Mamas to hold structural systems and social policies accountable for poverty, instead of developing and advancing mechanisms for controlling and limiting pregnancy and childbirth for low-income people."
As Upstream pursued partnerships with one state after another, Crear-Perry said she and other Black women reproductive justice advocates asked policymakers in those states not to work with them.
"We'd have to come in and try to undo the harm that they were doing," she said. Crear-Perry said she had many direct conversations with Upstream in an effort to convince them to change their messaging.
"It was always circular, so at some point I just stopped talking to them," she said.
The focus on LARCs
Upstream's mission, it says, is to increase "equitable access to the full range of contraceptive options." However, in the organization's early years, there was a clear focus on LARCs. That, in combination with Upstream's anti-poverty message, evoked the long history of eugenics and reproductive coercion of low-income people, especially those who are Black, Latinx, Indigenous, and disabled, the anonymous researcher said.
"Our greatest fear is that this is the same old coercion wrapped up in modern-day clothing," they said.
However, it's important to understand that, at the time of Upstream's founding, a so-called "LARC-first" approach was considered the gold standard by many. For example, in this 2015 YouTube video, Edwards references a study which found that "when women were offered the full range of methods, same-day, in an environment where they're counseled really well about what was most effective … they overwhelmingly chose IUDs and implants." The research he's citing came from Washington University in St. Louis, and was widely celebrated at the time.
Upstream's first major initiative was a public-private partnership with the state of Delaware called DelCAN. In its statement to RNG, Upstream said the goal of DelCAN was "to increase access to the full range of contraceptive methods, particularly those methods that were the farthest out of reach, which, at that time, was LARCs."
Many people do prefer LARCs. But insertion and removal can be extremely painful, and people often have trouble getting them removed.
And this is true: For decades, providers in the United States had been hesitant to place LARCs, due largely to past disasters such as the Dalkon Shield, a poorly designed IUD that killed at least 18 women and injured hundreds of thousands of others. The first contraceptive implant, Norplant, also had serious side effects and was promoted in a coercive manner, including by giving people the supposed "choice" of using Norplant rather than serving time in jail.
As a result, an entire generation of medical providers received little training about LARCs, and if they did offer them to patients, they typically did so only for those who had already given birth. According to the National Center for Health Statistics, only 1.5 percent of women ages 15 to 44 in the United States were using LARCs in 2002. Thanks to research, training initiatives, and public awareness campaigns, that increased to 18 percent by 2016.
In fact, at the time of Upstream's founding, the World Health Organization, the American College of Obstetricians and Gynecologists (ACOG), and the Centers for Disease Control and Prevention all endorsed a "tiered-effectiveness" contraceptive counseling model, meaning that patients were to be presented with the most effective methods—i.e. LARCs—first, with other methods introduced in descending order of effectiveness.
"Our technical assistance is rooted in the new Quality Family Planning guidelines from the Centers for Disease Control and Prevention (CDC) and Office of Population Affairs," reads an archived version of Upstream's website from 2015. Those guidelines endorsed the tiered-effectiveness model.
The shift to shared decision-making
Many people do prefer LARCs. But, to name just a few drawbacks, insertion and removal can be extremely painful, and people often have trouble getting LARCs removed—in some cases encountering a flat-out "no" from their doctors. Plus, effectiveness simply isn't the only thing that people care about when it comes to birth control. Based on these factors, as well as the alarming echoes of the eugenics movement in the way many organizations were promoting LARCs, researchers and advocates began to push back.
In an influential 2014 paper, Anu Manchikanti Gomez, Amy Allina, and Fuentes wrote:
"Efforts to increase LARC use have historically been mired in racial and class biases about who is capable of managing the 'hazard' of fertility and who is valued as a mother in American society. When LARC use is the 'default outcome' specifically for women who tend to have the fewest choices in life, reproductive autonomy may be inadvertently restricted compared with the autonomy of women who are not perceived as being at high risk for unintended pregnancy."
And the field has changed: ACOG now encourages the use of a "shared decision-making model" and considers the tiered-effectiveness approach to be inappropriately directive.
"Shared decision-making is when there is a partnership between patients and their providers, whoever that may be—a counselor, physician, a nurse," Dehlendorf said. "It's about supporting patients to make decisions for themselves that are best aligned with their own needs, values, and preferences." In other words, in a shared decision-making model, the doctor or counselor doesn't have an agenda, and doesn't think one option is better than another.
In its statement to RNG, Upstream said it currently utilizes a shared decision-making model. The organization has also signed on to the LARC Statement of Principles written by the reproductive justice organization SisterSong and the National Women's Health Network.
"We train our health-care partners on insertion of LARCs, as well as removal," Upstream Chief Operating Officer Ann Quandt said in a follow-up statement. "Both services should be equally accessible at a given health center. Upstream's Monitoring, Evaluation and Learning (MEL) Team reviews each health center's data alongside the center, to confirm that both insertions and removal services are being provided at their health center."
However, when asked to provide materials or information related to its trainings for providers, Upstream instead provided its patient education materials. One of them, a one-page summary of birth control options, displays the methods in alphabetical order, which one expert said is consistent with recommendations for non-directive counseling. Another, an interactive decision making wheel, still groups methods according to effectiveness, though it does contain additional information about other benefits and potential side effects.
Three different experts reviewed the materials for RNG. They all agreed that, without knowing how Upstream directs providers and clinic staff to counsel patients, it's impossible to know whether they are encouraging directive—and therefore potentially coercive—counseling.
"Put contraception in the drinking water"
Evidence from Upstream's own programs also raises alarms about potential bias and coercion. For example, Jamie Manzer and Ann Bell, who interviewed providers trained by Upstream as part of an external evaluation of DelCAN, found that some of them expressed alarming attitudes toward their patients.
"Put contraception in the drinking water, put it into the ventilation systems," one white doctor said. "If you knew that 100 percent of unintended pregnancies took place in [these two low SES, urban ZIP codes], then yes, I would say target [those two ZIP codes]," he continued.
Some openly admitted steering certain patients toward LARCs or making it difficult for those patients to get LARCs removed.
In another study that was part of the same evaluation, Manzer and Bell interviewed the patients at Upstream-trained health centers. One element of the training encouraged providers to ask patients who don't want to become pregnant about contraception at every visit, even if that wasn't related to their reason for being there.
"I came here for, like, a hurt hand and you're asking me, 'Did [I] choose a birth control method yet?'" said one patient, adding that the approach made her "uncomfortable."
DelCAN began in 2014, so it's possible Upstream's methods have changed significantly since then. However, Upstream's own data from more recent initiatives, published in the journal Contraception this year, show significant racial disparities in patient-reported satisfaction with "provider respect, consideration for patient preferences, and informativeness."
What's more, researchers take issue with what they say is a pattern of misleading use of data by Upstream and Edwards. For example, the "Results" page on Upstream's website touts a "25% reduction in births from unintended pregnancies in Delaware." But this is based on what researchers call "pre-post data," meaning it's a comparison of demographic data from before and after Upstream's presence in the state. It does not establish causation.
In a TED talk just months ago, Edwards claimed that "over the span of ten years, it's been estimated that six out of ten typical birth control pill users will become accidentally pregnant." Quandt confirmed that this figure came from a 2014 New York Times article, which used first-year birth control failure rates to extrapolate the methods' failure rates over ten years.
But this is a "complete misuse of the data" on birth control effectiveness, Dehlendorf said. First, researchers generally look at the effectiveness of birth control methods over the first year of use to ensure they're "comparing apples to apples." But many methods actually become more effective over time. For example, a longtime birth control user is probably better at taking their pills regularly than someone who just started. And people who feel a particular method isn't working for them will typically switch, so the projected ten-year effectiveness of one method isn't especially meaningful, anyway.
Comments like this call into question whether Upstream has truly shifted away from a LARC-first approach. Given the organization's stated goal of scaling up "especially in states where access to abortion is restricted," sources who spoke with RNG say they worry a coercive counseling model could add to the tremendous pressure people are already feeling around contraception in states that have banned, or are likely to ban, abortion.
Regaining trust
Upstream says its mission is to "expand opportunity by reducing unplanned pregnancy across the U.S.," according to its most recent 990, the public disclosure that nonprofit organizations are required to make every year. In other words, the linkage between poverty and contraception is still there. The organization's financial backers are even more explicit about this.
For example, one of Upstream's major funders is Blue Meridian Partners, an anti-poverty philanthropic collaborative that counts the Bill and Melinda Gates Foundation and MacKenzie Scott among its donors.
"Upstream's model presents a clear way to disrupt the link between unplanned pregnancy and intergenerational poverty by putting reproductive choice in a woman's hands," Blue Meridian's website reads. According to that page, Blue Meridian's investment in Upstream so far totals $60 million over seven-and-a-half years.
Even the idea that reducing unplanned pregnancy is an inherently desirable goal is outdated, experts who spoke with RNG said. While people who want to prevent pregnancy should absolutely have access to whatever contraceptive method they want to use, "you don't actually want to prevent every unintended pregnancy … sometimes leaving things up to chance and being ambivalent is the right way to go for someone," the anonymous researcher said.
Dehlendorf agrees.
"The goal shouldn't necessarily be more planned pregnancies. It should be more pregnancies people are happy with," she said, which would require policy solutions beyond contraception that "meet people's needs as they themselves define them."
However, all of the experts who spoke with RNG acknowledged that it's clear Upstream is here to stay. One even said members of their staff have begun appearing routinely in federal policy meetings.
"They have more money than anybody in this space other than Planned Parenthood," Crear-Perry said.
But to regain trust in the sexual and reproductive health space, Dehlendorf said, "I think it would have to take real, authentic accountability for the harm that they've caused, and transparency moving forward."