How Mississippi Leveraged the Pandemic to Further Decimate Reproductive Health Access
Mississippi diverted federal funds for family planning into the state's pandemic response, leaving clinics without staff and patients without health care.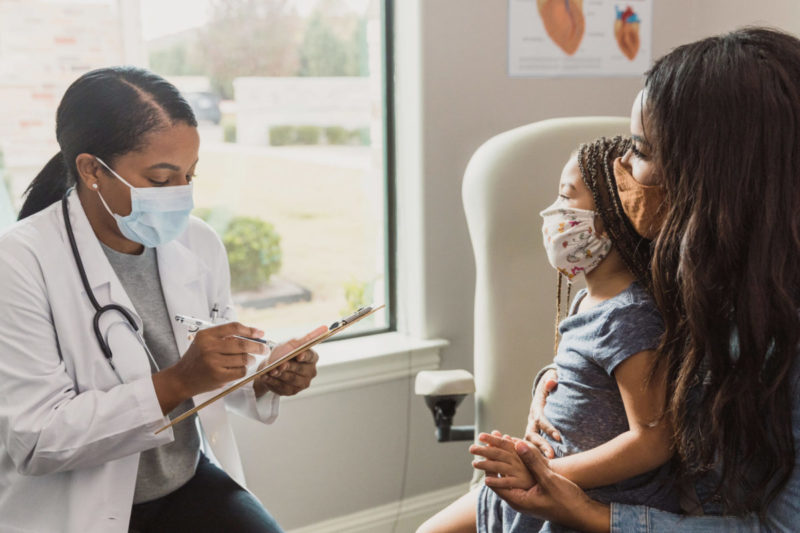 Even before the pandemic, preventive and reproductive care were hanging on by a thread in Mississippi and neighboring states. Getty Images
Reproductive health-care access across the country was decimated last year. Between COVID-19 interuptions to routine care and then-President Donald Trump's "gag rule," which kicked family planning clinics that provided or referred for abortion care out of the Title X grant program, the number of patients receiving federally funded reproductive health care plummeted by more than 50 percent—from 3.1 million patients in 2019 to 1.5 million in 2020, according to new federal data.
In Mississippi, though, where the state health department holds the only Title X grant, 2020 visits seemed to hold steady over 2019. And this year, as new COVID-19 cases finally started to wane in February after winter spikes, thanks to a slow but steady vaccine rollout in Mississippi, things were, at least initially, looking up. But at the same time, some patients across the state were receiving confusing letters—their recently scheduled family planning appointments were canceled indefinitely.
Maria, a government contractor in Mississippi, received a letter from her doctor's office at the county health department. She's uninsured, so Maria (a pseudonym) had been going to a local family planning clinic, funded through the federal government's Title X program. The letter was about her upcoming appointment to get an IUD. It had been canceled, the letter said, and she'd have to "find another provider."
She called and called the clinic, hoping for an explanation and help to find a new provider. But no one answered, according to an email she sent to a health department employee—because no one was there. Emails obtained by Rewire News Group show that the Mississippi State Department of Health diverted dedicated federal Title X funding away from family planning and into the state's hamstrung COVID-19 response, leaving clinics across the state unstaffed and patients like Maria in a lurch.
To justify the diversion, Mississippi and at least three other states used a rare U.S. Health and Human Services public health emergency provision. Since 1970, the federal government's Title X program has partnered with state agencies and nonprofits to provide reproductive care—services like birth control, sexually transmitted infection tests, and breast cancer screenings—for low-income folks. By law, "All funds granted for Title X family planning services projects must be expended only for the purpose for which the funds were awarded and in accordance with the approved application and budget."
But under the emergency rule, HHS allows states to temporarily reassign public health staff to emergency response if the states request it, follow certain guidelines, and reauthorize the request every 30 days. Representatives of state health departments in Mississippi, Ohio, Oklahoma, and South Dakota confirmed that they filed requests to reassign Title X staff.
"We often hide from a policy perspective behind these words like 'care' and 'safety,'" said Staci Fox, director of Planned Parenthood Southeast, which operates one health clinic in Mississippi that does not currently get Title X funds. "It is antithetical at best and hypocritical at worst to use those words and then turn around and make policy decisions like this."
"If I'm getting funds for a purpose, I'm legally obligated to honor that purpose and I think that's the reality for the state of Mississippi here, to not turn it back on people in need," she added. "It's our job as people who care about public health and that are in health-care spaces to remove the barriers, not put them in place. And I think by reducing access, we are increasing barriers, and that's just not our job here."
In a statement, an HHS spokesperson confirmed that Mississippi and other states received authorization to temporarily reassign public health staff due to COVID-19, but that it was unclear to what extent family planning networks were impacted by the shift. In Mississippi, care was reduced by at least half.
Many patients using Title X clinics, especially uninsured folks, get all of their health care there. When the rug is pulled out from under Title X, the ripple effects are long-lasting.

Early on in the pandemic, HHS urged Title X grantees to continue providing family planning care during the pandemic, telling them, "methods and services, provided to help clients either prevent … or achieve pregnancy, are considered essential healthcare services," according to the April 2020 federal memo.
This isn't the first time the pandemic has disrupted reproductive health care. Early on in the crisis, Mississippi and ten other states included abortion clinic care as "nonessential" procedures that had to be postponed, under the pretense of preserving then-scarce personal protective equipment.
This all came at a time when reproductive care was already severely interrupted across the country. Even before the pandemic, Trump's 2019 domestic "gag rule" kicked Planned Parenthood out of the Title X network, slashing program capacity by 46 percent nationwide. Just as the network was kneecapped, the pandemic hit—and 1 in 3 women reported delaying or canceling reproductive health-care visits. With new federal data showing 2020 declines in care, we now know the devastating effect of the one-two punch.
Among those delaying care, Black, Hispanic, queer, and low-income women were disproportionately affected. Moreover, many patients using Title X clinics, especially uninsured folks, get all of their health care there.
President Joe Biden has since proposed new Title X regulations that would reverse the gag rule, but experts say the damage is already done for the millions of patients who lost access to care—a 60 percent decrease from 2018 to 2020. In 2019 alone, Title X saw nearly 400,000 fewer patients for contraception, about 300,000 fewer cancer screenings, and more than 1 million fewer sexually transmitted infection tests, according to a Kaiser Family Foundation report.
A snapshot of Mississippi
For the first ten months of the pandemic, family planning care remained steady in Mississippi, despite early spring 2020 shelter-in-place orders, mandatory delays in nonurgent care, and general patient reluctance to seek in-office visits. But once the Pfizer and Moderna vaccines were authorized for emergency use in December, the state quietly pulled family planning staff onto COVID-19 response—with no public outreach to patients or alert to partner clinics.
The state's top doctor, Dr. Thomas Dobbs, warned earlier that year that the state's resource-drained public health department didn't have enough money to carry out mass vaccinations. So the health department hatched a plan to siphon off vaccination resources, in the form of staff time, from other programs like Title X.
Almost every county in Mississippi has a family planning clinic in its county health department, so on paper the state looks to have widespread family planning coverage. But as Mississippi created pop-up mass vaccination sites across the state, the health department subsequently pulled at least half of the state's family planning staff from their home clinics in order to run the sites—reducing clinic hours, canceling appointments, and, in some cases, closing clinics altogether.
Amid the sudden shift, clinics across the state told patients that the next available appointment would be months out, that there was no current family planning provider, or to find a new doctor.
Clinics in the most populous and high-need counties reported wide variation in response to appointment requests, according to records provided to Rewire News Group. In March 2021, one clinic said it was backed up for months because it was serving many counties. Another said all STD tests were suspended because the clinic was on "federal order to administer COVID vaccines." (There is no record of any such order in Mississippi.) Several counties said the entire clinic staff was indefinitely unavailable and they were "not sure when we'll have a provider in the clinic." Others didn't answer at all. Meanwhile, nearby clinics advised patients to call other clinics—most of which were also closed.
During the first four months of 2021, family planning visits in Mississippi plummeted by more than half, as staff were told to abandon their home clinics and work vaccination duty, according to data obtained by Rewire News Group.
The state health department declined requests for an interview, but provided an email statement in May: "Currently all health departments are offering family planning services. However, the capacity of the 86 sites is different based on multiple factors. … All areas maintained some level of service."
Today, Mississippi has one of the lowest vaccination rates in the country and the highest COVID-19 death rate.
None of the other states that cut Title X care could provide information on exactly how many patients lost access.
In Oklahoma, about 6 percent of state health department Title X staff, including nurses, nurse practitioners, social workers, and epidemiologists, were temporarily reassigned. Only one Ohio Department of Health employee partially funded by Title X was reassigned for one day a week.
And in North Dakota, the department of health's Title X family planning director and nurse consultant were partially reassigned to COVID-19 response. Because these are the only two program positions within the family planning program, the impact on the state's network was the most similar to Mississippi's. According to North Dakota records, the director's time devoted to Title X was cut in half, and the nurse devoted about 40 percent of time to COVID-19 from March 2020 to January 2021.
How we got here
Mississippi is in most respects the poorest and unhealthiest state in the nation. Household incomes average $45,000, and 20 percent of people in the state live in poverty. Nearly 60 percent of Mississippians have multiple chronic diseases. Unplanned pregnancies and poor maternal and infant outcomes are among the highest in the United States. Thirteen percent of the state doesn't have health insurance, and it's worse for women of reproductive age—1 in 5 of whom are uninsured.
The state government has done little to improve the situation. Both Mississippi governors since the Affordable Care Act passed have refused to expand Medicaid; in March, the state legislature killed momentum to extend postpartum Medicaid coverage to a year, up from the current two months. Without it, most uninsured and low-income Mississippians get care through the county clinics funded by Title X.
Unlike in other states, where the funds are split between government agencies and nonprofits, the Mississippi State Department of Health has long held the state's only Title X grant—some $4.3 million according to the most recent records—which the department spreads across the state's mostly rural county health clinics. In 2019, the health department served 35,120 patients—about a third of the women of reproductive age without insurance in the state. New federal reporting shows the state served about 4,000 fewer patients in 2020.
Of at least four states that diverted Title X resources away from reproductive care during the pandemic, three are the sole grantees in the state—which means if they reduce or suspend care, dedicated family planning for uninsured or underinsured patients grinds to a halt throughout the whole state.
Reproductive care in Mississippi "is just a mess. And the people who are suffering without services are those who need it most."


-Michelle Colon, SHERo Mississippi
Even before the pandemic, preventive and reproductive care were hanging on by a thread in Mississippi and neighboring states. Mississippi has the lowest physician-to-patient ratio in the country, and half of the state is considered an OB-GYN desert. Since 2010, public health funds have been virtually flat.
Reproductive care in Mississippi "is just a mess," said Michelle Colon, who coordinates programs for SHERo (Sisters Helping Every Woman Rise and Organize) Mississippi. "And the people who are suffering without services are those who need it most."
"Abortion access has always been at the core of our work, but when you talk about reproductive health, there's so much more—it's not just abortion, it's about you being able to go get a Pap or STD test, and just getting checked out as a woman."
In 2016, the state health department shut down nine county health department clinics and laid off over 60 workers, citing growing budget cuts handed down from the state legislature.
The following year, the state made deeper cuts, reorganizing health department districts from nine to three regional offices—a move that cut head nurses by a third and chief health officers by half. The places that saw staff and service cuts were mostly already in health-care deserts, which only exacerbated patients' access problems.
"If you have a clinic open only two days a week with messed up hours, you still don't have a clinic," Colon said.
In 2019 the state health department commissioned a report to assess how well it was providing family planning care. The resounding finding: not very well. The confidential report, published internally just before the pandemic and obtained by Rewire News Group, through a public records request, found that health department family planning services were a far cry from the federal mandate for high-quality care, citing physical dangers like moldy and leaky buildings, no air conditioning in sweltering Mississippi summers, and staff burnout. The report also found that clinics had limited, arbitrary hours and sometimes ran out of basic contraceptive resources like condoms.
The report also took note of problematic clinic policy. At the time of the 2019 report, health department clinics required every patient to be up to date on their annual exams in order to get a birth control refill. In other words, a person can't refill their prescription until they've come into the clinic for a checkup. The American College of Obstetricians and Gynecologists says birth control should be accessible over the counter, not tethered to annual exams.
According to the Mississippi report: "This is a huge barrier to care since there are only 8 [full-time equivalent] clinicians covering 86 health departments. When asked why they require an annual for birth control, nurses told us 'the annual requirement is only about forcing patients in for an annual, not about concern about adverse reactions to birth control.'"
And then there's the issue of fees. According to the report, at least one department clinic charged Title X patients depending on their ethnicity—a practice the report calls disturbing. "They collect money from Hispanic patients because 'they will pay and are happy with our services,'" the report reads, quoting clinic staff. By law, Title X patients with incomes at 100 percent of the federal poverty level pay $0 for family planning care.
The Mississippi State Health Department spokesperson who declined an interview did provide the following statement regarding said fees: "That was never agency policy and a deviation from acceptable practice. We have ensured that all clinics follow standardized payment policies for all patients."
As for the mandated annual exams to get birth control: "We no longer require an annual exam to receive birth control prescriptions. Annual exams are at the clinician's discretion based on the history of the patient or any findings that may suggest the need. We continuously work to align our services with ACOG guidelines, assess our policies, and train staff on proper procedures and protocol."
For Colon and other advocates on the ground, the issue is about focus.
"Upper-middle-class women will never have a problem accessing this care because they have an OB-GYN, but those who don't have insurance, they have to go to clinics," Colon said. And when the clinic operates at the status quo, or shuts down altogether, poor women of color suffer disproportionately, continuing cycles of generational poverty and poor maternal health outcomes, while state leadership—who don't look like Colon or have an interest in hearing her voice, she said—focus on banning abortion rather than providing health services.
"Women here are seen as wives and mothers, not women in need of care," she said. "And they're not the people at the table making decisions about how we access care." It's hard to prioritize improvements to clinics scheduling when advocates are fighting anti-abortion opponents in the legislature, day in and day out, Colon said.
"We're always playing defense instead of offense," she said. "It's hard being a woman and a girl in the South, and it's even worse in Mississippi."