If Mississippi Were Truly Pro-Life It Would Stop Banning Abortion
Mississippi has a health-care crisis. By asking the Supreme Court to ban abortion, attorneys for the state are deepening it.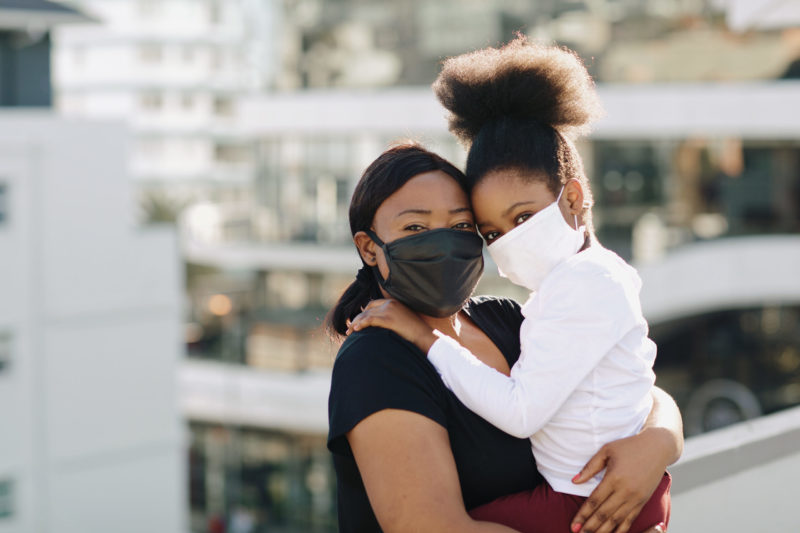 "We're doing pretty OK, other than the bogus laws, and we're working on that. As far as community, we got each other's back," Jackson-based community organizer Amanda Furdge said. Getty Images
Mississippi's justification for unconstitutional abortion restrictions has long revolved around the assertion that the laws, like the 15-week ban recently taken up by the Supreme Court, protect women and children.
But the reality is now, and has long been, that Mississippi women and children's health and economic security is not prioritized.
"There are just so many different intersections that we meet at here in Mississippi as Black women when it comes to all of those things that ultimately affect our reproductive rights and our reproductive justice," said Jackson-based community organizer Amanda Furdge. "The lens is like a kaleidoscope—you're just turning the dial and seeing what you're going to land on."
Furdge points to inequities in health care, child care, and education access that disproportionately impact women of color in Mississippi. "We're talking about the things that we need all the way into 2021 that we've been asking for since our mothers and grandmothers have been asking for them," she said.
When it comes to the most basic health, education, and poverty outcomes, Mississippi consistently ranks at the bottom.
More infants die here before their first birthday than anywhere else in the United States and most developed countries. The state's infant mortality rate, while improved recently, is still nearly 9 deaths for every 1,000 births—comparable to Turkey and Brazil. Black infants die at nearly double the rate of white infants.
The racial disparity mostly tracks back to premature births, which can largely be thwarted by wraparound care before, during, and after pregnancy—something out of reach for many due to health insurance barriers. Nearly 1 in 5 women of reproductive age in Mississippi lack health insurance, compared to 13 percent nationwide.
"For us as Black women who are born and raised here in Mississippi and knowing Mississippi's history as it pertains to Black people in general—but particularly Black women and how we are valued or not valued—we come from the lens of still trying to get equal pay, still trying to get adequate, fully funded child care and adequate, fully funded public education," Furdge said.
Mississippi is the last state without an equal pay statute. It has restrictive barriers around accessing low-income child care and support programs, and it hasn't fully funded its public education system since 2007.
"There's nothing about the moves that [the state legislature] has made that backs up this idea that they're trying to act in the interest of protecting women and/or children."


-Izzy Pellegrine, sociologist and researcher at Mississippi State University
And a higher rate of people die during pregnancy, labor, or postpartum than in most other states. The state's Maternal Mortality Review Committee points to Medicaid expansion—or at least extension during the postpartum period—as one part of the solution. The state has refused both, despite new incentives from the Biden administration and evidence that comprehensive health insurance saves lives, particularly during pregnancy and postpartum.
Pregnant people can access Medicaid insurance, but it cuts off two months after they give birth, just as many postpartum complications start to arise. In Mississippi, 86 percent of maternal deaths happen after labor, including more than a third after six weeks—a period in which health insurance is critical to accessing life-saving care.
Mississippi is one of 12 states that hasn't adopted Medicaid expansion under the Affordable Care Act, which could have provided health insurance to about 166,000 Mississippians and cut uninsurance rates in half.
Even for folks here with insurance, barriers pop up along the way. Half the state sits in maternity care deserts, which means big pockets of areas don't have obstetric hospitals, birth centers, OB-GYNs, or certified nurse midwives.
No evidence of protecting women and kids
Aside from expanding Medicaid, researchers here point to evidence-based policies that would help Mississippians plan pregnancies: comprehensive sex ed and improved access to birth control. These policies not only save lives but have a side effect of reducing abortion.
There's a long list of interventions to decrease infant mortality and unintended pregnancies, and increase access to prenatal care, Izzy Pellegrine, sociologist and researcher at Mississippi State University, said. "But that's not what we're doing."
Mississippi public schools have two options for sex ed curriculum: abstinence-only or abstinence-plus, both of which revolve around preventing sex before marriage. Classes are separated by gender, instructors cannot physically demonstrate birth control methods, and parents must opt-in.
"It's just a little bit difficult to square the idea that our priorities are protecting women and children when the outcomes we are trying to protect people from are ones we know how to prevent, and we're not taking the steps to prevent those," Pellegrine said. "There's nothing about the moves that [the state legislature] has made that backs up this idea that they're trying to act in the interest of protecting women and/or children."
Mississippi's teen pregnancy and teen STI rates are among the highest in the nation. According to the Centers for Disease Control and Prevention, 41 percent of Mississippi high school students have had sex. Of those, 52 percent did not use a condom and 69 percent forwent contraceptives like birth control pills or an IUD the last time they had sex.
"If what we really want to do is improve outcomes, sex ed we know for sure is the place to start," Pellegrine said. "It would be a lot cheaper for us to do a better job at sex ed than for us to continue these embattled abortion restrictions."
From 2012 to 2018, the state spent nearly $1 million defending abortion restrictions that were almost all overturned by federal courts. And that was before the current 15-week ban or the subsequent six-week ban moved through the appeals stage.
Further, Pellegrine points out that most of the state is already under a de facto abortion ban because of years of TRAP laws—targeted regulation of abortion providers—that chipped away at access, forcing more Mississippians seeking abortion care to leave the state—at a higher rate than everywhere except Missouri and South Carolina.
"If we think about how abortion access is structured, for most women in Mississippi, we're already living in an effectively post-Roe situation," Pellegrine said.
'A problem of class resources'
Most national coverage points out that abortion bans disproportionately impact women of color in Mississippi, where 72 percent of abortion patients are Black, painting the picture that only Black women seek abortions here. Not only does the state have the highest proportion of Black residents—nearly 40 percent of the population—in the country, the barriers to abortion care and health care in general disproportionately impact those living in poverty, of which a third of Black Mississippians are.
White pregnant people tend to leave the state for abortion care, "but that's really a problem of class resources," Pellegrine said.
"And the relationship between race and class is obviously deeply interwoven and especially in a place that has a history like Mississippi. But it's not a function of racial differences in acts, it's the relationship between race and class and how that shapes access to health care."
Furdge, the community organizer, adds that abortion restrictions come down to race and gender power dynamics that have always been at play here.
"You know human beings, you know women and children intimately who directly benefit or not from the way that laws are being made and carried out," she said. "If [lawmakers] really cared, they would put themselves in our shoes. You don't even have to walk, you can just try them on and see how they fit."
But Furdge also points to the legacy of grassroots organizers in Mississippi, particularly Black women like Fannie Lou Hamer and Myrlie Evers-Williams, and hopes national groups will help build off Mississippi momentum. She invoked a quote from Hamer: "Mississippi is not actually Mississippi's problem, Mississippi is America's problem"—and not just because the current 15-week case, Dobbs v. Jackson Women's Health Organization, has the power to threaten abortion access for much of the country.
"We're doing pretty OK, other than the bogus laws, and we're working on that," Furdge said. "As far as community, we got each other's back. I believe we have one of the strongest and most grassroots, most loving, family-oriented, organizing structures in Mississippi than anywhere else."