Mobile Health Clinics Could Revolutionize Reproductive Care in the South
Plan A is bringing health care directly to Mississippians—and at a time when access continues to be threatened.
Antoinette Roby drove and parked the Plan A mobile clinic in Moorhead, Mississippi, for two days of services at Mississippi Delta Community College. Erica Hensley/For Rewire News Group
Under the shade of Mississippi magnolia trees, an unfamiliar site draws attention off the bustling Mississippi Delta Community College in rural Sunflower County. It's late April, and students otherwise preoccupied with spring athletic schedules and finals mosey over to a big white truck. Some are curious and eager, others dubious.
The truck is a new, fully stocked reproductive health-care clinic on wheels that's parked behind the student union as part of a tour of the Mississippi Delta. The clinic is here seeing as many folks as want to be seen, offering Pap smears, birth control, STD checks, or just information, confidentially and free of charge.
Sunflower County is infamous in Mississippi reproductive justice circles, making it an important place for the providers running the clinic to launch their reproductive health campaign. It's where civil rights activist Fannie Lou Hamer, who was "sick and tired of being sick and tired," had her own reproductive autonomy stolen from her, when in 1961 a doctor gave her a hysterectomy without consent.
Fast-forward 60 years, and most reproductive health workers in this resource-strained region will tell you not a lot has changed. There's one Planned Parenthood in the state, and it doesn't perform abortions. Only one clinic in the state does, with limited hours due to medically unnecessary regulations that force abortion providers to jump through extra hoops. And the state is trying to make it harder, as they await the Supreme Court's decision whether to hear Mississippi's 15-week abortion ban—the first of recent bans to make it that far.
Reproductive justice advocates work night and day to bridge the gap and connect folks with services, but the landscape is siloed and patchwork.
From 2013 to 2016, 33 women died due to pregnancy for every 100,000 births in Mississippi, almost double the national average. The state sees the highest infant mortality in the country: Nine infants die for every 1,000 born. And the Mississippi's rates of unplanned and teen pregnancies are among the highest in the United States.
Enter Plan A, a mobile clinic focused on sexual and reproductive health. After two years of organizing, Plan A opened its doors last month and has big plans for 2021. Over the next year, the mobile clinic expects to serve at least 2,000 patients across 40 small towns without health-care providers. That'll mean 30,000 miles logged across the Delta and at least 20 community health events, which Plan A says are key to its mission.
"There's a long, undeniable history of reproductive injustice in Mississippi that shapes how we think about this work," said Plan A executive director and founder Dr. Caroline Weinberg. "We're taking a reproductive justice oriented, patient-centered approach to care, prioritizing what women want and what is best for each individual rather than steering them in a certain direction."
"Empowerment is really fundamental to our approach."
That's why she called on local community leaders to help build a team of Black women from Mississippi to lead this work.
Juliet Thomas, a community health worker with Plan A, said the need outpaces what most communities can do on their own. And distrust of the medical community is widespread—justifiably so, she said, based on decades of disinvestment and injustice.
"People want change, they just don't know how to get it, and they often don't trust," Thomas said. "People come to the Mississippi Delta and do a lot of research, but our outcomes are the same. Plan A is different. We're coming to the communities and not talking at them, but to them. And we'll be here for the long haul—we want everyone to be touched by Plan A in some way and for people to begin to feel more comfortable with reproductive health."
Discomfort has settled in over the decades as access and outcome issues compounded, Thomas pointed out. Half of Mississippi counts as an OB-GYN desert, six rural hospitals have closed in the last 16 years—four of them in the Delta—and 19 percent of women of reproductive age here go uninsured, compared to 13 percent nationwide.
The underinsurance and uninsurance is a big piece, said Toria Shaw, a Plan A nurse practitioner who's worked in Mississippi health care for 20 years.
"I had a previous patient that had cervical cancer, but by the time it was found out, it progressed very far and treatment options were limited," she said. "An important piece is just access to screenings. We're bringing those directly to the communities where they don't have access to care and where we can be the bridge to help the clinics that are already there, just being that go-between."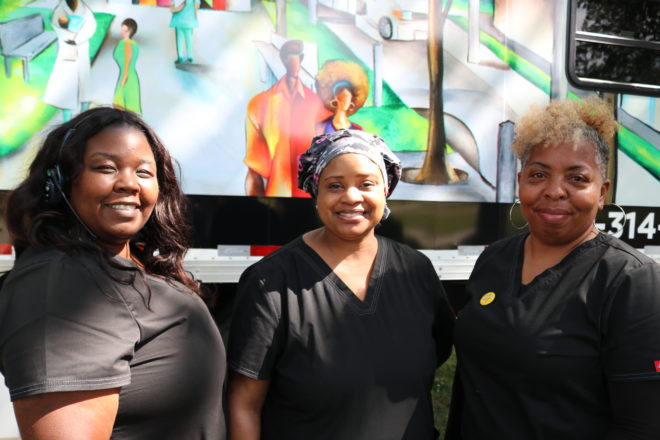 Of the some 200,000 Mississippians estimated to need publicly supported contraception, the federally funded program to provide family planning services to those with low-incomes—Title X—only served about 10 percent in 2018.
Mississippi has long refused to expand Medicaid—making it one of the 12 remaining states that have not opted-in to offer health insurance for folks with yearly incomes at or below 138 percent of the federal poverty level, or about $17,000 for an individual.
Doing so, health experts say, would particularly help women of color in Mississippi, who disproportionately hold low-wage jobs without health benefits, like cashiers.
Several Deep South conservative states that haven't expanded Medicaid have tried to extend coverage for postpartum people for six months to a year after birth, including South Carolina, Georgia, and Texas. Traditional pregnancy-related Medicaid coverage cuts off 60 days after birth, leaving postpartum people, who only gained insurance due to pregnancy, uninsured during one of the most dangerous periods. In Mississippi, 86 percent of pregnancy-related deaths happen in the "fourth trimester"—after birth and, for many women, when Medicaid cuts off.
State legislators in Mississippi built rare bipartisan support this spring to at least extend Medicaid coverage for postpartum people. But in the eleventh hour, political infighting pulled the extension from a larger Medicaid bill, and that momentum died. Caught in the wake are the 25,000 Mississippians who rely on Medicaid health insurance to cover births and postpartum care.
Medicaid finances two-third of births in Mississippi, more than nearly anywhere else in the country. So, without Medicaid expansion or extension, most of these new parents lose coverage and access to health care just after birth. Routine primary care, postpartum follow-ups, and preventive care fall by the wayside.
"We're trying to normalize accessing and talking about reproductive and sexual health, which is sometimes viewed as an embarrassing topic."


-Dr. Caroline Weinberg
Plan A hopes to step in to meet some of that need and get folks connected to primary care early if treatment is needed.
"Plan A just in general is prevention-oriented; everyone needs a Plan A," Weinberg said. "It's not just the double meaning with Plan B (emergency contraception)—in reality, it's just about planning and prevention of anything, including unwanted pregnancies, STDs, and cancer."
Thomas, the community health worker, said state policies create a perfect storm that disproportionately impacts people of color living in poverty.
"When people know more, that's when they get more assistance and understand why women's health is so important," she said. "When the mother or the woman is not doing well, nobody does well. But change is not easily accepted, especially in the Mississippi Delta."
And at the nexus of harmful policy and bad outcomes, Thomas says, is the state's sex education, or lack thereof.
Mississippi teaches abstinence-based sex ed, which means too many students aren't getting reliable, regular sexual education, and as a result, teen pregnancy and STD rates are sky-high in the state, particularly in the Delta.
But, the state has chipped away at abortion access too, with regulations that make it impossible for many pregnant people to seek care. Combined with health-care deserts and high uninsurance rates, it creates a perfect storm and becomes dangerous at a population level, advocates say, and that necessitates nimble interventions like Plan A.
"We're trying to normalize accessing and talking about reproductive and sexual health, which is sometimes viewed as an embarrassing topic," Weinberg said. "We do everything we can to change that culture. But we also recognize that culture doesn't change overnight."
"If you don't meet patients where they are and respect their boundaries, then you're not going to accomplish anything," Weinberg added. "So you've got to do both at the same time."
By the end of Plan A's second day on campus, they served more than 30 folks. A few days later, the clinic set up shop at a factory in nearby Greenville, where they went to spread the word but ended up having a candid conversation about empowering women in their health-care journeys. Shaw even took an IUD with her to show what it looked like and how it worked.
By the next week, more than 80 percent of women from the factory discussion had shown up to the clinic for a checkup. They even added an unscheduled day to meet demand. One worker is planning to bring her 84-year-old neighbor who's never once seen a doctor.
"It was a good day today," Thomas said, exhausted but happy after the first day on campus. "I was very excited about today, and I think it's only going to get bigger and better for us."