Why the Biden Administration Must Make Tampons Available to All
Scotland serves as an example of making periods more equitable: providing tampons and other products to everyone who needs them.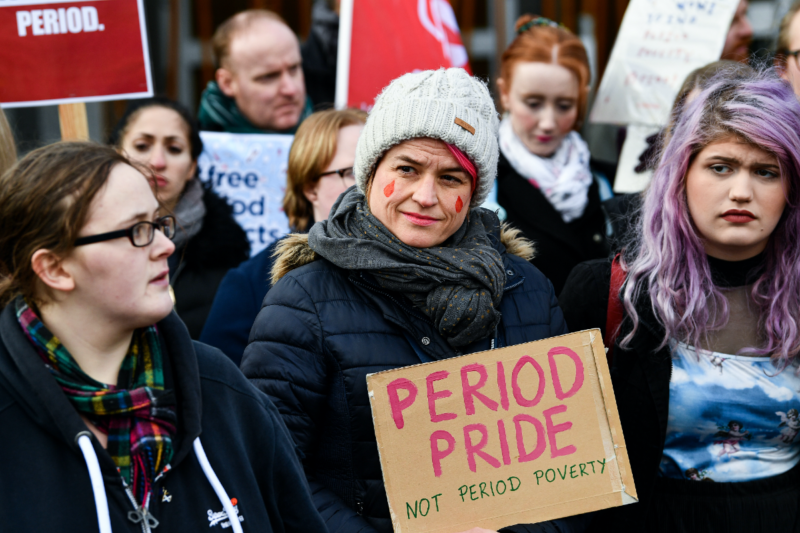 Scotland became the first country to make period products available for free. Jeff J Mitchell/Getty Images
I started working on menstruation over a decade ago. At the time, I often encountered raised eyebrows, puzzled faces, and attempts to tell me that we don't really need to talk about "it."
Since then, we have come a long way. Menstruation is gaining increasing attention at all levels. Some states have eliminated taxes on tampons and other menstrual products (which should never have been taxed to begin with). Others have begun providing menstrual products in schools, shelters, and prisons. Most recently, the Scottish government passed a bill to provide period products to everyone who needs them. Meanwhile, charitable organizations continue to address period poverty by supplying menstrual products, and states are adopting standards to ensure the products' quality.
In short, efforts focus on product availability, product affordability, and product quality.
To be sure, most people who menstruate want something to bleed on. And I don't mean to dismiss that. But a piece of cotton or even the medical-grade silicone used in menstrual cups will not address menstrual stigma—to the contrary, it covers up menstrual stigma. Implicitly, we're told that we need to get our leaky, messy bodies under control. In other words, we still have much work to do to achieve menstrual justice.
With a new administration in place, we have an opportunity to work toward menstrual justice. As senator, Vice President Kamala Harris introduced legislation to fund research and education on uterine fibroids, which can cause heavy bleeding and health complications and which disproportionately affect Black women. To achieve menstrual justice, we need to advance this legislation and a lot more.
We need to address the disadvantages that menstruators face at all levels of society. We need to address the intangible and structural disadvantages alongside the tangible ones. We need to consider menstrual justice as part of gender justice because menstrual stigma has profound effects on the realization of human rights across all spheres of life.
Consider that people who menstruate are often unfamiliar with bodily processes, before reaching menarche. They have misconceptions and negative or ambivalent feelings about menstruation, which may cause anxiety and stress and impact their ability to learn. We need to combat myths and misinformation with nonjudgmental, age-appropriate, accurate, and accessible information. Comprehensive and continuous menstrual education is essential to increase body literacy and strengthen bodily autonomy, confidence, and self-esteem.
Consider that many menstruators hesitate to seek medical advice, and health-care providers are not necessarily trained on conditions related to the menstrual cycle. It takes up to seven years or more to be diagnosed with endometriosis, a painful condition where tissue similar to uterine tissue grows outside of the uterus. Testimonials of gaslighting, dismissal of menstrual pain, and odysseys through the medical system abound. Policymakers need to address the well-being of menstruators, their quality of life, and their access to menstrual health-related diagnosis, care, and treatment. Bringing about such change requires revisions in medical curricula to ensure adequate training, as well as increased funding for research on menstrual health conditions.
Consider that menstruators are often labeled as hysterical, not trustworthy, and unfit for decision-making. Menstrual pain and cramps are dismissed and we are told to just power through. These stereotypes and lack of accommodation contribute to the barriers women experience at work and in public life, resulting in lower earnings, less responsibility, and fewer promotions.
In 1978, Gloria Steinem's piece in Ms. challenges us to consider what would happen "If Men Could Menstruate." She argues that "menstruation would become an enviable, boast-worthy, masculine event: Men would brag about how long and how much." Clearly, it didn't occur to her back then that some men do menstruate. Still, she demonstrates—as powerfully today as 40 years ago—that our ideas of menstruation are socially constructed and shaped by patriarchal assumptions. Menstruating individuals are not "too emotional," and taking time off is not a sign of weakness—unless we perceive it as such. We need to factor menstrual justice into efforts to address the gender pay gap and other injustices at the workplace.
Menstruation matters because it unites the personal and the political, the intimate and the public, the physiological and the sociocultural. Menstruation is a prime example of the politicization of women's bodies, and of bodies generally perceived as Other. Menstrual justice is about power relations—the power of teachers to withhold or impart information, the power of health-care providers to gaslight patients or to engage with them and take them seriously, the power of employers to label people who menstruate as unfit or to support them.
Achieving menstrual justice requires us to transform these power relations. Policymakers working on education, health care, and employment have the power to adopt more comprehensive menstrual education curricula, to improve medical training for menstrual health conditions, and to allocate resources for research. Recent initiatives—such as a bill in New York state on more comprehensive menstrual education, including endometriosis and other health conditions, as well as increased funding for endometriosis research—show that such progress is possible.
Because menstrual justice is gender justice, we must make it a priority in 2021.