How TikTok Is Changing Sex Ed for the Better, One Meme at a Time
TikTok is far from perfect, but it has been a space for teens to feel connected with other like-minded people.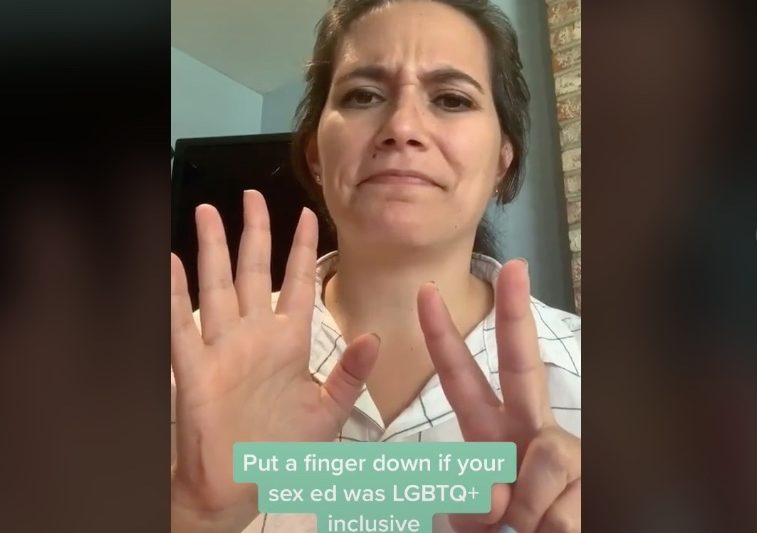 The ten-figure challenge TikTok got over 1,000 comments, most along the lines of "I'm still sitting here with 10 fingers up," or "lol yeah right, I got abstinence only education. Thanks a lot, Catholic School." sexwithdb/TikTok
For more sex education resources, check out our Better Sex Ed guide.
So many young people are getting their sex ed from the internet instead of through scientifically backed curriculum in schools. As a sex educator, this is both terrifying and thrilling.
But it's not all that surprising, as social platforms like TikTok offer young people what most schools cannot: a welcoming and inclusive community, especially for LGBTQ youth.
In my experience, people of all races, abilities, sizes, genders, and sexual orientations are being uplifted on TikTok, a digital space for video creators and consumers to spend hours crafting and scrolling through 15- to 60-second videos posted by people around the globe. In the United States alone, there are over 100 million active monthly TikTok users, who spend their time creating and responding to popular dance trends, hilarious duets, and mesmerizing trick videos.
While the app is far from perfect (cyberbullying and discrimination need to be addressed), TikTokers can quickly call out harmful behavior, offer support, and use their own popularity to boost others. This has allowed young people to feel connected with other like-minded people while their own bodies, identities, and experiences are affirmed.
The amount of love and support a trans man received after sharing a video of the first time he was shirtless in public after top surgery is the kind of response that we as sex educators want for our LGBTQ youth. It's what they deserve.
LGBTQ affirmation doesn't often happen in sex ed classrooms across the United States, and if kids can't get what they need from school, they will turn to the internet and social media. Who can blame them, when only 17 states require school-based sex ed content to be medically accurate, only 20 states and Washington D.C., require teaching about contraception, and 29 states require abstinence be stressed? This reality does not lend itself to a positive, inclusive, and fun sex ed community in schools, which is why TikTok is such a needed resource for young people.
@sexedwithdb

Sex ed lesson of the day: Medication abortion is a totally safe way to end an early-stage pregnancy should someone CHOOSE to have one. Pass it on!
That's why I've tried to carve out a space on TikTok through sexedwithdb. My mission is to bring comprehensive, inclusive, and relatable sex ed to the masses. I recently graduated with a master's degree in public health from Columbia University's Mailman School of Public Health, where I gained a certificate in sexuality, sexual, and reproductive health (no I haven't found a job yet, dad, but thanks for asking). I also host Sex Ed With DB, a feminist podcast bringing folks all the sex ed they never got through storytelling centering LGBTQ folks and BIPOC.
I've had more success getting through to young people within three months of using TikTok than in three years of my podcast, proving that young people crave sex ed that speaks to them—you just have to meet them where they're at.
The first TikTok video I posted was a ten-finger challenge about whether you received comprehensive and inclusive sex ed. Some of the prompts were "put a finger down if you learned about consent," "put a finger down if you were taught about STIs and STDs in a stigma-free way," and "put a finger down if you learned about pleasure."
Within days, this video got over 150,000 views with over 1,000 comments, most along the lines of "I'm still sitting here with 10 fingers up," "lol yeah right, I got abstinence only education. Thanks a lot, Catholic School," or "I learned everything I know from Tumblr."
Now I am able to teach sex education through short, funny videos, like "3 steps before you use a condom," a clip that says it's OK for kids to giggle in sex ed class, and a resource for teens to get confidential reproductive health services. (Shout out to Jane's Due Process!)
One of the most challenging parts about being a sex educator on TikTok is getting past the app's strict community guidelines. In order to prevent a video from getting banned on the app, I've resorted to spelling words like "porn" incorrectly, using random popular hashtags instead of relevant ones like #sex, #sexed, or #sexualhealth, and excluding important topics like sex toys, lube, masturbation, and pain during sex. While I understand how critical it is to share age-appropriate information, sex educators should not have to camouflage necessary topics while other creators post harmful educational videos like this one without issue.
At the end of the day, I would rather teach censored "secz" ed on TikTok than not at all; the number of young people I have been able to reach and educate over the last three-and-a-half months has gone beyond my wildest expectations. Everyone deserves medically accurate, inclusive, pleasure-centered, and supportive sex education—and TikTok is just one way to reach that goal.