COVID-19 Is Complicating Pregnancies. This Black Midwife Has a Plan for That.
Midwives have seen an interest in their services during the pandemic as pregnant people consider deliveries outside a hospital.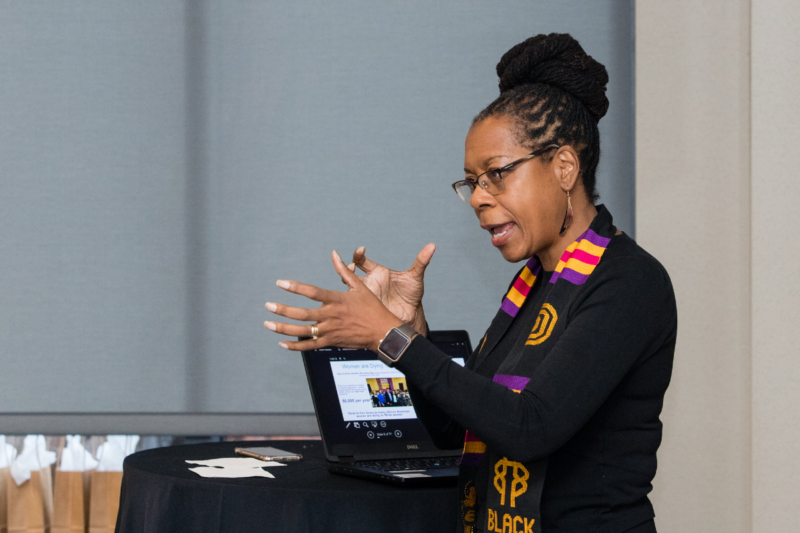 Jennie Joseph is the first Black woman to own and operate an accredited midwifery program in the country. Courtesy of Jennie Joseph
For continuing coverage of how COVID-19 is affecting reproductive health, check out our Special Report.  
Jennie Joseph has over 20 years of experience training midwives to provide care to pregnant people, infants, and their families during the pregnancy, birthing, and postnatal process. But the Florida midwife wanted to make an even more lasting impact on the health-care industry, hoping to "restore trusted birth workers to the heart of their communities once again."
One step for Joseph is becoming the first Black woman to own and operate an accredited midwifery program in the country.
The Black maternal and infant mortality rate in the United States is dire: Black pregnant patients over the age of 30 are four to five times more likely to die from pregnancy-related issues, owing to structural racism in medicine and society. During the COVID-19 pandemic, midwives across the country have seen an uptick in interest and demand for their services, as many pregnant people look outside of a traditional hospital setting to birth at home or at birth centers.
As the pandemic continues to disproportionately affect communities of color, it has lifted the veil on some major pain points in the U.S. health-care systems. A midwifery training program led by a Black woman matters now more than ever, by developing a pipeline of providers who can improve maternal and infant mortality rates. As doula Cara Terreri notes on the website for Lamaze International, "Midwives and specifically Black midwives, for centuries, have played a critical role in improving the care and outcomes of Black families."
Joseph said the five-year process for receiving accreditation for her Florida school, Commonsense Childbirth School of Midwifery (CCSM), required working within a system to disrupt systematic racism.
"The school is a culmination in one sense; the accreditation of a school is a nod that we've arrived," Joseph said. "The truth is that we've been here. There have been people on the ground with grit and determination."
"Community midwives have always been doing this, unrecognized and too often unacknowledged," she said.
Joseph is not new to the movement of equity within midwifery, after decades pushing for providers of color to have equal access and opportunities. Trained in Britain, she has been a midwife for 40 years and has had her home birth practice for 25 years. She also runs the Easy Access prenatal clinic in central Florida for low-income and at-risk pregnant people and infants.
According to Joseph, disparities in education perpetuate the "status quo" within the medical industrial complex. CCSM aims to empower midwifery students to become trusted birth workers for their communities.
Joseph's teaching philosophy is rooted in a system she developed—the "JJ Way"—that aims to eliminate socioeconomic and racial disparities in perinatal health through a patient-centered model of care.
CCSM's three-year certificate program incorporates both online curriculum and in-person clinical learning experiences. The school's accreditation further legitimizes the program and establishes that the midwifery school meets established standards—all of which helps to further validate the practice of modern midwifery in a national conversation about safe options for high-risk pregnant people and babies.
Accreditation also allows the school to access funding or financial support for student aid, thus eliminating a financial barrier for continuing education and allowing those who may not have been able to afford it otherwise to receive training. Scholarships or federal assistance could open doors for a more diverse population of midwifery students.
For Joseph, the future of midwifery must nod to the profession's past. When she arrived in Florida from the U.K., she saw that midwifery wasn't really part of the mainstream. But the fundamental change we envision within these systems can be achieved, she said, if more "barriers to care and obstacles to leadership are removed."
"Understanding the historical issues and inequities that nearly eradicated midwifery was important to me," Joseph said. "Midwifery was racialized and stigmatized; the power struggle about improved health is also so much about money, as we live in a capitalized country. I'm attempting to work within that system, turn it to the community, and support our community to grow on our own."