Hear From Julie Rikelman, the Attorney Who Argued for Abortion Rights Before the Supreme Court
"I was not asked a single question at the oral argument that I was not prepared to answer."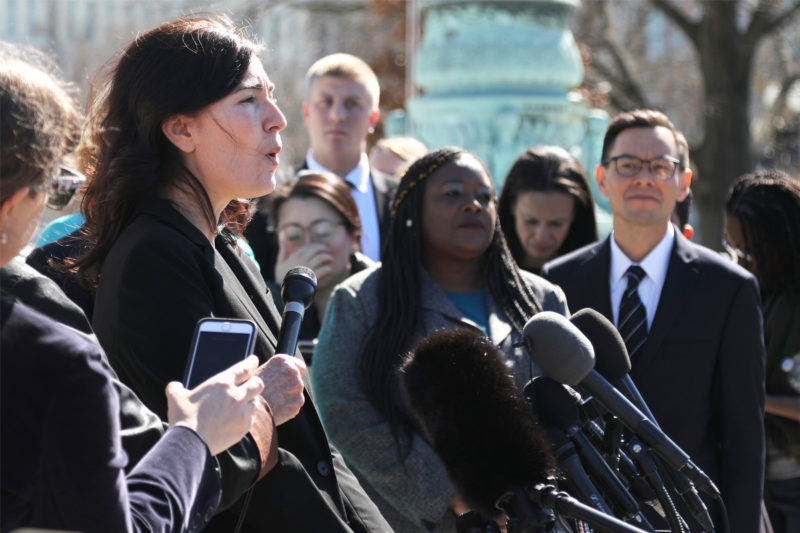 Julie Rikelman called arguing before the Supreme Court "a very intense process." Courtesy of Center for Reproductive Rights
For full coverage of June Medical Services v. Russo, check out our Special Report.
It's been one week since the U.S. Supreme Court handed down an abortion rights victory in June Medical Services v. Russo, a decision that was six years in the making. Julie Rikelman, the attorney who argued the case on behalf of the plaintiffs, Hope Medical Group for Women, still may not have had a chance to fully process the decision.
"I think I'm still kind of working through it … abortion access in Louisiana is already really, really hard. There are only three clinics left, and if access had become even worse—if it had decreased even more—it just would have been devastating for people in the state," Rikelman said on the Rewire.News podcast Boom! Lawyered.
But Rikelman's work—and the fight for abortion rights—is hardly over. Rikelman, the litigation director for the Center for Reproductive Rights, said the center has more than 30 cases in the courts right now—including one case in Louisiana that would extend the waiting period for an abortion in the state from 24 hours to 72 hours.
Hear what Rikelman shared with Boom! Lawyered hosts Imani Gandy and Jessica Mason Pieklo about preparing to argue before the Court on a case filed in August 2014, what the night was like before oral arguments, and what's next in the courts for abortion rights.
The interview has been edited for length.
Jessica Mason Pieklo: We are speaking with Julie Rikelman, litigation director for the Center for Reproductive Rights, who was the lead attorney in June Medical Services v. Russo and captain of the team that got Chief Justice John Roberts to sign on to an abortion rights win. That is no small feat. We are thrilled to have you talking with us.
Imani Gandy: This is exciting, and especially going to be exciting I think for our listeners who some of whom are in law school now, some of whom have literally told us we want to go to law school and do reproductive rights law, which is amazing. And it's not something that was available to me when I went to law school.
JMP: So exciting. So, Julie, I have just a real basic question for you because I'm super curious about this. I've never done it. What's it like to argue a case at the Supreme Court?
Julie Rikelman: Well, it is absolutely amazing. Definitely my professional highlight, no doubt about it. One of the things I just want to say is when you walk into the Supreme Court, the building itself is just amazing. It is a marble building with fancy ceilings, and you can just sort of feel the importance of what you're doing just by being there. I want to say that it's hard to actually get into the Supreme Court. People might not know this to watch an oral argument about a high-profile case, like an abortion rights case. So the courtroom isn't that big—it's pretty intimate.
The Center has a litigation team of about 25 people. And so the members of my team, many of them had to actually sleep outside or get into line at three or four o'clock in the morning, including one of my teammates who was breastfeeding to do that, just to be able to see the oral argument. So when I got into the court and I saw that they had all made it in and were there, we actually did a really big group hug, and that was kind of an amazing thing to do right before the oral argument began.
JMP: And back when we could still hug people.
JR: You know, absolutely. Actually, so this argument happened on March 4 and literally a week later, the COVID pandemic hit all of us really hard. And so it was a crazy, surreal experience to be at the Court on a beautiful blue sky day. There was a beautiful rally outside. It was sort of really the last time people in the reproductive rights and justice movement were all together from all over the country. And so that made it extra special for that reason.
IG: Did you sleep the night before or was that just not an option? Were you just like, "I'm just going to power through, and I can sleep when I'm dead?"
JR: I really did not sleep, though I made a valiant effort. So, people say it takes a village and it really does. I have two daughters, they're 12 and 10. And so I wanted my husband, who's also a lawyer—we met in law school—I wanted him to be there with me at the oral argument. So he came to D.C. the night before. One of my kids stayed in our house with one of my friends, another one went to sleep over somewhere else. But my husband was there with me and I thought, OK, my husband will be there. I'll be able to get a few hours' sleep. This is going to be a big help.
I am not kidding, the fire alarm in my D.C. hotel started going off at 11 p.m., and it continued to go off for like three or four hours—and just as terrible and high pitched as a fire alarm you imagine to be. And so I think maybe I slept an hour, maybe not even that. And when I got [to the Court], the one thing that made me feel better is one of my co-counsel told me that he actually didn't sleep at all, not even a minute before his first oral argument at the Supreme Court. So I thought, "OK, I can power through, I can do this."
JMP: So, oral arguments are obviously these pressure cookers, and you've got this limited amount of time. You don't necessarily know what is going to be coming at you. How do you just organize your thoughts? I mean, it takes me forever to organize for a podcast, let alone like a Supreme Court argument. What's the process like for you?
JR: It was a very intense process. I, of course, felt so much what was at stake in this case for my clients, for people in Louisiana—it was the first abortion rights case in front of the new Supreme Court. I just wanted to feel that I had done everything I could possibly humanly do to be as prepared as possible.
I spent so many hours preparing with the team—it's always a team effort, and I did eight different moots, so eight different practice sessions with lots of different lawyers, both from our movement, but also people that appear in front of the Supreme Court regularly. I think we gathered all the different questions that I was asked at those moots. We really looked at them carefully, figured out sort of what the 30 or 40 questions were that I was being asked repeatedly. And then we worked together to figure out the best possible, most accurate, but also shortest answer to all of those questions. And then I just practiced those and I practiced them and I practiced them some more. I have to say that I was not asked a single question at the oral argument that I was not prepared to answer.
Listen to the full conversation on Boom! Lawyered.