Pride Online: How Queer Communities Can Celebrate Under Quarantine This Year
Digital communities have long served as safe havens for queer people in isolation.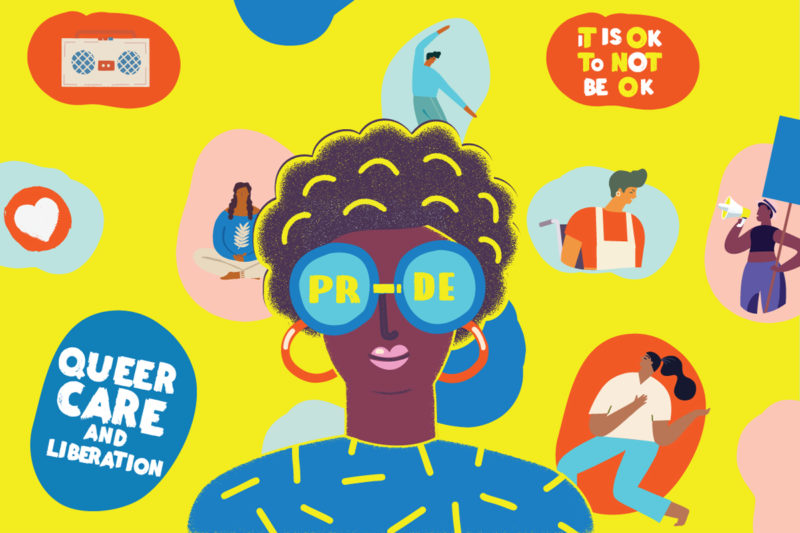 In the absence of physical safe spaces for LGBTQ people during the COVID-19 pandemic, online communities and virtual events have emerged. Shutterstock
This Pride Month, Rewire.News recognizes that celebrating during the pandemic will look very different for many of us, which is why we're putting together tools of resistance and hope to help us all survive (and even thrive) Pride 2020.
By now, it has dawned on all of us that this Pride Month is going to be celebrated in a starkly different way.
Even before Pride parties and parades were canceled, the COVID-19 outbreak led to the closures of LGBTQ centers and limited capacities at youth shelters—leaving many young people without resources or community, and some trapped in unsupportive and abusive family or living situations.
In the absence of these physical spaces, online communities and virtual events have emerged.
"I think a lot of LGBTQ+ and specifically QTBIPOC [queer, transgender, Black, Indigenous, and people of color] spaces have been hoping to provide a continuity of care during this time," said Olivia Ahn, a community-based practitioner and visual storyteller based in New York City. At the start of the quarantine, Ahn saw a need for love and connection in their community and started a queer speed dating event using Zoom video meetings and breakout rooms. "In times of social distancing, we can still stay connected and even make new [connections]."
Digital communities have long existed, serving as safe havens for queer people in isolation. "For a lot of us, digital spaces were perhaps the first safe queer spaces that we encountered [where we could] express ourselves and explore our identity for the first time," Ahn said.
But online spaces have their limitations: They aren't accessible to people who don't have the internet, for example, and they aren't always outfitted with tools for people with visual or hearing impairments. Yet many LGBTQ people with disabilities have also benefitted from the existence of these queer digital spaces.
"I do wonder, when this pandemic ends, will these 'new' spaces end?" Ahn said. "Once able-bodied centered social life—most of life—is up and running again? Are these spaces just as disposable as we have been? I hope not."
Here are just some of the digital spaces, communities, programs, and parties available at your fingertips. Hopefully they can play a role in helping you get through Pride under quarantine.
If you miss the education and organizing 
Southerners on New Ground, which organizes LGBTQ rights activists in the South, provides ways for the community to stay politically engaged and activated during the pandemic, with state chapter meeting calls, educational forums, actions, working groups, and more.
The Audre Lorde Project, a community organizing center based in New York City, hosts "know your rights" forums, digital organizing training sessions, and storytelling events.
If you miss the support 
The LGBT Center in NYC has shifted much of its robust programming online, now offering virtual support groups, meetings, classes, and more.
Friends of Nancy is a Facebook community made by and dedicated to Nancy, a podcast exploring the LGBTQ experience that was recently discontinued by WNYC. The Facebook group will continue on as a space where people share resources, ask for advice, and support one another.
The Asexual Visibility and Education Network (AVEN) offers an online forum where members discuss sexual identity, ask questions, share musings, and more. AVEN's website and social media pages also act as resources for asexuals (and the wider community) to learn more about their sexuality.
Q-Wave is a New York City-based grassroots LGBTQ organization for women and gender nonconforming people of Asian and Pacific Islander descent. (Anyone who identifies as such can join the community listserv and Facebook group here.) After social distancing started, the group began hosting digital events for its community, including a book club, film screening, and zine-making workshop.
metaDEN, a QTBIPOC-centered healing space formerly located in Brooklyn, originally shifted its programming online due to COVID-19. They have since lost their physical space due to lack of rent during the shutdown, but they will soon resume their digital workshops, guided meditations, and classes.
If you miss dancing and moving together
Papi Juice is an art collective that celebrates queer and trans people of color. While their events usually take place in the New York City nightlife scene, the group has taken their dance parties to Zoom.
Gay Fight Club, which previously operated out of a Brooklyn gym, now offers its beginner-friendly, donation-based Muay Thai classes via Zoom.
BUFU, a Black and Asian community collective based in New York City, hosted a full calendar of events in April under its project Cloud9: Collective Love On Ur Desktop, including movement and meditation sessions, knowledge and skill shares, and more. They are continuing to host 48-hour global dance parties on Zoom with several partner organizations, collectives, and creatives. Keep an eye out for the next one.
If you miss dating and flirting
Lex is an LGBTQ dating and social app, and unlike many dating apps it's focused on the text rather than the selfies. According to its website, Lex strives for a "healthy, loving community" and "adheres to a zero tolerance policy towards creeps: no transphobia, no racism, no fatphobia, no ableism. No hate speech of any kind."
QTBIPOC Speed Dating in the Cloud is Ahn's event series, which they typically announce on their Instagram feed. The event uses Zoom's breakout room feature to simulate IRL speed dating, and is a QTBIPOC-only space. Ahn also organizes with KQTxNYC to build Korean queer and trans community.
Queer in Oakland hosts their own queer speed dating event, geared toward all queer and trans folks.
Femmepremacy, a New York-based event space that centers Black femmes, hosts their own 21-and-over virtual speed dating for queer and trans people of color, called SWOON: Pandemic Punani, taking place twice a month.
If you need help 
For those seeking out therapy or counseling, the National Queer and Trans Therapists of Color Network (NQTTCN) is a healing justice organization that offers a directory of QTPOC mental health practitioners.
For peer support or help in a crisis, call Trans Lifeline's hotline at 877-565-8860 (United States) or 877-330-6366 (Canada). The LGBT National Help Center can be reached at 888-843-4564, or ​800-246-7743 for its youth talkline.