Why I'm Actually Looking Forward to Pride Under Quarantine as a Disabled Queer
This June is the perfect opportunity to consider what a Pride that centers disability justice could look like.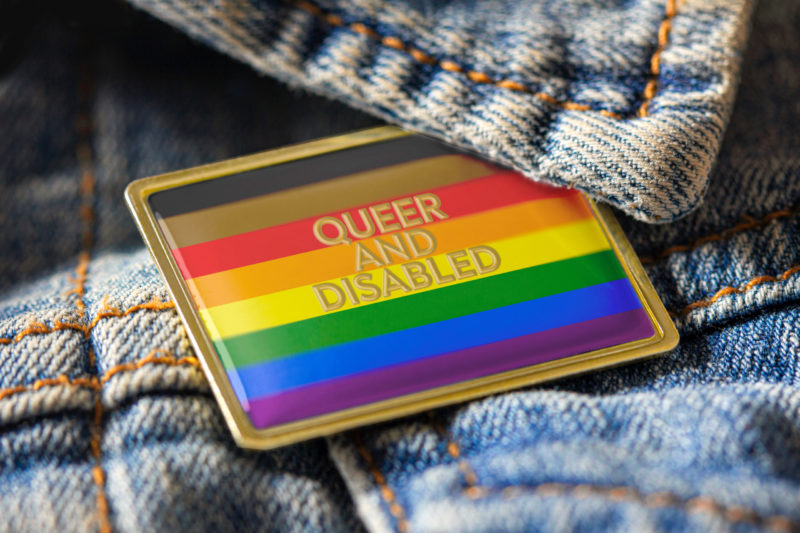 This year, due to the COVID-19 pandemic, many of the usual in-person Pride festivities have moved online, which means queer people with disabilities may actually get to participate. Shutterstock
This Pride Month, Rewire.News recognizes that celebrating during the pandemic will look very different for many of us, which is why we're putting together tools of resistance and hope to help us all survive (and even thrive) Pride 2020.
For the first time in a decade, I am looking forward to Pride.
Don't get me wrong—I've been celebrating Pride since I came out as queer in the 1990s with countless parties, parades, and Dyke Marches over the years. But since I got sick with autoimmune illnesses and other chronic illnesses about ten years ago, I could no longer attend most, if not all, of these Pride events.
I am extremely sensitive to light because of my connective tissue disease and the medication I use to treat it—even with sunscreen, shade, and a sunhat, I can't be outside for more than a few minutes in direct sunlight or hot temperatures. Along with the other joys of chronic illnesses—pain, fatigue, digestive issues, etc.—taking part in all-day Pride parades and celebrations is no longer feasible for me.
This year, due to the COVID-19 pandemic, many of the usual in-person Pride festivities have moved online, which means I may actually get to participate. Though I'm increasingly worried that people will gather for in-person celebrations regardless, I hope they will resist and consider those, like myself, who are vulnerable to the spread of the virus and may be impacted by their actions. (Plus, any event you have right now is de facto inaccessible for people with compromised immune systems and elders.)
It has been really painful, year after year, to hear friends talk about Pride, knowing that I—and many other LGBTQ people with disabilities and chronic illnesses—could not celebrate with them. In recent years, my Pride months have consisted of crying about how isolated I feel as a disabled queer.
Many cities and organizations have worked to make their Pride festivities more accessible—I've even worked with my local Pride in Syracuse, New York, to consult on accessibility. While they were receptive and incorporated many of my suggestions, true accessibility and disability justice requires a complete paradigm shift in how we think of community and celebration and protest.
One of the main tenets of disability justice is intersectionality, which recognizes the unique challenges some marginalized people face due to intersecting forces of oppression. In other words, queer and transgender folks with disabilities face oppression in ways that able-bodied queer people don't. Disabled LGBTQIA folks are often isolated due to inaccessibility, ableism, and just the way our physical and mental bodies work, making the community building, protest, and celebratory aspects of Pride all the more important for us.
After all, Pride was started after queer and trans people of color literally rioted for days after police raided the Stonewall Inn, a gay bar in New York City, and don't forget that Marsha P. Johnson—one of the leaders of the Stonewall Uprising—was disabled.
Pride has changed a lot over the years. Even during my years of being well enough to attend, I saw the presence of corporations and brands skyrocket. As a sex worker, I'm also uncomfortable in spaces with a lot of police presence, and many mainstream Pride celebrations include law enforcement, even in uniform. (Hopefully after this year, the debate on inviting police to Pride will be over for good. It's only due to white supremacy that it was even a question.)
Recently, a friend wrote on Facebook about how she was so sad for the young people who won't have this chance to gather for this year's Pride, and I get it—I really do—as only someone who is deeply isolated. I also grew up as an out, small-town queer who would have been thrilled to go to a Pride parade. There is a really special feeling that comes with being in physical community with other queer people—not to mention the sex and dating aspect of Pride, which are still possible remotely, but much different.
A digital celebration may actually be more accessible for some able-bodied young people living at home with unsupportive and restrictive parents, especially those in rural areas without nearby Pride parties to join.
Of course, accessibility isn't universal: While moving an event online may make it more accessible for me, it may then become inaccessible for others without technological devices or internet. Or if there are speakers but captioning or sign language translations are not available for people who have a hearing impairment. It's important to be thoughtful and hire consultants if needed because whether an event is happening in-person or online, accessibility needs to be considered and implemented.
This June is the perfect opportunity to consider what a Pride that centers disability justice could look like.
A good place to start (or to continue) thinking about this is by reading the work of our queer disabled ancestor Stacey Milbern, who recently crossed over. Poet, educator, and organizer Leah Lakshmi Piepzna-Samarasinha also wrote a beautiful essay on the intersections of disability justice and the LGBTQ movement.
We need to imagine how we can build a just world as if we were building it from scratch. That doesn't mean that we must sever our movement from its historical contexts—if anything, we need to spotlight the revolutionary Black, brown, Indigenous, disabled, poor, and sex working queer and trans folks who have largely been erased from LGBTQ history.
Instead of trying to make existing events accessible, let's completely rethink Pride and what it means and build a movement that aligns with our values of disability justice and intersectionality. How this translates for you and your community will differ, but disability justice necessitates centering Black and brown trans and gender nonconforming people—and NO FUCKING COPS.
Instead of looking at this year as an "off" year for Pride, let's use the tools we have to build a celebration that's inclusive of all LGBTQIA folks. To truly honor our ancestors, we must create movements and spaces that they could have been part of.