7 Gender Justice Activists to Know This Asian Pacific American Heritage Month
APA women and trans and nonbinary people have been at the forefront of movements for survivors, LGBTQ liberation, bodily autonomy, and sex positivity.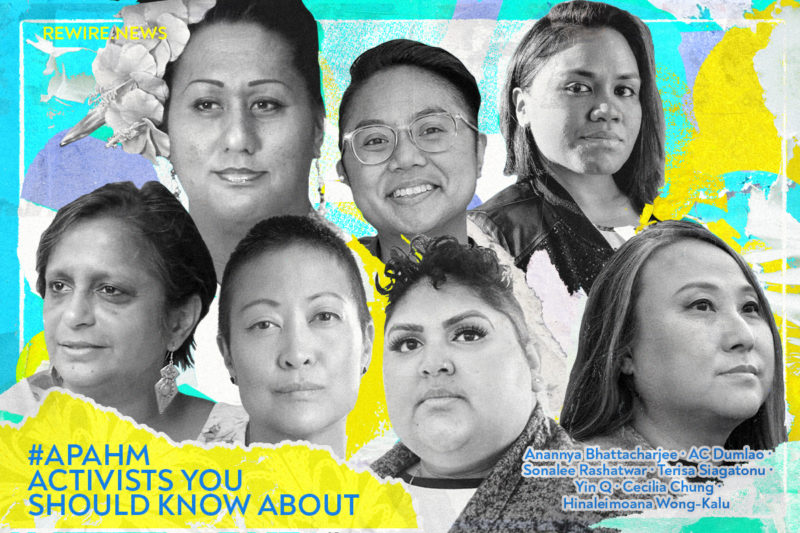 Throughout history and today, APA activists have been on the front lines in the ongoing fight for gender justice. Rommy Torrico for Rewire News Group
This Asian Pacific American Heritage Month (APAHM), Rewire News Group is highlighting the ways Asian and Pacific Islander American communities have been at the forefront of the reproductive justice movement throughout its formation and today.
We've fought for our rights, we've been at the forefront of movements, and we've enacted revolutionary change.
Though our activism is often obscured from mainstream consciousness, Asian and Pacific American (APA) women, transgender, and gender nonconforming people have been at the forefront of movements for survivor advocacy, LGBTQ liberation, bodily autonomy, and sex positivity.
This APAHM, Rewire News Group is spotlighting APA activists throughout history and today who have been on the front lines in the ongoing fight for gender justice.
Anannya Bhattacharjee
Born, raised, and currently based in India, Anannya Bhattacharjee is a labor activist and trade unionist whose early organizing took root in New York City, where she advocated for immigrants' rights, gender justice, and labor rights within the city's growing South Asian community.
Bhattacharjee moved to the United States for college and began organizing around anti-imperialism on campus, and dropped out of school to focus on community organizing. In 1989, she and four other South Asian women—Mallika Dutt, Tula Goenka, Geetanjali Misra, and Romita Shetty—founded Sakhi for South Asian Women, an organization that serves and advocates for survivors of gender-based violence in New York City's South Asian immigrant communities.
"What Sakhi did was bring together issues around ethnicity and gender, which were previously not discussed in our communities," wrote Margaret Abraham, author of the 2000 book Speaking the Unspeakable: Marital Violence Among South Asian Immigrants in the United States. "They shifted domestic violence from a private family problem to a public social issue."
Bhattacharjee served as the first executive director of CAAAV: Organizing Asian Communities, a grassroots coalition organizing across low-income and working-class Asian immigrant communities also founded in New York City in the late 1980s. She helped shape the organization's programs, which have served domestic workers, taxi drivers, vendors, and Southeast Asian refugees, and more. She is also a cofounder of SAMAR, a South Asian magazine that printed progressive cultural analysis from the 1990s to the early 2000s, and Workers Awaaz (Workers' Voice), a New York City-based nonprofit that supports South Asian domestic workers.
"Women who came into Sakhi without identifying themselves as feminists left with identifying as feminists in a way that made sense to them as South Asian women." –Anannya Bhattacharjee
Cecilia Chung
Cecilia Chung, a transgender Chinese American woman living with HIV, has been heralded as an LGBTQ icon for her work over two decades advocating for trans rights and destigmatizing HIV/AIDS.
Chung was born and raised in Hong Kong; her family immigrated to Los Angeles in 1984. Chung relocated to San Francisco a year later to attend college and has been based there ever since. She began her transition in the early 1990s after graduating from college, while working as a court interpreter in Santa Clara County, but was let go from her job after she began to appear more feminine. This led to a difficult period when she engaged in survival sex work, self-medicating her depression with drug use, and dealt with temporary homelessness. In 1993, Chung tested positive for HIV, and in 1995, she was stabbed during a sexual assault.
Soon after the violent attack, which led to a reconciliation with her family who had cast her out for coming out as trans, Chung began working as an HIV test counselor at Ferguson Place, a residential treatment facility for people with HIV, and later as a caseworker for a homeless housing program. (In 1994, she was a member of San Francisco's Transgender Discrimination Taskforce, a group that documented discrimination against trans people that led to the city's pioneering anti-discrimination ordinances and policies.)
In 2001, she became the first Asian and first transgender woman elected as president of San Francisco's LGBT Pride Celebration Committee board, and also joined the board of directors of the Asian and Pacific Islander Wellness Center—a place where Chung had once sought services from and where she continued her HIV education and advocacy work. In 2004, she helped launch the Trans March, now one of the largest trans events in the world. Today, Chung is director of evaluation and strategic initiatives for the Transgender Law Center, for which she became the first deputy director in 2005, helping the organization shape its mission.
"I think young people who can't come out or talk to their parents about who they are need to remember this: don't let all of those hiccups keep you from experiencing life and joy. I think whatever your thing is, it'll come naturally if you allow it to." –Cecilia Chung
Hinaleimoana Wong-Kalu
Hinaleimoana Wong-Kalu, also known as Kumu Hina, is a Native Hawaiian transgender woman and māhū, or someone who embodies a third gender somewhere between male and female. In Hawaiian culture, māhū are recognized as sources of ancient wisdom.
Born in the Nu'uanu district of O'ahu, Wong-Kalu became a well-known community leader as a kumu hula (master hula teacher) and cultural director at Hālau Lōkahi charter school, which instills Native Hawaiian culture and history into its educational programs. She was a founding member of Kulia Na Mamo, a community organization established in 2003 that serves the needs of māhūwahine, or transgender women, in Honolulu.
Two years before the U.S. Supreme Court legalized same-sex marriage, Wong-Kalu advocated for marriage equality, which was being debated by the Hawaii State Legislature at the time, in an op-ed for the Honolulu Star-Advertiser that reminded Native Hawaiian people of the celebrated queerness within their cultural heritage. In 2014, she ran for an at-large seat on the Office of Hawaiian Affairs Board of Trustees, becoming one of the first out transgender people to run for statewide political office.
The same year, she was the subject of a feature documentary, Kumu Hina, about her life, and went on to collaborate with the same filmmakers to produce two films that highlight the issues of Indigenous transgender communities in the South Pacific.
"Wake up, kanaka maoli [Native Hawaiians]! If you support the Westernized Christian view of marriage, then so be it—but please don't pretend that your choice has anything to do with Hawaiian thought or values." –Hinaleimoana Wong-Kalu
Terisa Siagatonu
Terisa Siagatonu is a queer Samoan spoken word poet, educator, and organizer based in Oakland, California. Her poetry tackles gender, race, colonialism, rape culture, masculinity, and more.
Her writing has been published in Poetry magazine and featured on NPR, HuffPost, Everyday Feminism, and the Guardian, among others. She has also spoken and performed at various venues, including the White House during the Obama administration, the 2010 Oakland Pride Festival, and the 2015 United Nations Conference on Climate Change in Paris. In 2012, then-President Barack Obama recognized Siagatonu as a "Champion of Change" for her work in Pacific Islander communities.
Siagatonu previously worked as a program director for PIER: the Pacific Islander Education and Retention project at the University of California, Los Angeles (UCLA), and has organized with other community groups such as One Love Oceania, a queer Pacific Islander women's organization based in the Bay Area, the Samoan Community Development Center in San Francisco, and Empowering Pacific Islander Communities in Los Angeles. She is also a co-founder of The Root Slam, a poetry venue in Oakland, and has been involved with Youth Speaks, a San Francisco-based arts and literacy nonprofit that encourages youth to express themselves through poetry, spoken word, and civic engagement.
"From Cali's coast to Oceania's edge/ from my swollen heart to the valley in my voice/ the one that my love echos between forever/ for the ones I intend to die for/ and the ones who now understand/ why they're alive." –Terisa Siagatonu
Yin Q
Yin Q is a sex worker rights activist and educator and practitioner of bondage, dominance, sadism, and masochism (BDSM). Most of Q's work is intended to help destigmatize and demystify BDSM, sex work, and kink, as well as providing spaces, resources, and representation for sex workers.
They serve as a co-director for Red Canary Song (RCS), a grassroots organization founded in 2018 that advocates and provides resources for Asian and migrant sex workers, most of whom are based in Queens, New York. They are also the founder and creative director of Kink Out, a sex work and kink positive event series, which will be hosting an online rally for International Whores Day in June.
In 2017, Q wrote and produced Mercy Mistress, a web series based on their experiences as a a queer, Chinese American dominatrix living in New York City. Last year, they produced and directed Fly in Power, a short documentary about the work of RCS and Yang Song, a Chinese migrant massage parlor worker who fell to her death in 2017 during a police raid. Q recently received an NYC Women's Fund for Media, Music, and Theatre grant to develop the short video into a longer documentary.
During the COVID-19 pandemic, Q is working with RCS to provide direct aid to its members—mostly migrant massage parlor workers whose livelihoods have been impacted by COVID-19 racism since even before businesses were shut down—in the form of financial assistance, groceries, and health supplies.
"So many people still carry the idea that we should save the prostitute which is very second-wave feminism. I think that by giving these stories a face and a human story, and showing agency, that's how empowerment works." –Yin Q
Sonalee Rashatwar
Sonalee Rashatwar, known more widely as her Instagram handle, @thefatsextherapist, is a 32-year-old sex therapist, clinical social worker, educator, and organizer. She co-owns the Radical Therapy Center in Philadelphia and brings in her lived experience as a fat, bisexual, nonbinary Indian American survivor of domestic violence into her practice.
After graduating from Temple University in 2011, Rashatwar volunteered for a domestic violence response team. Through her public advocacy and her therapy practice, which are amplified for her more than 100,000 followers on Instagram, Rashatwar brings a radical self-love framework into her work to not only challenge racism and misogyny but also issues of sizeism, classism, homophobia, transphobia, ableism, colonialism, colorism, and Islamophobia.
"When we teach someone to experience shame based on your body, whether it's about race, body size, disability, and we internalize that shame, we internalize this sense of our body having less self-worth than other bodies," Rashatwar told the Philadelphia Inquirer in 2019. She often speaks out against diet culture and fatphobia, and pushes for better health access for fat people, going further than the often "apolitical" mainstream body positivity movement,
"Pleasure is very virtuous. We need food pleasure and sexual pleasure to survive this capitalist nightmare. And it's OK. I give you permission." –Sonalee Rashatwar
AC Dumlao
Call Me They is an online social justice platform created and run by AC Dumlao, a 29-year-old queer, trans, nonbinary Filipino American activist and educator based in New York City. Through their personal platform and work as a program manager at the Transgender Legal Defense & Education Fund (TLDEF), Dumlao advocates for the visibility and inclusion of trans, gender nonconforming, and nonbinary communities.
Dumlao manages TLDEF's The Name Change Project, which connects low-income transgender, gender nonconforming, and nonbinary people with pro bono legal representation during their name change process. They also lead trainings for trans cultural competency presentations and workshops and run other community education initiatives for the organization. Their activism was recognized in 2019 when they were named an NYC Pride Community Hero.
"As a nonbinary person navigating the world with non-European facial features and a petite brown body that is cis-assumed, I share experiences of both my social dysphoria and gender euphoria as a way to not only create visibility, but to work through my continual discovery process of what non-binary identity and expression mean to me." –AC Dumlao