Abortion Is Available Again in Texas. But You'll Have to Get in Line.
Texas Gov. Greg Abbott's push to ban abortion during the COVID-19 outbreak could mean long waitlists for care will become the norm across the state.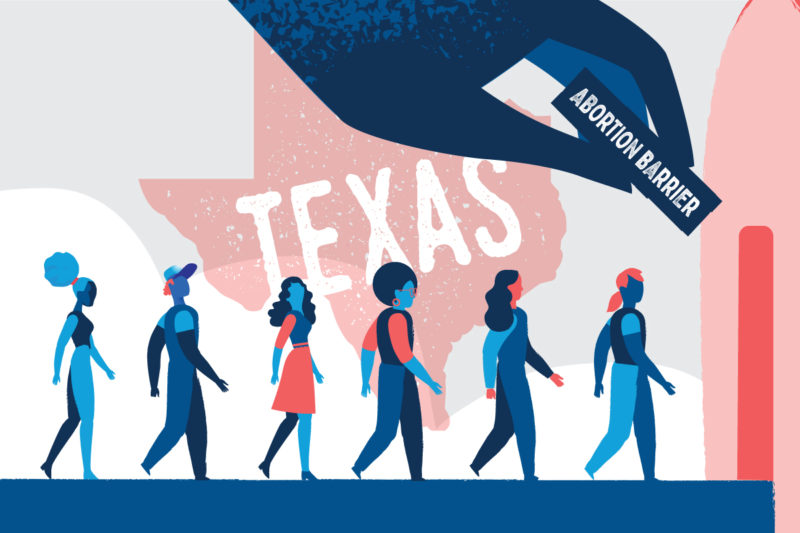 "When the ban was lifted for good, I was told by a friend and started calling nearby clinics. [But] waitlists were [the] priority, so the earliest appointment dates were still far away," Sarah said. Shutterstock
Sarah, a 26-year-old Texan, found out she was pregnant on April 7, the day the U.S. Court of Appeals for the Fifth Circuit ruled in favor of Texas' COVID-19 abortion ban.
The Fifth Circuit's decision prevented a temporary restraining order issued a week prior by a federal district court, allowing medication and some procedural abortions, from taking effect. Abortion in Texas was no longer legally accessible. Although a new, more narrow temporary restraining order was granted two days later, Sarah still hasn't had her abortion.
"The minute I saw the positive pregnancy test, I knew that I needed an abortion. I had been on birth control pills, and I was still paranoid and took a Plan B the day after having sex," Sarah, whose name was withheld for privacy reasons, told Rewire.News. "I already have kids, I'm unemployed due to the virus, I work multiple jobs, and I'm in college. The other person involved would have been absolutely no type of support physically, financially, or emotionally. I knew I could not bring another kid into the world right now."
Sarah was seeking a medical abortion following the latest temporary restraining order, which still banned most procedural abortions (Sarah's preferred method), but after calling multiple clinics, learned that all of the providers within two hours of her either had waitlists or were closed for "an indefinite amount of time" with no indication of when they would be able to provide services again.
She feared she wouldn't be able to access abortion care in Texas at all—and because she needed an abortion now, not later—Sarah scheduled the first available appointment at a Louisiana clinic for early May, nearly a month after finding out she was pregnant.
"I … booked two nights in a hotel and planned to drive to the clinic to go through with the abortion sooner rather than later," she said.
Gov. Greg Abbott (R) and indicted Attorney General Ken Paxton (R) have used the COVID-19 public health crisis to temporarily ban abortion in Texas, forcing Texans to risk their health and the health of our communities by traveling across state lines to access an abortion that, for many, could have been accessed in their own city or county.
And like HB2, the Republican legislation that shut down over half the abortion clinics in Texas, the COVID-19 bans have similarly resulted in a surge in patients seeking abortion care out of state—particularly in states like Colorado and New Mexico, where abortion services aren't restricted. The Lilith Fund, an abortion fund serving central and southern Texas, told me last month that their callers were already concerned they wouldn't be able to access abortion prior to the orders passing and were seeking care "before they couldn't" as a result of the pandemic.
As an abortion counselor at a clinic in Austin, I've heard these same concerns, too.
Because of these barriers and as our government continues to fail us, abortion funds and practical support organizations have increased their budgets, extended their hotline hours, and are committed to working together to ensure the communities they serve have access to support. But that's hasn't been enough, as patients across the state were faced with canceled or rescheduled appointments for weeks, with some having to be turned away at the clinic at the last second as a result of the orders—like Jasmine.
Jasmine, 18, whose name has been changed to protect her privacy, had just moved to Texas when she learned she was pregnant in early April amid the ever-changing landscape of abortion access during the pandemic.
"I had called multiple clinics and kept being turned down," Jasmine told Rewire.News. "Once I realized about the bans, I was crushed and felt hopeless. I had no idea what to do. I even considered driving all the way out of state, [or] to find some way to fly home since I seemed to be out of options."
With the support of her mother, who lives across the country, Jasmine connected with a clinic worker in Texas who helped her find a provider in a nearby city that was still seeing patients. But when she got to her appointment, Jasmine experienced firsthand how devastating these last-minute changes could be. Because conservative judges on the Fifth Circuit Court made abortion care unavailable the evening before Jasmine's appointment, by the time she drove to the clinic the next morning, they were no longer providing services—not even consultations.
Unsure of what to do, Jasmine reached out again to the Texas clinic worker, who helped her find a different clinic in the same area that was able see her that morning for a consultation. "She helped me schedule an appointment and go in as soon as I could. If it wasn't for her, I'd still be in my same situation," Jasmine said.
Jasmine said the clinic workers were supportive and helpful. "Even with everything going on and still possibly not being able to have the abortion done, I started to feel more reassured and confident in my decision," she said.
Jasmine was able to access the medication abortion she needed on April 9, the day a new temporary restraining order was granted in Texas. But she was "terrified" while waiting to take the abortion pill with the doctor at her next appointment.
"I was so afraid … I wouldn't be able to get this done," she said. "Things were changing every day out of nowhere, and I had no idea what was going to happen. It was a very hard time, and I remember just feeling so nervous."
Amy Hagstrom Miller, CEO and founder of Whole Woman's Health, told the Austin Chronicle that of the 60 abortions they typically provide at their Austin clinic every week, half are procedural, which means half of the patients seeking care were unable to do so over the past month. Other Texans are learning they're pregnant and needing abortion care at the same time, raising the prospects of long waitlists and other barriers like out-of-state travel becoming the norm.
"When the ban was lifted for good, I was told by a friend and started calling nearby clinics. [But] waitlists were [the] priority, so the earliest appointment dates were still far away," Sarah said. "I really hope that it isn't banned again because it is severely inconvenient, unsafe, and just unlawful. I feel terrible for anyone going through this uncertainty and stress, in addition to all of the stress most people already have with the pandemic, like loss of employment."
For people in Texas seeking abortion services, Jasmine and Sarah say don't give up.
"Keep trying, ask around, and get the help that you deserve," Sarah said. "Don't be discouraged, because you know what is best for you."