What It's Like to Be a Clinic Escort in North Carolina During the COVID-19 Pandemic
"We hoped pulling back would send a general message to the protester community that everyone should take this seriously, but protesters have continued to show up."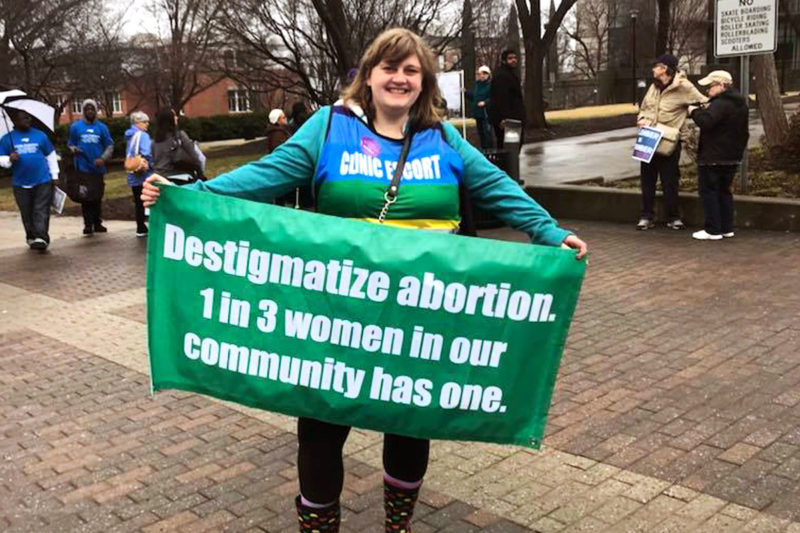 Kelsea McLain told Rewire.News, "Clinic escorts were not only a line of defense for those who need [physical] access to the clinic, but a line of support and encouragement. We're there to let patients know their choices are trusted and valued, and [that] they will be supported at every point during this process." Courtesy of Kelsea McLain
For continuing coverage of how COVID-19 is affecting reproductive health, check out our Special Report.
Anti-abortion activists in North Carolina have continued to protest outside of the state's reproductive health care clinics, defying stay-at-home orders.
While arguing that not being able to protest at clinics during the coronavirus pandemic is a violation of their First Amendment rights, some protesters have been arrested in Charlotte and Greensboro for ignoring the state's order.
Last month, Kelsea McLain, a client services manager at an Alabama-based abortion fund, the Yellowhammer Fund, wrote in an op-ed for Rewire.News about behaviors she witnessed from protesters while volunteering as a clinic escort in her home state of North Carolina.
A protester "began to cough without covering her mouth in the direction of this volunteer, whose space she had already invaded," McLain wrote. "Clinics are stepping up and offering [clinic escorts] training in how to use protective gear like gloves and masks, offering sterilizing wipes and sprays to escorts to help keep common areas as clean as possible, and responding quickly when volunteer groups have questions or concerns. Despite all of this, some clinics have suspended escort services, and some clinic escort groups have suspended services on their own."
Shortly afterward, McLain's clinic escort group made the difficult decision to stop volunteering on-site, in order to do its part in fighting the spread of the virus. Rewire.News spoke with McLain to gain insight into the situation in Raleigh, North Carolina, and how clinic escorts are adjusting. The following interview has been lightly edited for clarity.
Name: Kelsea McLain
Age: 35
Location: Durham, North Carolina
Occupation: Client services manager at the Yellowhammer Fund
Tell us a little bit about your clinic escort work. 
Our group currently volunteers with one clinic—there are two in town, one of which we hope to be offering volunteer services to soon. We act as a buffer between patients and anti-abortion activists on-site during patient arrivals and through the first half of their appointments, which is usually when protesters are present. The clinic is located in a quiet residential area, off a traffic circle, which conveniently creates an area for protesters to gather. Protesters also gather on the public easement in front of the clinic and on the public easement on either side of the road.
Our clinic escort group has adopted a non-engagement philosophy and does our best to cut down on the hostility and chaos outside of the clinic. We are honestly glorified parking attendants, but we also spend some time and effort ensuring patients' rights are respected and providing patients someone friendly to talk to when they are outside of the building. We volunteer every day the clinic is open, which is usually Monday, Tuesday, and Thursday through Saturday.
How has the COVID-19 pandemic affected clinics in North Carolina and your work as an escort? 
The clinics are all, thankfully, open and operating, but I do believe most have taken steps to reduce the risks of transmission by decreasing the number of people allowed in the building at one time. We have been communicating with the clinic management where we volunteer since [COVID-19] became a public concern, and have taken multiple actions to do our part to "flatten the curve" while still doing what is best for patients.
At first, we reduced the number of volunteers and asked volunteers in at-risk groups to stay home. We also increased our sanitation of shared equipment—we use walkie-talkies, as we often have to leave clinic property to support patients as they approach the clinic—and our uniforms, the clinic escort vests. As things escalated quickly, our decision to completely pull back volunteer services followed.
The last weekend we were on-site was three weeks ago now, and we volunteered from our car. Basically, two different volunteers showed up in their own cars and sat in the parking lot to keep an eye on things. We had plans to notify the clinic via phone if protesters were causing problems. We even moved our car into a position to provide a physical barrier between a protester and patient who was waiting outside at one point.
During this time, what have you encountered from the anti-abortion protesters that you usually come across at the clinic?
While there are fewer protesters, they continue to have a presence. One of the big motivating factors in our decision to pull back and ultimately stop volunteering was the behavior of protesters: They were openly talking about defying stay-at-home orders if they were going to be issued, coughing in the direction of older volunteers, and making jokes about being "sick with the virus." And in general they were demonstrating a total sense of disregard for established social distancing guidelines.
We hoped pulling back would send a general message to the protester community that everyone should take this seriously, but protesters have continued to show up. One group, Love Life, has even faced arrest and charges for violating stay-at-home orders in other cities. They showed up this past weekend and appeared to be almost salivating at the idea of facing arrest. Our local police department tends to be very hands-off with the problems protesters create and their often intentional violations of laws.
We've been keeping an eye on protesters via social media so we can document their actions during this crisis, and as recently as Tuesday, one of our regular protesters was at the clinic and recorded an interaction with [an officer] who not only failed to tell her to go home but provided guidance in how to skirt the stay-at-home order successfully. Included was, "Keep walking, so it looks like you're exercising."
Why is the work that you do necessary at this time? 
It's hard to answer this question because for our entire clinic escort group, this is a difficult time. When we began the decision-making process, everyone who volunteers with the Triangle Abortion Access Coalition in Raleigh had the chance to weigh in, and one thought remained constant: We were terrified about how protester actions would escalate in abuse without us there to keep an eye on things.
While we are rather helpless in controlling or changing protester behaviors and actions, we do know having a watchful eye on-site prevents harassment from getting to a point where it can truly jeopardize a patient's feeling of safety. We knew that protesters would continue to show up, even when the rest of us were making decisions out of care and concern for our neighbors and our local community. It broke our hearts to "give up" on patients, who we knew would continue to access care even if it means risking a potentially deadly illness. That's how important abortion access is to people.
Having an abortion can already be a very isolating experience, as stigma and shame around this choice are so rampant in society. Now, clinics are denying patient companions entry into the building [as a health precaution], and many patients may feel incredibly alone once inside.
Clinic escorts were not only a line of defense for those who need [physical] access to the clinic, but a line of support and encouragement. We're there to let patients know their choices are trusted and valued, and [that] they will be supported at every point during this process. We have felt a bit of pause, but I am hoping to figure out ways to continue our work in educating our community about the abuses that go on outside of clinics, as well as continue doing the work to destigmatize abortion.
What are some of your worries, fears, or frustrations right now? 
How disconnected we all are from each other, and how deeply patients may be feeling the isolation [due to the crisis] and stigma people choosing abortion face when not in the middle of a pandemic. Not being available for patients in these moments makes us all feel like we are stuck in a place where we cannot push forward in making progress toward a world where people can access abortion without stigma, shame, and judgment.
We're also worried about our volunteer community. In doing this work, we form bonds, and we went from seeing each other weekly to a mountain of uncertainty. While our work is hard, we enjoy our shared time at the clinic.
What's your biggest hope right now? 
I'm hoping, first, that the challenges of this time provide opportunities to liberate abortion access. North Carolina is a state with mandatory waiting periods, limits on abortion access, and bans on telemedicine. Liberating abortion laws would provide clinics even greater ability to make decisions that would reduce transmission of COVID-19 among people who need to have an abortion during this moment. I hope we can also learn ways to leverage technology in new and exciting ways to win battles, reduce stigma, and connect our communities.