What Does 'Safe Sex' Look Like During the COVID-19 Pandemic? Here's What You Need to Know. (Updated)
Ultimately, no partnered sex act is ever without some aspect of physical or emotional risk—but when it comes to coronavirus transmission, there are ways to reduce risk and still have fun.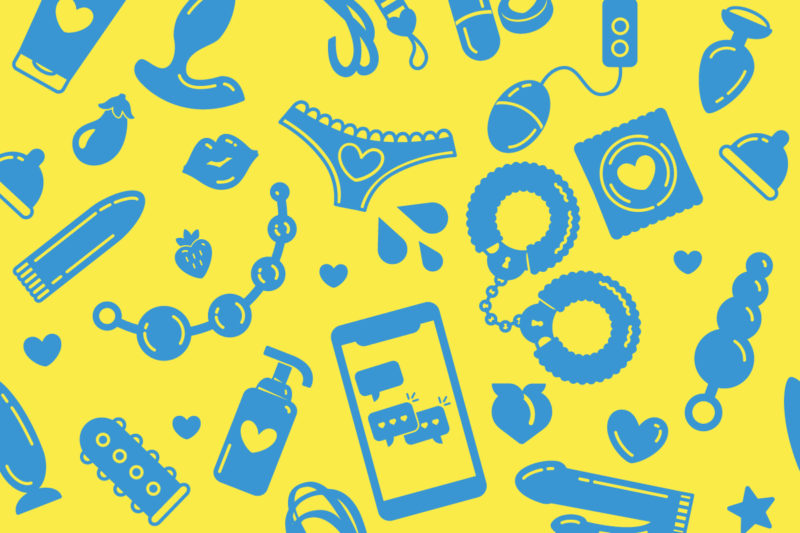 Ultimately, no partnered sex act is ever without some aspect of physical or emotional risk—but when it comes to COVID-19 transmission, here are some ways to reduce risk and still have fun. Shutterstock
UPDATE, May 8, 3:50 p.m.: A study in China found that SARS-CoV-2, the virus strain, has been detected in the semen of some COVID-19 patients, raising the possibility that the virus could be sexually transmitted, CNN reported.

For continuing coverage of how COVID-19 is affecting reproductive health, check out our Special Report.  
With shelter-in-place orders enacted across the country, people are figuring out how they'd like to spend their extra time at home. The prospect of "quarantine and chill" can be enticing for some, but for others, it brings up questions about safety, health, and what it means to practice safe physical distancing when it comes to sex.
"Some people are in survival mode and aren't thinking about sex right now," said Tracie Gilbert, an independent sexuality educator who conducts workshops and conversation series through her company Thembi Anaiya. "But if we're asked to self-quarantine for six weeks, for three months, that will change."
As far as we currently know, COVID-19 can't be transmitted through vaginal fluids or through semen, but that doesn't mean you can't transmit COVID-19 during sex. Especially given that the World Health Organization (WHO) suggests maintaining at least three feet of distance from anybody who might be infected.
Kissing and other sexual activities, however, can be riskier, as COVID-19 is primarily transmitted by touching or breathing in "droplets"—small amounts of saliva or mucus that someone infected by the virus might cough or sneeze up. Plus, the virus is believed to be able to live on surfaces for several days. COVID-19 also survives in fecal matter, which means that anal play—particularly analingus without a barrier—is considered higher-risk.
Most people know that you can have an STI but not show any symptoms. Similarly, you can carry COVID-19 but not show the symptoms you've been told to watch out for, like a fever, dry cough, and fatigue. The potential for being an asymptomatic carrier means that it's important to not engage in activities where you could unknowingly transmit the virus to someone else.
"Young people in particular might not understand what it means to have a compromised immune system," said Heather Corinna, founder and director of Scarleteen, a sex education website for young people, and author of S.E.X. "They might not see themselves or their friends in that definition, even if they have something like diabetes or asthma, so it's important for caregivers to emphasize the importance of following the guidelines."
The New York City Department of Health and Mental Hygiene recently released a set of guidelines on safer sex practices during the COVID-19 pandemic, and physicians have also weighed in on ways to get intimate during physical distancing.
"If you don't live with the person, now is not the time to have in-person sex with them," Corinna said.
If you share a bed and living space with someone, however, you're already experiencing a degree of transmission risk. If you don't live with someone, traveling to their home for a rendezvous means that you're being exposed to more transmission opportunities, and in turn, you could unintentionally expose your partner.
Whether you are opting for safer alternatives or have put your sex life on pause for the time being, you still deserve to bring pleasure into your life. As we face quarantines and a reduction in physical closeness, we should "find pleasure where we can," Gilbert said. "We've been given the opportunity to find pleasure by not having to be of service to capitalism. That extra nap, the food you can make, watching TikTok videos, the orgasms you have on your own or with someone you're quarantined with—that's all pleasure. Pleasure is still possible. We just have to be mindful and think interdependently, rather than just thinking about our own risk potential."
Ultimately, no partnered sex act is ever without some aspect of physical or emotional risk—but when it comes to coronavirus transmission, there are ways to reduce risk and still have fun.
Use your words
Whether your medium of choice is a text message or a letter, now is the time to find your words. "Sexual communication is something that we don't often pay attention to, so now is a really great time to get better at talking about things you want, fantasize about, or need," Corinna said.
This technique can be used for long-distance sex or in-person sex, as a way to deepen your level of intimacy with someone. No matter which medium you choose, make sure you and the recipient are on the same page and consent before you send.
Sexting is an opportunity to get creative and try out sex acts that may be new to you. COVID-19 likely won't spread through mailed items, so if you're looking to reduce your reliance on tech, put your fantasies to pen and paper and send erotic letters or notes.
Do it yourself
Take your sexual pleasure into your own (thoroughly washed) hands.
You are your safest sexual partner. Plus, masturbation helps you learn about what you enjoy sexually without having to worry about potentially hurting a partner's feelings.
"If what you want is to get off, then get yourself off," Corinna said. "If you haven't learned how to do that yet, now is the time to. When you have an in-person sex life again, you'll be surprised at how much better it'll be."
Hand-washing is always important when it comes to self-pleasure, especially if you're playing with the vulva or the anus, both of which have thin, highly porous mucous membranes (just like your eyes and mouth do), so germs can more easily pass through them.
Before you get down to business, wash your hands. Once you're done, wash up again.
Take it online (privately)
If you and your partner/s can't be near each other, cybersex and video calling apps can help you maintain your sexual connection. This can be helpful for sex workers who typically work in-person, too.
There are a couple of things to note when it comes to engaging in sex online, though. First, this is not an option for teens under 18, even if everyone involved is under 18. Under many state laws, any naked images of minors (even those consensually shared among partners) are considered child pornography. So, for your legal sake, opt for an image-free alternative. Second, mind your angles. Even if you trust someone, it's important to protect your online privacy. Don't include your face or defining tattoos or birthmarks in any videos or photos that you send.
Use or adapt your barrier methods
Oral sex of all kinds—cunnilingus, fellatio, and analingus—are considered higher-risk activities for transmitting COVID-19 because of the presence of saliva.
If you still want to engage in oral sex, use a barrier method: namely external condoms, dental dams, and internal condoms. If you need to purchase them, some sex toy retailers are still fulfilling online orders, and online condom shops can deliver barrier methods to you.
Standard condoms may not taste great, so try flavored options or add flavored lube yourself. For cunnilingus and analingus, dental dams have flavored options like strawberry or banana. In a pinch, you can even use plastic wrap that you might find in your kitchen—just make sure it doesn't have any tears in it and, of course, hasn't been used before. Another option is to take an external or internal condom and cut a line in it vertically, opening it up into one rectangular sheet.
Masturbate together
If you and your partner are sharing space but don't want to touch, try masturbating together. Mutual masturbation can help you show each other what gets you off and can help build intimacy and trust.
Use toys on each other
Sex toys can be shared if they're thoroughly cleaned and made out of non-porous materials, like 100 percent silicone, stainless steel, borosilicate glass, or ABS plastic. To clean your toys, apply your hand-washing routine to your toys— at least 20 seconds with warm, soapy water—and avoid electrical components or battery compartments. You can also use barrier methods with sex toys to further reduce your risk; a new barrier method should be used for every sex act.
Like mutual masturbation, using toys on your partner can help strengthen your communication skills and increase your sexual pleasure while also bringing some creativity into your bedroom.