Anti-Choice Legislative Majorities Could Be Vulnerable in Two Critical States
Democrats are targeting the Michigan and Pennsylvania legislatures, where Republicans have long used majorities to push abortion restrictions.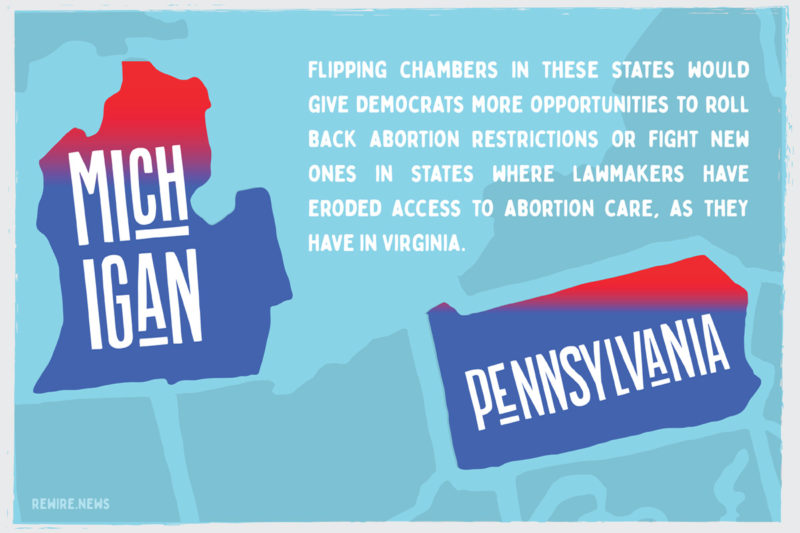 Flipping chambers in these states would give Democrats more opportunities to roll back abortion restrictions or fight new ones in states where lawmakers have eroded access to abortion care, as they have in Virginia. Shutterstock
Democrats are focusing on Michigan and Pennsylvania as "top targets" to flip one or both legislative chambers in the 2020 election, a shift that could change the abortion rights landscape in the two states.
Last month, the Democratic Legislative Campaign Committee (DLCC) unveiled a $50 million plan to flip 19 chambers across 13 states in November. "As you can see here, we're on complete offense. These are all Republican chambers. We feel confident about holding chambers Democrats won in 2018," DLCC President Jessica Post told reporters in a press briefing announcing the organization's "Flip Everything" campaign.
The group believes it can help Democrats win control of the Michigan House and both chambers of the Pennsylvania General Assembly this year. (Michigan's state senate is not up for consideration until 2022.) Both states have Democratic governors who largely serve as backstops against anti-choice legislation, though Michigan Republicans are finding a way around a gubernatorial veto for an abortion restriction this year.
The DLCC is also targeting North Carolina, Minnesota, Iowa, Texas, and Arizona, among other states. Flipping chambers in these states would give Democrats more opportunities to roll back abortion restrictions or fight new ones, as they have in Virginia.
NARAL Pro-Choice America calls abortion access in Pennsylvania and Michigan "severely restricted." Both states require parental consent for minors to receive abortion care. Clinics are required to meet medically unnecessary and burdensome standards, and patients are forced to wait 24 hours and undergo state-directed counseling to discourage them from choosing abortion care. Health plans in both states' Affordable Care Act exchanges will only cover abortion when the person's life is in danger and, in Pennsylvania, in cases of rape and incest.
Even with pro-choice Gov. Gretchen Whitmer (D) in office, Michigan Republicans are finding ways to enact additional restrictions. Abortion rights opponents in Michigan are waiting for state elections officials to certify petition signatures for a citizen-led ballot initiative that would ban the dilation and extraction (D&E) procedure, the most common form of second trimester abortion care. If the signatures are valid, anti-choice lawmakers will be able to adopt the measure while skirting a veto from the governor, though pro-choice advocates told Michigan Public Radio they would take legal action if the ban is passed.
Flipping Michigan's house in November is an opportunity to give Whitmer a legislative partner, Post said. Democrats will need to flip four seats since they gained five seats in the last election cycle, she added.
In Pennsylvania, Democratic Gov. Tom Wolf has hampered anti-choice lawmakers' efforts to enact abortion restrictions. Pennsylvania's house passed a fetal burial bill in November: Fifteen Democrats and every Republican voted in favor of the bill, the Associated Press reported. The bill is currently under consideration in the senate, though Wolf has said he would veto the legislation. In 2017, Wolf vetoed a bill that would have banned abortion at 20 weeks and only allowed D&E abortions when there is a risk of death or "substantial and irreversible" loss of certain bodily functions.
In 2017, 85 percent of counties in Pennsylvania did not have any clinics that provided abortion. Nearly half of women in the state live in these counties, according to the Guttmacher Institute.
Post said the DLCC is focusing on Pennsylvania because it's an opportunity for the next Democratic trifecta and a "huge state for redistricting." Democrats need to gain nine seats to flip the house and four seats to flip the senate. And many of the senate seats, Post said, are favorable to Democrats. She cited state Sen. Pam Iovino, a Democrat who in an April 2019 special election flipped a seat in western Pennsylvania that President Trump had won, as an example of what Democrats can accomplish in 2020.
As the last election before state lawmakers get to redraw district boundaries based on the 2020 census, this year's state legislative races are particularly critical. The DLCC's heavy investment is aimed at giving Democrats some control over that process.
"This election is a once in a generation opportunity to flip state legislatures," Post said. "Only once every 20 years do we have both a presidential election on the pre-redistricting election, so this significant."
The fight over redistricting in Michigan has been intense. In June, the U.S. Supreme Court ruled that federal courts can't review partisan gerrymandering because it's a political question. In October, the conservative justices on the Court overturned a ruling from the U.S. 6th Circuit Court of Appeals that called for 25 legislative and nine congressional districts in Michigan—created after the 2010 census to benefit Republicans—to be redrawn. It won't be until 2022 that a bipartisan commission redraws state legislative and congressional district boundaries, the Detroit Free Press reported. The Fair Lines America Foundation, which has ties to the National Republican Redistricting Trust, is suing to invalidate the bipartisan redrawing of the state and congressional districts.
Experts say Democratic victories in Pennsylvania and Michigan aren't assured.
Tom Ivacko, associate director of the Center for Local, State, and Urban Policy (CLOSUP) at the University of Michigan's Gerald Ford School of Public Policy, said Democrats are "in striking distance" to flip Michigan's house in 2020, though factors remain that could harm their chances. The 2020 elections will use Michigan's current legislative districts, which have been heavily gerrymandered to protect Republicans; Ivacko called this a "significant barrier" to Democrats taking control of the house.
Still, the Democrats' showing in the 2018 election bodes well for November. "Michigan Democrats did very well in 2018 overall, and did better than normal in some of the more conservative western parts of the state, including Kent County (around the state's second-largest city, Grand Rapids), Ottawa County, and Grand Traverse County in the northwestern Lower Peninsula," Ivacko told Rewire.News. "These are some of the fastest growing parts of the state in terms of population growth, and so there are questions about whether important demographic trends might help Democrats going forward in what have traditionally been Republican strongholds."
Recent voter reforms such as same-day voter registration and no-reason absentee voting, combined with Trump's presence on the ballot, could push turnout even higher, Ivacko said, but it's unclear who would benefit. According to an analysis from the Brookings Institution, results from 2019 state elections suggest increased turnout could benefit Democrats.
Christopher Borick, professor of political science and director of the Muhlenberg College Institute of Public Opinion, said that since Pennsylvania Democrats don't have to win an extraordinary number of seats and a number of Republicans are retiring, there is a path to them taking the state senate and the house. But he said it would have to be a wave election, where a political party makes major gains, for Democrats to take one or both houses, which he doesn't think is likely.
"I think it's more [likely to be] trench warfare—moving little by little—and all those little things matter in places like Pennsylvania, of course, where there is a big electoral jackpot in the electoral college and the legislature is in play to a degree," Borick said. "But for the legislature to flip, the national conditions surrounding the presidential election would have to change too and become more of a wave election."