What It's Like to Have Two Abortions in Three Months
There's no reason not to be comfortable having multiple abortions—and you're not reckless or stupid for becoming pregnant again.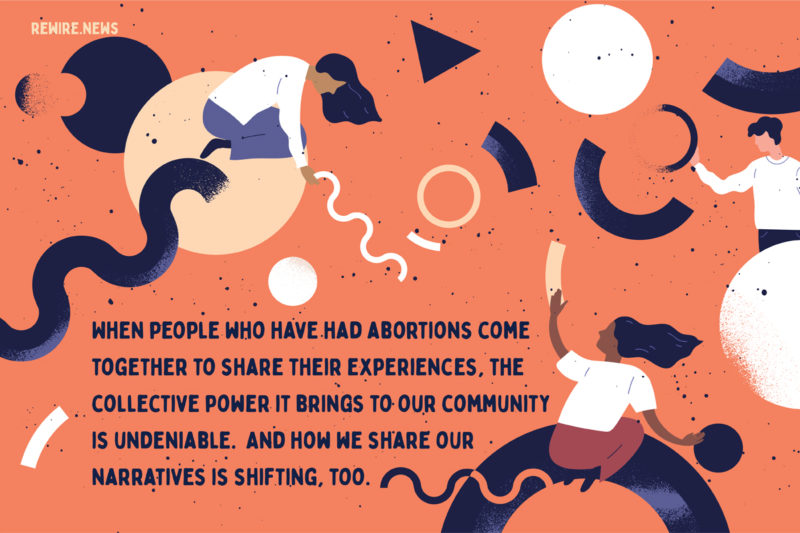 When people who have had abortions come together to share their experiences, the collective power it brings to our community is undeniable. And how we share our narratives is shifting, too. Shutterstock
When people who have had abortions come together to share their experiences, the collective power it brings to our community is undeniable. And how we share our narratives is shifting, too: the taboo nature of abortion is out, and the bold notion that abortion can be necessary self-care is in. As a storyteller with We Testify Texas, a leadership program that uplifts the stories of people who have had abortions, I'm proud to be a part of that—especially when I recognize its impact on the lives of those I love.
Last year, I supported one of my best friends when she needed to access an abortion twice in three months. Being there for her through both experiences was a powerful moment for me, because years earlier she supported me through my own abortion. Back then, she didn't think she'd ever be able to make the decision I did.
Chelsea, whose name has been changed to protect her privacy, is a working parent to three children under six years old. Twice last year, she found out she was pregnant. Most people who have abortions are already parents like Chelsea, and her first pregnancy was 12 weeks along when she found out about it.
She considered continuing the pregnancy. "As a parent already, it felt natural," Chelsea told Rewire.News. But she felt "95 percent" sure she was going to have an abortion. Having experienced postpartum depression (PPD) after the deliveries of her last two children, she felt she had no way to really prepare to reexperience the anxiety of the process.
"Most days I struggle to keep my head above water with the children I have. My anxiety worsens when my routine is affected, and being pregnant again would have brought a lot of big life changes for me from the very beginning. I would have had to find a new job to afford a bigger car, and bringing three children to OB visits isn't exactly easy," Chelsea said.
When she was diagnosed with PPD, it was hard to be the parent she wanted to be. "I had really limited patience, and I had no motivation to do the things I needed to do to care for my kids," she said.
She had a surgical abortion, a procedure she found comfortable. When she found out she was pregnant again three months later, Chelsea said she had no doubt this time that an abortion was the right decision for her. The most frustrating part of the experience, she said, was learning she was pregnant a second time after having unprotected sex once after her first abortion.
This time, she preferred to complete the process in her own home, through a medication abortion.
"My first experience taught me that it was difficult to be away from my children for hours while I waited at the clinic, so I decided to go with a medical abortion, which didn't take as long," Chelsea said. "I feel lucky that my husband was supportive, and that I live in a place where abortion was accessible for me both times I needed it. I know for many that isn't the case."
In the first half of 2019, nine states passed legislation that would ban abortion after a certain point in pregnancy—some criminalizing abortion as early as six weeks, before many people even know they are pregnant. Even in states with fewer abortion restrictions, stigma surrounding the procedure is inevitable. In a society where even one abortion is associated with being irresponsible, for some, multiple abortions are incomprehensible.
According to a study performed by Guttmacher Institute researchers, nearly half the people seeking an abortion across the United States have had one previously. And yet some people still feel uncomfortable with the idea, even though having an abortion is 14 times safer than childbirth. Dr. Jennifer Wider told Glamour in 2016 that multiple abortions (even within a short time frame) generally don't affect fertility, nor is there any medical reason to encourage fewer abortions. Still, much judgment and stigma remain.
Despite being exposed to anti-choice rhetoric and imagery on social media, Chelsea refuses to harbor any negativity over her decisions. She credits her attitude in part to the power of storytelling and activism by others who've had abortions.
"I understand a lot more about the procedure, and the positive messaging has really shifted my own ability to have abortions," Chelsea said. She even shared her story anonymously through Shout Your Abortion's online storytelling platform and abortion clinic postcard project.
But two abortions in three months taught Chelsea a lot about herself. The events weren't exactly what she'd pictured for her life, but she never felt shame over her decisions. Through them, she found herself among a community of people whose pregnancy outcomes fall along a spectrum, like hers. Chelsea's sister, she said, had experienced three: parenting, an abortion, and placing a child for adoption.
"A lot of people would want me to feel guilty or disappointed in myself over this, but having an abortion is normal—and I feel strongly about that now more than ever," she said. Chelsea credits her abortion with giving her back the control she needed in order to be the best parent possible to her children.
"If you're comfortable having one abortion, then there's no reason not to be comfortable with others. You're not reckless or stupid for becoming pregnant again," she said.
And as a parent, Chelsea says she knows what's right for her life. "These experiences taught me what my limits are," she said. "I think the way we need to navigate situations like this becomes clear when you can't fathom having another child."
She's still surprised by how comfortable she was during both experiences. While she's not ready to use her name when telling her story, she says seeing abortion-positive messaging is a reminder that she's "right to believe that I have the freedom to make this decision not just once, but however many times I need to."