These Lawmakers Saw What Criminalizing Abortion Looks Like. They Were Horrified.
Criminalizing abortion in El Salvador means people go to prison for miscarrying. Abortion rights advocates fear this could become a reality in the United States.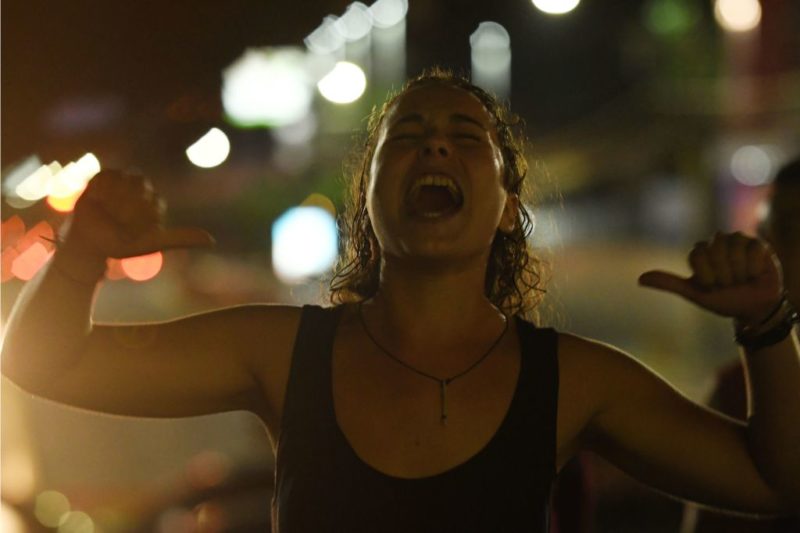 People participate in a demonstration in July 2017 in San Salvador, El Salvador in support of Evelyn Hernandez, who was sentenced to 30 years in prison for a suspected abortion. A court in El Salvador sentenced a teenage rape victim whose baby died at birth to 30 years' jail for murder, an abortion rights group said. Hernandez gave birth in the makeshift bathroom of her home in the central Cuscatlan region. She was 18 years old and eight months pregnant. She said her son was stillborn but a court convicted her of murdering him, abortion rights group ACDATEE said. MARVIN RECINOS/AFP via Getty Images
Five Democratic legislators from states hostile to abortion rights visited El Salvador recently to see the effect of the country's abortion ban on people's health and lives.
El Salvador officials banned abortion in all circumstances in 1998. Since then at least 150 people have been prosecuted for having or trying to have an abortion, said Paula Avila-Guillen, a lawyer at the New York-based Women's Equality Center who represents women accused of crimes under El Salvador's ban.
The Democratic legislators who visited El Salvador were Alabama Rep. Merika Coleman (Birmingham), Ohio Rep. Stephanie Howse (Cleveland), Florida Rep. Cindy Polo (Miami), Arizona Rep. Raquel Terán (Phoenix), and Georgia state Sen. Nikema Williams (Atlanta). Many are lawmakers in states where Republican-majority legislatures tried to ban abortion in 2019. Near-total abortion bans—outlawing the procedure before many know they are pregnant—passed this year in states across the South and Midwest. 
The legislators visited a women's prison to meet 13 women who have been incarcerated on various charges related to El Salvador's abortion ban. Avila-Guillen, who was on the trip with the legislators, said the country's abortion ban, like all restrictions on abortion that have criminal penalties, ends up criminalizing people who experience pregnancy complications. 
Some of the women the legislators visited in prison were sentenced to 30 years for having miscarriages that prosecutors allege were actually attempted abortions. Terán told Rewire.News she was affected by all the stories they heard at the prison, but the story of a woman named Sarita was especially horrifying and unjust. Sarita told them that she was 18 and still in high school during her pregnancy. One night, her brother died by suicide, and her mother took him to the hospital. While she was gone, Sarita gave birth. "When the mom comes back, the girl is unconscious," and "having had just taken the brother to the hospital because of suicide, then to have to take her other child to the hospital," Terán said.
When Sarita woke up in the hospital, she was in a room with other mothers who were getting to hold their children. "She was asking for her child, and nobody would give her any answers," Terán said. When she left the hospital, Sarita thought she was going home, but she was then detained. "She was so confused about what was happening to the point that she thought she was being accused [of] her brother's death," Terán said. It wasn't until she was processed in prison that she found out she was being detained for aggravated homicide. 
Hearing Sarita's story was emotional, scary, and reenergizing, Terán said, because if Roe v. Wade is overturned, Arizona will be in El Salvador's position. Arizona still hasn't repealed a pre-Roe statute that bans abortion, which would take effect should conservative justices on the U.S. Supreme Court overturn Roe. Pre-Roe abortion bans, some of which became law more than a century ago, exist across the United States. 
Kelly Baden, vice president of reproductive rights at the State Innovation Exchange, which helps advance and defend progressive policies in the United States and which helped organize the El Salvador trip, said one of the goals of the trip was to show lawmakers the consequences of abortion bans, even if at first they're not meant to criminalize pregnant people. Abortion rights opponents "usually start by saying they want to punish doctors, but they do want to punish women as well, and that starts to show up," she said. 
Baden gave the example of a failed bill in Texas that lawmakers filed this year that included the death penalty for people who get an abortion. While the five lawmakers were visiting El Salvador, Republican state legislators in Ohio introduced a bill that includes criminal penalties for people who get abortions. "We wanted the legislators to really understand that it's actually the logical consequence of an abortion ban," as El Salvador's law shows, Baden said.
"If you ban abortion, it actually means that every bad pregnancy outcome is suspect, and every woman becomes a suspect," she said.
Terán said she saw how the abortion ban in El Salvador has a disproportionate impact on certain women. "The people most affected will be the poor women," she said, "because … not only do they not have access to health care, they don't have access to education, they don't have access to birth control." 
In El Salvador, if a pregnant person turns up at a hospital having a pregnancy complication that results in the death of the fetus, Avila-Guillen said the onus is on the pregnant person to prove that the complication isn't the result of an attempted abortion. Many of the women who have been charged with crimes related to the country's abortion ban "arrived in the hospital in the middle of something that can be very traumatic for them," like a miscarriage or stillbirth, "and they need to articulate a perfect elaborate story because the burden of proof is on them to prove that they didn't do anything wrong," she said. 
The people who are most able to defend themselves against accusations are educated people with more money. Avila-Guillen said organizations that work on the ground in El Salvador have documented all of the cases of women who were accused of crimes related to the country's ban, and all of them have been poor, many were in abusive situations, and few finished high school.
"That's what happens when you criminalize a medical procedure—it has unintended and unexpected consequences," Avila-Guillen said.