Abortion Has Been Illegal in El Salvador for Two Decades. Here's What Activists Say U.S. Feminists Should Know.
"It's vulnerable women who are criminalized. It's exactly the same thing that will happen in the United States."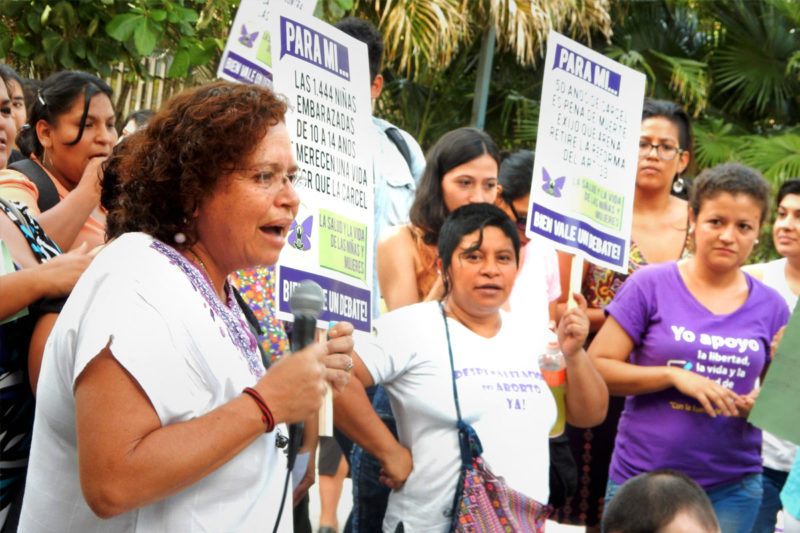 In El Salvador, where abortion has been banned in all circumstances since 1998, activists drew similarities between the two countries' situations—and told Rewire.News that those concerned about reproductive rights should look to unite with allies beyond their own borders. Courtesy of Kathy Bougher
Legislatures around the United States have passed increasingly tight restrictions on abortion in the past few years. As the overturning of Roe v. Wade becomes a more realistic possibility, some activists have looked to those in other countries with abortion bans for guidance.
In El Salvador, where abortion has been banned in all circumstances since 1998, activists drew similarities between the two countries' situations—and told Rewire.News that those concerned about reproductive rights should look to unite with allies beyond their own borders.
"What happens in the United States is not unimportant in our countries," said Morena Herrera, founder and president of the El Salvador-based Agrupación Ciudadana por la Despenalización del Aborto. "The 1973 Supreme Court decision [legalizing abortion in the United States] has been a reason for hope, a point of reference for women in the world."
Overturning Roe v. Wade, based on Herrera's experience, will likely lead to the return of clandestine, illegal measures to have abortions—sometimes risking people's safety in the process.
In both the United States and El Salvador, Herrera said, "The most vulnerable are the most affected by restrictive legislation. Obviously, this includes women who live in poverty, but also younger women, and those who have less information and less power to make decisions about their own reproductive processes."
"Let's be real," said Paula Avila-Guillen, director of Latin America Initiatives for the Women's Equality Center. "This is not about protecting a fetus or a possible life. This is about controlling women's bodies, but it's also very connected with white supremacy and controlling certain women's bodies."
"Women who are privileged will be able to find an abortion. That is nothing different than what we see in El Salvador. It's vulnerable women who are criminalized," she said. "It's exactly the same thing that will happen in the United States."
The Consequences in El Salvador
In El Salvador, anyone suspected of having an abortion can end up arrested—sometimes while they're still in the hospital. That includes people who have had obstetric emergencies or miscarriages, who often didn't know they were pregnant in the first place.
In addition to outlawing all abortion, the Salvadoran government has manipulated the law to convict some women who have obstetric emergencies of aggravated homicide, with a prison term of 30 to 50 years. To date, the Agrupación Ciudadana has worked to free 37 such women from prison. At least 17 remain incarcerated—and as long as the law is in effect, more can be charged and jailed.
Maria Teresa Rivera, for example, served more than four years of a 40-year prison sentence after having an unattended precipitous birth in the latrine of her home. She almost bled to death before arriving at the hospital, where she was charged with abortion and then aggravated homicide. Although she had sought medical attention for various infections during the previous months, neither she nor the medical personnel who treated her had realized she was pregnant. After the Agrupación supported her in a new trial and she was freed from prison in 2016, the government made clear it intended to retry her and imprison her again. She requested and was granted political asylum in Sweden; she is believed to be the only person in the world granted asylum for abortion-related reasons.
Sonia Tábora, meanwhile, spent 12 years in legal limbo after she had a stillbirth in the coffee fields behind her family's modest rural home in 2005. She was convicted of aggravated homicide and spent more than seven years in prison before she was found innocent in 2012 and again in 2017 after a higher court insisted on another trial; the last court determined that the government owed her reparations.
The fear of being prosecuted like these women has had ripple effects around the country—including, activists say, a number of suicides among adolescents.
The study "¿Sin opciones? muertes maternas por suicidio (Without options? Maternal deaths by suicide)" released by the United Nations Population Fund (UNFPA) in May, analyzed 14 cases of suicide among young pregnant women in El Salvador.
In covering the study for La Prensa Gráfica, Evelyn Machuca noted 18 additional cases that El Salvador's Institute of Forensic Medicine defined as "suicides where the precipitating factor was an unwanted pregnancy."
Hugo González, UNFPA representative in El Salvador, told La Prensa Gráfica that "the common denominator in all the cases were the expressions of violence, the absence of information, the lack of comprehensive sexual education, and gaps in the public health system."
"One of the keys to reducing these numbers and to preventing these situations is, without a doubt, comprehensive sexual education," according to González, who also raised the need for an "obligatory discussion that the country must have around the decriminalization of abortion."
"Pregnancy in girls and adolescents must be considered as one of the most impactful forms of violence on the personal aspirations and health of this population," the UNFPA report emphasized.
"These situations of suicide [in El Salvador] derive from situations adolescents face that have no exit, [which] derive from situations of violence," Herrera told Rewire.News.
Although there is little existing data for adolescents in the United States, Herrera said, "I'm almost certain that if the U.S. advances this restrictive legislation, they're going to have to incorporate the variable of suicide among pregnant adolescents."
Pregnant people, especially adolescents, in El Salvador also face the risk of maternal death. The country's maternal mortality rate is significantly higher than the United States' rate, which is itself rising.
"One of the risks of maternal mortality in adolescents—adolescence is a risk factor in general—is premature birth," said Hererra. "Girls and adolescents face an increased risk of premature birth."
She pointed out that the Ministry of Health has said "that if you want to reduce infant mortality and diseases in newborns, you have to reduce premature births. And to do that, we must reduce pregnancies in girls and adolescents."
Activists also fear what may happen when people who need abortions turn to self-managed practices, some of which are riskier than others.
"I see this going to where you do your own abortion," said Avila-Guillen. "I see how a spike in unsafe abortion will correlate with girls and adolescents trying to Google how to do your own abortion and probably dying. That might be more likely than an increase in suicides."
"When you have this combination of policies—restrictions on abortion, lack of sexual education, and lack of access to contraception—what you are creating is all the circumstances to actually have a spike on the number of abortions because women will be desperate and do whatever they need to do," she continued. "That is what ends up sending women either to prison or to hospital beds or to the cemetery."
"We still don't know what the reality would be in the U.S. for women and girls and trans people if Roe v. Wade is overturned," she said.
Medication abortions—which use misoprostol and mifepristone—fall under El Salvador's ban, but misoprostol is somewhat available through clandestine networks and in some pharmacies for on-label use, such as for ulcers. Some activists say that this has led to a decrease in deaths from "knitting-needle type" abortions. And indeed, there has been rising interest in the United States in self-managed abortion because of restrictions, safety concerns, or personal preference.
Still, Herrera warns that the ban on medication abortion means that someone can't seek help if they encounter fake pills or unsafe practices from suppliers.
"Yes, [medication] abortion has changed the effect of the consequences of abortion in general," she said. "However, the clandestine conditions of illegality and lack of safety continue with [medication] abortions because a woman does not have any safety if she confronts bad practices. She cannot make a legal claim."
Dr. Guillermo Ortiz Avendaño, now with the reproductive rights organization IPAS, was formerly the head of the perinatology department at the National Women's Hospital of El Salvador. There, he oversaw the case of Beatriz, a woman with lupus and other health concerns who was pregnant with a fetus with anencephaly in 2013. Her quest for a life-saving abortion became a public turning point in the fight to decriminalize abortion in El Salvador.
Abortion bans are "a huge step backward not only in terms of human rights, but also in terms of women's health," Ortiz Avendaño told Rewire.News in a phone interview.
Because health providers "have an ethical commitment to women, they will do their best to prevent situations where women are [at] risk," Ortiz Avendaño said. "However, this can put providers in the position of facing legal uncertainty. They must walk the line between what is permitted and what isn't while a woman's health deteriorates."
"It will become more complicated for women who are searching for services while their pregnancies advance. This puts the women and their doctors at greater risk," he said. "I've already seen this with women in the U.S. who are undocumented and have difficulty finding a provider while their pregnancies are advancing."
Another significant issue in El Salvador that could arise in the United States, too, is the lack of data on abortions, medical or surgical, legal or clandestine. There is no way to know how many abortions actually occur, the age of those involved, and other important public health data points.
"There is a lack of any kind of registry on abortion in the country," Herrera pointed out. There are no data points about the results of medication abortion's availability "because there are no statistics in the country. With the change of the law [in 1998 which ended all legal abortions] that changed what was recorded. We just don't know."
What U.S. Activists Can Learn
As in the United States, there are groups on the ground in El Salvador who have fought for the right to access abortion.
The Agrupacion, which has been publicly working to decriminalize abortion since 2009, has been able to "show some of the consequences this legislation has created—the criminalization of women, the judicial brutalization in those processes of criminalization, the confusion between spontaneous abortion or loss of pregnancy spontaneously in advanced stages," Herrera said.
The Agrupacion works to decriminalize abortion under specific circumstances, to gain the release of women who have been unjustly imprisoned on abortion-related charges, and to change public perceptions around abortion. Its strategies include legal defense, legislative action, media and communications work, direct action, and national, regional, and international alliances.
"I believe that in the political spectrum we still need to work more, to move the will and to make a decision [to change the anti-abortion law]. I think that it will be important to highlight the political consequences for politicians of not widening their perspectives. In that I think that is a pending task, because today they have very few or no consequences," she said.
"In our part of the world, the little we have we've had to fight tooth and nail for every little bit," said Monserrat Arévalo, director of the Salvadoran feminist organization Mujeres Transformando. "Maybe this is a message for our compañeras in the United States that in fighting for rights, the time is coming to turn the gaze to the south … and see the great cumulation of political struggle that we have in these regions in order to work together as sisters. See these struggles that are so visionary and creative, because I'm convinced that this is not isolated. This is a global struggle that is linked to capitalism too."
"We must find ways to work together right now and share experiences," she continued. "How can we share strategies and adapt them to our own realities?"