How a New California Bill Aims to Protect Trans People Behind Bars
The Transgender Respect and Dignity Act, or SB 132, will allow all transgender people to be housed in accordance with their own perception of health and safety.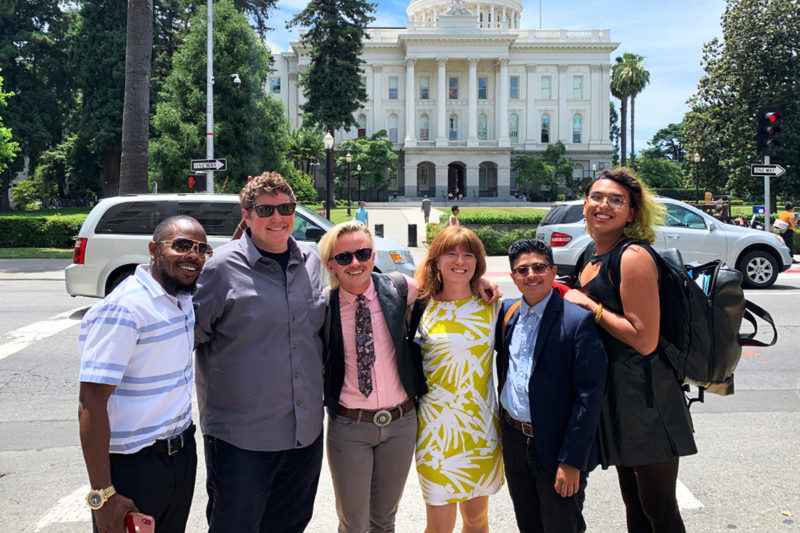 Among the advocates of SB 132 were KC Matthews, Jennifer Orthwein (Medina Orthwein LLP), Freddie Francis, KellyLou Densmore (TGI Justice Project), Omar Garcia (Transgender Law Center), and Michaé Pulido (The TransLatin@ Coalition). Courtesy of Victoria Law
Bamby Salcedo has spent 14 years in and out of California's jails and prisons. As a trans woman who has not undergone gender-affirming surgery, current California Department of Corrections and Rehabilitation (CDCR) policy meant that Salcedo was placed in men's prisons, making her vulnerable to sexual harassment and abuse. At one prison, she was sexually assaulted by another prisoner. While she was never sexually assaulted by prison staff, she notes that some officers would offer her goods in exchange for sex. She was also continually degraded and demeaned by the correctional officers, who called her derogatory names and strip-searched her in front of incarcerated men.
Salcedo's last incarceration was in 2001, but such treatment of trans people in jails and prisons has continued. "These are the same experiences that trans women go through today," Salcedo, now founder and president of the TransLatin@ Coalition, an advocacy organization that works with trans Latinx people across the country.
That's been true for 33-year-old Candice Crowder as well. Crowder has been incarcerated in California's male prisons since January 2015. During that time, she has been physically beaten, sexually assaulted, and sliced. She has also been placed in housing units close to the incarcerated men who have assaulted and abused her. Crowder is now in Kern Valley State Prison, a men's prison with group showers. In January 2019, she filed an amended complaint in her lawsuit demanding that CDCR update its policies to prevent sexual abuse—particularly of LGBTQ people in custody—provide medical treatment for past attacks, and remove all incorrect pronouns in her medical and prison files. Two months later, she was placed in segregation for covering her cell window so that she could bathe in her cell sink. She now spends 23 hours a day alone.
Salcedo's and Crowder's experiences are not unusual. A study of California's prisons from 2007 found that the rate of sexual assault for trans women was 13 times higher than for men in the same prisons. Nationwide, incarcerated trans people experience a higher rate of sexual abuse than their cisgender counterparts: A recent multiyear study by the Bureau of Justice Statistics found that nearly 40 percent of trans people experienced sexual abuse while incarcerated compared to 4 percent of all incarcerated people. There's no evidence that this reality has changed in the ensuing years.
Now, Salcedo is part of a coalition pushing for legislative protection for Crowder and other trans women incarcerated in California. The Transgender Respect and Dignity Act, or SB 132, will allow all transgender people to be housed in accordance with their own perception of health and safety. For some, this may result in being placed in a prison that matches their gender identity; for others, it may not. But the bill would give each individual trans person the opportunity to voice where they feel safest.
"Everyone deserves to be treated with dignity and respect, regardless of whether you're in prison or not," said Victor Ruiz-Cornejo, communications director for California Sen. Scott Wiener (D-San Francisco), the bill's sponsor. He argued that housing trans women in men's prisons puts them at greater risk for sexual violence. In men's prisons, trans women are also frequently placed in isolation, ostensibly for their own protection, where they have less access to programs and services that might reduce their risk of recidivism. "The goal of justice should be to rehabilitate people," he told Rewire.News.
SB 132 also requires CDCR officials to ask, at intake, about each person's gender identity, preferred first name, gender pronoun or honorific. It also requires that the person be issued an identification card with their specified gender marker and that prison staff consistently use the correct gender pronoun and honorific. The bill does not include a process for compliance or enforcement; it would up to CDCR to draft guidelines for training and enforcement, Ruiz-Cornejo said.
For Serenity Romero, the requirements set forth under SB 132 might have made her four years in prison less traumatic. Romero is the re-entry specialist for the TGI Justice Project, which works with trans, gender nonconforming, and intersex people inside California's prisons. In 2014, she was arrested, convicted of first-degree burglary and, as a trans woman, sent to a men's prison.
In most prisons, staff do not use honorifics when addressing incarcerated people. But during Romero's four years in prison, officers continually called her "sir" or "Mr. Romero" or used her government-issued name. (In contrast, she said they addressed cisgender men simply by their nicknames or last names.) That led the men around her to taunt her by screaming her government-issued name from the tiers.
"Pronouns and honorifics are one of the ways we portray our identity," Romero said. The constant misgendering by prison staff and incarcerated men caused her constant distress and a sense of alienation. She saw other trans women in the prison react to these kinds of taunts with self-harm. If the officers had been required to use the correct pronouns and honorifics, she reflected, the incarcerated men would have likely followed suit. "The guys would have respected me a lot more—and used the proper pronouns," she said.
Romero was released from prison last year, but the trauma of these experiences has stayed with her.
Both Romero and Salcedo said they were frequently strip-searched by male officers, often in full view of men on their unit. SB 132 would change that, requiring that all body searches be performed by an officer of the gender identity of the incarcerated trans person's preference. In other words, a trans woman would be able to request that a body search be conducted by a woman rather than a man officer.
California is not the first state to consider such legislation. In May 2018, Connecticut became the first state to pass a law requiring the state Department of Correction to place trans people according to their gender identity. The law also stipulates that trans people be searched by corrections officers who match their gender identity, be addressed with proper pronouns, and be guaranteed access to clothing and toiletries that match their gender identity. However, this law only applies if the incarcerated person has either been diagnosed with gender dysphoria or had their gender marker legally changed. In many states, legally changing a person's gender marker requires a court filing fee, some of which are prohibitive for low-income trans people. The filing fee in Connecticut is $30, but the process requires an affidavit from a health-care provider. The Connecticut Department of Correction did not respond to request for comment about how the law, which went into effect on July 1 last year, has been implemented.
The Massachusetts law, which was passed as part of a larger criminal justice reform package, states that a person must be addressed in a manner consistent with their gender identity, given access to gender-appropriate clothing and property, searched by an officer of the same gender identity, and, if requested, placed in a jail or prison consistent with their gender identity. The law went into effect on December 31, but even months before that, at least one trans woman was able to benefit. In September, a 54-year-old trans woman named in court documents as "Jane Doe" was moved from a men's prison to the state's only female prison. The Massachusetts Department of Correction has not responded to request for comment about the law's implementation.
And while New York state has no such policy, New York City does. In April 2018, New York City Mayor Bill de Blasio announced that the city's jails would begin housing trans people in facilities according to their gender identity. The city moved its 26-bed Trans Housing Unit from a men's jail to the women's jail at Rikers Island. But one year later, nearly half of the trans women in custody were housed in men's jails. (According to the city's Department of Correction, 15 of these 24 trans women did not want to be placed in the Trans Housing Unit, though no reason was specified.
California's bill comes too late to help Salcedo, but she recognizes that it will help currently incarcerated trans women.
"If this bill had been law [when I was behind bars], I'd have the ability to let the correctional officers know where I would have felt more safe," Salcedo said. She could have requested that prison officials place her in a women's prison, which would have protected her from threats of violence from incarcerated men, but also prevented her being sexually assaulted. The law also could have prevented much of the harassment and mockery from various correctional officers.
California's state senate passed the Transgender Respect and Dignity Act in a 29-7 vote on May 23. On June 25, the assembly's committee on public safety and appropriations passed its version of the bill; it is now in the assembly's appropriations committee.
In early June, the TransLatin@ Coalition met with a dozen trans women incarcerated in the (men's) Salinas Valley State Prison. They discussed the bill and, Salcedo recalled, the women strongly believed that the bill would ensure greater safety.
"It gives people dignity," Salcedo said. "It forces people to recognize who we are as people and gives a sense of value to the person."