The Details of Johana Medina Leon's Detainment and Death Matter (Updated)
Her treatment in custody and her death illustrate a larger pattern of systemic abuse by Immigration and Customs Enforcement (ICE) against immigrants in its custody and, more specifically, against LGBTQ asylum seekers.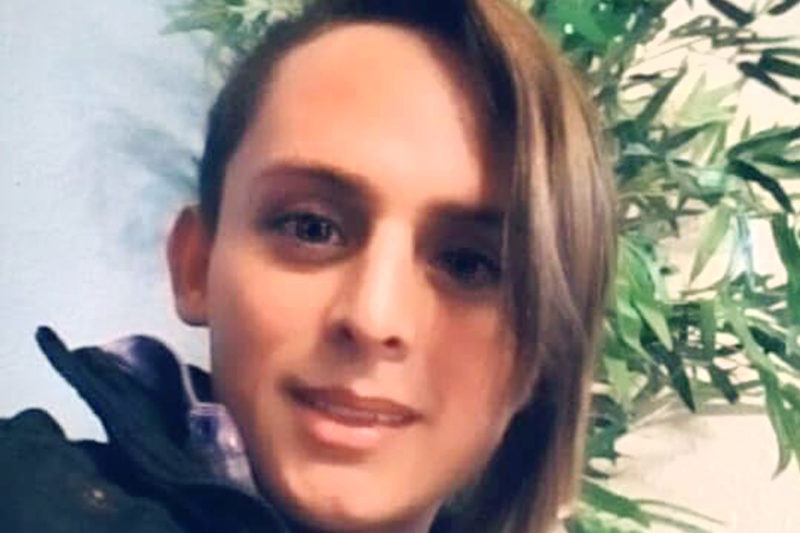 Johana Medina Leon was a certified nurse in El Salvador, but was unable to practice there because she was living openly as a transgender woman, according to advocates. Diversidad Sin Fronteras
UPDATE, June 12, 2:57 p.m.: Johana Medina Leon's family filed a claim against ICE and DHS Tuesday, alleging the agencies violated Medina Leon's civil rights. The family says the agencies "negligently managed her care because of her nationality, her seeking asylum, and her transgender status; thereby causing her death," according to a statement.
A 25-year-old trans woman from El Salvador entered federal immigration custody April 11. Seven weeks later, she died in a Texas hospital.
Johana Medina Leon, known as "Joa" to her family and friends, migrated to the United States seeking safety. Instead, according to advocates, she was criminalized and denied medical care.
Medina Leon's treatment in custody and her death illustrate a larger pattern of systemic abuse by Immigration and Customs Enforcement (ICE) against immigrants in its custody and, more specifically, against LGBTQ asylum seekers.
ICE's statement on Medina Leon's death used her dead name; further stigmatized people with HIV and perpetuated harmful narratives about them; and parroted a Nazi talking point about a group of people bringing "unknown diseases" into the country.
And yet ICE's statement has been uncritically reported by news outlets nationwide.
There are sometimes legitimate reasons why affected people are not centered in reporting, even when the reporting is about the death of their loved one. But there is no real excuse for uncritically reporting misinformation by a federal agency. So, to set the record straight, here is what ICE failed to say about Medina Leon and her treatment in federal immigration custody.
1. She Was an Asylum Seeker 
In a statement to Rewire.News, ICE said Medina Leon "was first encountered by immigration officials on April 11 while illegally entering the United States from Mexico at the Paso Del Norte Port of Entry." Seeking asylum is not illegal, and a person can only request asylum from within the United States. This gives asylum seekers two options: Entering the country without authorization, which can subject them to prosecution under the Trump administration's "zero-tolerance" policy, or entering though a port of entry. Medina Leon entered through a port of entry, which is what the the federal government requires migrants to do if they do not want to be prosecuted.
Under the Trump administration, migrants who enter through a port of entry now face a host of barriers to seeking asylum, including metering, which limits the number of people who can seek asylum each day, and the "Remain in Mexico" policy, which forces asylum seekers to stay in Mexico as they await their court proceedings. According to an advocate who spoke to BuzzFeed News, Medina Leon waited nearly three months in Ciudad Juárez, Mexico, for the opportunity to request asylum at an official border crossing.
Three days after federal immigration authorities took Medina Leon into custody on April 11, she was put into ICE custody. In a statement to Rewire.News, an ICE spokesperson said that Medina Leon "received a positive credible fear finding" on May 18. This means that Medina Leon was interviewed by an asylum officer who determined she had a "credible fear" of returning to El Salvador.
In its statement, ICE never refers to Medina Leon as an asylum seeker.
2. ICE Held Her in New Mexico for a Reason 
Once in ICE custody, the agency funneled Medina Leon to the Otero County Processing Center in New Mexico. There is a reason for this.
Historically, trans women in ICE custody have been put in isolation or detained alongside men, but now ICE has what it calls an "LGBTQ pod," which is space in specific detention centers allotted for queer and trans migrants. Previously, queer and trans migrants were sent to the LGBTQ pod at California's Santa Ana County Jail, but a 2016 hunger strike by activists with Familia: Trans Queer Liberation Movement led to the jail ending its contract with ICE.
Otero, a 1,000-bed facility run by a private prison company notorious for human rights violations, is one of the current sites of ICE's LGBTQ pod. As recently as March, detained LGBTQ migrants went public with allegations of abuse and medical negligence at the facility. The American Civil Liberties Union (ACLU) of New Mexico and other advocacy organizations sent a letter outlining these abuses to the Department of Homeland Security. The letter recounted the experiences of 12 gay and transgender migrants who allege that they routinely suffer sexual harassment and abuse from other detainees, that guards verbally assault them, and that ICE officials violate their own regulations by denying hormone therapy to transgender detainees.
3. Like Many Trans Women, She Did Not Receive Adequate Care in Custody
LGBTQ migrants in federal custody have long documented cases of abuse, mistreatment, and medical negligence. A 2016 report from Human Rights Watch, based on interviews with trans women detained between 2011 and 2015, found immigration officials denied migrants medical services, causing interruptions and restrictions on health care they needed. More recently, Amnesty International released a report in October outlining the abuse experienced by asylum seekers in custody. Trans women reported being raped in custody, and HIV-positive trans women were denied medical care.
From April 11 to around May 23, Medina Leon's health deteriorated in custody, according to an advocate who spoke to BuzzFeed News. Medina Leon told Otero staff multiple times that "she needed an (IV) solution, that she could do it herself but she just needed the medication," BuzzFeed News reported.
Medina Leon was a certified nurse in El Salvador, but was unable to practice there because she was living openly as a transgender woman, according to advocates.
On May 28, Medina Leon complained of chest pains and requested an HIV test. She was transported to Del Sol Medical Center in El Paso, Texas, and ICE released her from custody. Four days later, on June 1, the first day of Pride Month, Medina Leon died.
In ICE's statement to Rewire.News, the agency used the asylum seeker's death as a cautionary tale about migrants attempting to enter the United States with "untreated, unscreened medical condition[s]," noting "the crisis" at the southern border. This dehumanizing and dishonest statement has been quoted uncritically in nearly every published piece about Medina Leon. Not only does it appear to place responsibility on the asylum seeker for her own death, but it conveniently erases decades of testimony and documented cases from affected people, lawsuits related to medical negligence, and dozens of in-custody deaths.
LGBTQ migrants are fleeing the Northern Triangle in large numbers to seek asylum in the United States, but too often they experience violence in the U.S. immigration system. Medina Leon's death occurred approximately one year after the in-custody death of Roxsana Hernández, who was detained by federal immigration authorities on May 13, 2018, after arriving at the U.S.-Mexico border as part of a "migrant caravan" of approximately 1,500 people. She was one of several dozen trans women in the caravan fleeing persecution in their countries of origin. While in federal immigration custody, Hernández reportedly spent five days in a holding facility, which many migrants call "hieleras," or "ice boxes," due to their frigid temperatures. By this time, according to advocates, Hernández had already shown "signs of medical distress," including HIV-related complications and pneumonia, Flor Bermudez, the legal director of the Transgender Law Center, told the Guardian last May after Hernández's death. An independent autopsy revealed that Hernandez may have been abused in ICE custody before her death.
4. She Is Not Considered an "In-Custody Death" 
When a person dies in ICE custody, the agency issues a press release about their passing and, eventually, a private company conducts a death report. This will not be happening in Medina Leon's case. Because the agency released her from custody the day she entered the hospital, Medina Leon is not considered an in-custody death.
There is a precedent for this, and some immigration advocates say it's a "loophole being exploited." Back in 2016, Clara Long, a researcher with Human Rights Watch (HRW), spoke to Rewire.News about an HRW report on the deaths of 18 people in ICE custody from mid-2012 to mid-2015. Many of the deaths were preventable and the result of "substandard medical care and violations of applicable detention standards," according to HRW. At the time, Long said she had seen multiple death reports of people who were released from ICE custody while in critical condition. These numbers are hard to track because, again, ICE doesn't claim these deaths or keep records on the frequency of deaths that occur soon after a person is released from custody. 
In November 2015, ICE released Teka Gulema, who was detained at Etowah County Detention Center in Alabama, while he was in the hospital. The Ethiopian asylum seeker entered the hospital after experiencing paralysis from a bacterial infection he acquired in detention. He died in January 2016, and ICE does not consider it an in-custody death.
More recently, the Los Angeles Times reported in April on the death of 27-year-old José Ibarra Bucio, who was detained at the notorious Adelanto detention center when he collapsed from a brain hemorrhage. After two weeks in the hospital, ICE released him from custody on February 22. On March 20, his family took him off mechanical support, and he died the next day. ICE also does not consider his death an in-custody death.
Familia: Trans Queer Liberation Movement has demanded in a statement that ICE immediately release all trans and queer immigrants. The advocacy organization said the federal immigration agency "poses a clear and present danger to all immigrants in their detention centers."
Rewire.News reached out to advocates with Diversidad Sin Fronteras, the LGBTQ human rights organization for immigrants that first reported Medina Leon's death. We wanted to connect with Johana's friends, family, and partner to give readers a better understanding of who she was, beyond the headlines about her death. Advocates reported that Medina Leon's community is in mourning, and not ready to speak to the media.
Mijente and other human rights organizations are currently raising funds for Medina Leon's funeral.