Immigrant Activists Fight Their Deportations With Free Speech Lawsuits
Immigrant leaders nationwide are turning to the federal courts to argue ICE violated the First Amendment when it targeted them for deportation based on their activism.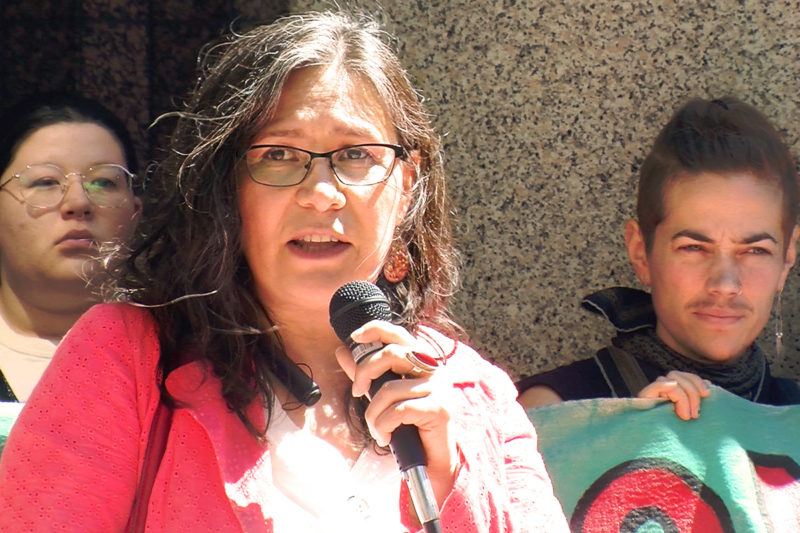 As her daughter Josefina (left) looks on, activist Maru Mora-Villalpando speaks before her deportation hearing on April 30 at the Seattle Immigration Court. Courtesy of Renée Feltz
Just blocks from downtown Seattle's famous Pike Place Market, demonstrators lined a busy sidewalk outside the skyscraper where Maru Mora-Villalpando prepared to attend her deportation hearing last month. One person held a sign that read, "Defend the Defenders," while another tested a sound system for the activist to address the supporters chanting, "Hands off Maru!"
"This is not about me," Mora-Villalpando told them. "This is about an entire movement of dissidents that have been targeted again and again just because we don't agree with injustices and we do something."
She then headed upstairs to a cramped immigration court on the 25th floor, and waited to be called. This was one of many appearances since Immigration and Customs Enforcement (ICE) moved to deport her, and she was unsure what to expect. After a brief exchange with her lawyer, the judge scheduled yet another hearing for November and she was free to go.
"We're going to continue fighting!" she reported to those still gathered downstairs.
Mora-Villalpando came to the United States from Mexico over 25 years ago and raised her U.S.-born daughter while pursuing a green card. She was relatively safe from deportation until the Trump administration issued executive orders that broadened the pool of undocumented immigrants considered a priority for removal to include nearly everyone, and sped up their hearings.
During a decade of activism she has organized "resistance workshops" and helped lead campaigns to close GEO Group's Northwest Detention Center in nearby Tacoma. When she received her first "notice to appear" on December 20, 2017, ICE records noted her "extensive involvement in anti-ICE protests and Latino advocacy programs" and that she had "become a public figure."
Now, in a feat of legal jiujitsu, Mora-Villalpando and other immigrant leaders nationwide are turning to the federal court system to argue ICE violated the First Amendment when it targeted them for deportation based on their activism. Federal judges rarely reconsider immigration decisions made under executive branch authority, but they seem more receptive since ICE began arresting dozens of high-profile activists in 2017.
To establish a claim of retaliation for free speech, a person must demonstrate three things: that their speech was constitutionally protected, that ICE's retaliation had a harmful impact on their protected speech, and that this was the intent of ICE's action. This is how Ravi Ragbir, head of the immigrant-led New Sanctuary Coalition of New York, challenged his arrest by ICE in January 2018.
Ragbir's complaint describes how ICE's deputy director in New York told the activist's supporters days before the arrest that it "bothered him" how "everybody knows this case" because of protests and media coverage. Ragbir scored a major victory on April 25, when the U.S. Second Circuit Court ruled federal courts had jurisdiction to consider his free speech claim and should suspend his removal until they had done so.
"Ragbir's speech implicates the highest protection of the First Amendment," the court's majority wrote. "He adduced plausible—indeed, strong—evidence that officials responsible for the decision to deport him did so based on their disfavor of Ragbir's speech (and its prominence)."
"What better forum to review the constitutionality of ICE's actions than a federal court?" observed Alina Das, one of Ragbir's immigration attorneys and co-counsel on his free speech case, in a phone interview with Rewire.News. "This decision ensures the courthouse door will be open to these claims, and ICE has to stand up in court and explain its actions."
Perhaps most importantly, Das said the ruling "sets out a legal framework for others who may find themselves in this situation."
A free speech lawsuit filed in 2018 on behalf of Mora-Villalpando's group, La Resistencia (previously known as NWDC Resistance), also includes the Coalition of Anti-Racist Whites and Detention Watch Network as plaintiffs. ICE has sought to dismiss the Washington complaint by saying it is too similar to the Ragbir case. But Seattle-based attorney Ambika Kumar Doran argues the case clearly involves different plaintiffs and additional legal claims.
"While the Ragbir case focused in part on the right to speak affirmatively, we also examine the right to receive information and ideas," said Kumar Doran, who is co-counsel on the Washington case and specializes in application of free speech principles.
In addition to the First Amendment claim, the complaint argues ICE's methods violate the Fifth Amendment's Due Process Clause by restricting the plaintiffs' liberty to associate with and receive information from undocumented immigrants, and that the Administrative Procedures Act invalidates an agency's decision if it is "arbitrary and capricious."
The outcomes sought in the two cases are similar, Kumar Doran acknowledged. "We would like a declaration that what the government is doing is a constitutional violation … and [to] stop it from going forward with similar actions," she said.
In Vermont, another key case filed in 2018 by immigrant and civil liberties advocates argues ICE unlawfully surveilled, harassed, arrested, and detained leading members of the farmworker organizing group Migrant Justice.
"Migrant Justice has loudly and publicly criticized" ICE, the complaint reads. "ICE has retaliated, and continues to retaliate, by disrupting Plaintiff's advocacy and infringing on their First Amendment rights."
The lawsuit includes the Vermont Department of Motor Vehicles as a defendant, arguing that employees "motivated by racial and xenophobic animus" provided ICE with "private driver information" and home addresses of "non-white, predominantly Latino, individuals" who were not enforcement priorities and whose main offense appears to be their activism.
Migrant Justice and four named members of the group allege ICE violated their right to privacy, intentionally inflicted emotional distress, forced the group to divert resources to their defense, and made people afraid to associate with them.
"I am sure that they sought me out because of the work I am doing to defend human rights, and not for anything else," said plaintiff Zully Palacios in a 2017 interview on Democracy Now!, "because what they wanted to do was get into the community and intimidate us that way."
As these three cases and others wind through the federal courts, the Second Circuit has recognized its potential to halt the alleged unconstitutional detention and deportation of immigrant activists while also upholding the First Amendment for everyone.
"To allow this retaliatory conduct to proceed would broadly chill protected speech, among not only activists subject to final orders of deportation," the Second Circuit wrote in Ragbir's case last month, "but also those citizens and other residents who would fear retaliation against others."
The court's decision acknowledged the broader effect ICE's actions have on free speech, Das explained. "Immigrants' family members, clergy, and people they work or go to school with will be afraid to speak out," the attorney said, "if ICE can take the people closest to them and essentially silence their critics through deportation."