Colorado Republican Doesn't Want Kids to Know About Consent
Conservatives are fighting a comprehensive sex ed bill, as one GOP lawmaker said her constituents "don't want to be told" what consent means in sexual relationships.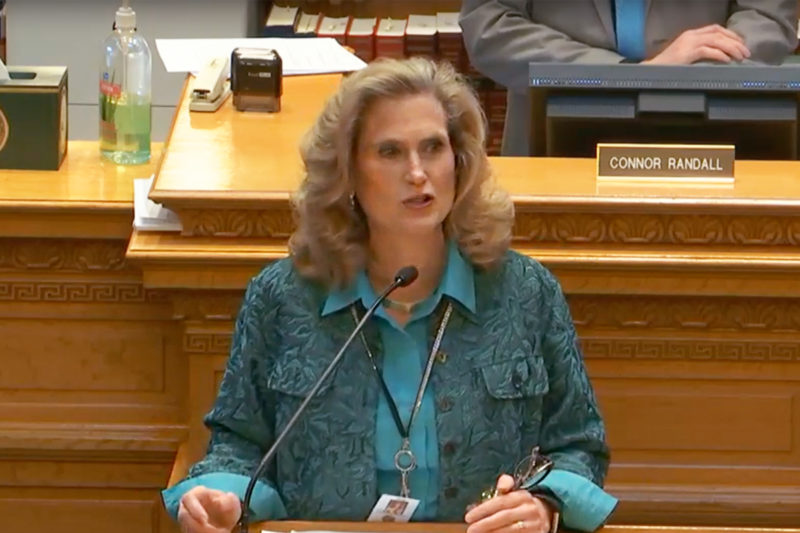 State Rep. Perry Buck took to the floor of Colorado's state house in February, denouncing the bill and the concept of consent. Colorado Channel / YouTube
Colorado's Democratic-held legislature is poised to pass a law requiring that sex education in public and charter schools include instruction on what consent means in sexual relationships, while barring schools from using abstinence-only curriculum.
Colorado would become the ninth state, along with Washington D.C., to require that sex ed cover consent, a subject that's importance was spotlighted last year at the Colorado capitol, where a Democrat was expelled and a Republican resigned after investigations into sexual harassment and assault allegations. The proposed law defines consent as "the affirmative, unambiguous, voluntary, continuous, knowing agreement between all participants in each physical act within the course of a sexual encounter or interpersonal relationship."
Republicans and conservative organizations have mounted a long shot political fight against the sex ed bill, taking issue with the inclusion of consent. State Rep. Perry Buck (R-Greeley) took to the floor of Colorado's state house in February, denouncing the bill and the concept of consent.
"You cannot do a one-size-fits-all," Buck said. "My district, the unincorporated, God bless them all, don't want to be told what they think is consent, what they think is their curriculum, everybody has different degrees."
Jack Teter, Colorado political director for Planned Parenthood of the Rocky Mountains, called Buck's suggestion "wrong and really disturbing."
"All students, including students in [Buck's] Weld County, deserve to learn that 'no' means 'no,' and silence doesn't mean consent, and coercion doesn't mean consent—and that only 'yes' means 'yes,'" Teter told Rewire.News. "And they deserve to know that the adults in their lives, especially elected leaders who are tasked with crafting laws, will stand with them on that. I mean, no, the definition of consent doesn't change across county lines. Like, duh, of course it doesn't."
Buck did not return a call from Rewire.News asking how she would amend the consent portion of the Democrats' bill.
Colorado's sex ed legislation, which clarifies a similar law already on the books, is important but not path breaking, said Teter, pointing out that states like California are more prescriptive and many states have elements of Colorado's proposed law, including its consent provision.
The legislation requires public and charter schools that offer sex ed use a comprehensive approach, while banning abstinence-only curriculum and requiring the inclusion of LGBTQ  experiences. It only applies to schools that elect to teach sex ed, and parents can pull their kids out of the class if they choose.
That didn't stop hundreds of people from gathering at the state capitol for a ten-hour state house hearing January 30 and a February 28 state senate hearing, fired up by conservative groups including the Denver Archdiocese, Focus on the Family, and two out-of-state anti-LGBTQ hate groups: Alliance Defending Freedom and Family Research Council.
Arguing that the legislation shows how the "surrounding culture has become increasingly challenging for Christians," Denver Archbishop Samuel Aquila wrote that the sex ed bill "will require public and charter schools to either use a comprehensive sex ed curriculum that contradicts human nature and is inconsistent with Christian values, or to provide no instruction on sexuality at all."
"We know that God made us male and female, in his image and likeness, but the comprehensive curriculum route which most schools will likely adopt teaches innocent children this is not true," Aquila wrote in an open letter. "Specifically, public schools would have to promote abortion as an equal option to life, and parents wouldn't be notified before lessons were presented on gender-identity and sexual orientation. Each of us must do our part to fight this legislation."
Aquila used the sex ed bill as an opportunity to promote Catholic schools, which, as private institutions, would be exempt from the law—and which the archbishop called a "haven amidst our morally confused culture."
The Guttmacher Institute analyzed sex ed laws nationally and found 25 states require sex ed include information on how to avoid coerced sex. Twenty-two states require sex ed provide students with information on making healthy decisions around sexuality.
Nearly twice as many states require sex ed programs include information on abstinence as require education about contraception, and 18 state laws say students must be instructed on the importance of having sex only when married, according to Guttmacher. Studies show comprehensive sex ed reduces the risk of pregnancy and sexually transmitted disease, while teaching kids only about abstinence has the opposite effect.
The bill's proponents point out that the legislation does not exclude religious or moral perspectives.
"We're committed to advocating for the morality of inclusion and love in public policy," the Rev. Amanda Henderson, director of the Interfaith Alliance of Colorado, said in a statement. "This sex education bill is an opportunity to demonstrate to all our youth, including LGBTQ students, that they are worthy of being treated with dignity and humanity."
Republicans in the Colorado House uniformly opposed the legislation in a February 19 vote, but GOP state Sen. Don Coram (Montrose) is a co-sponsor in the senate.
"They have a trifecta," Coram told the Montrose Daily Press, referring to Democrats, who now control Colorado state government. "The question is, do you want to take a bill they introduce and try to work with them on it to make it where it's not as intrusive as it could be, or do you just want to say, 'This is bad,' and let it pass as is?"
Top Colorado Republicans oppose comprehensive sex education.
"What the bill does, it introduces a new sex education program, prevents any sort of religious or abstinence training from occurring," said House Minority Leader Patrick Neville (R-Castle Rock) during a January 29 interview on conservative KNUS radio, adding that the legislation is "basically a handout to Planned Parenthood to come in and teach your kids about sex education, and when I say sex education, I'm not talking like what I learned, when I was a kid …. 'Here is how a baby is made.'"
The legislation would not prevent the inclusion of religious or abstinence education in comprehensive sex ed, and Planned Parenthood is not mentioned in the bill.