'PEN15' Reminds Us Teen Girls Want to Masturbate Too
Hulu's new series is a much-needed perspective about girls' sexuality that has nothing to do with pregnancy and everything to do with pleasure, particularly masturbation.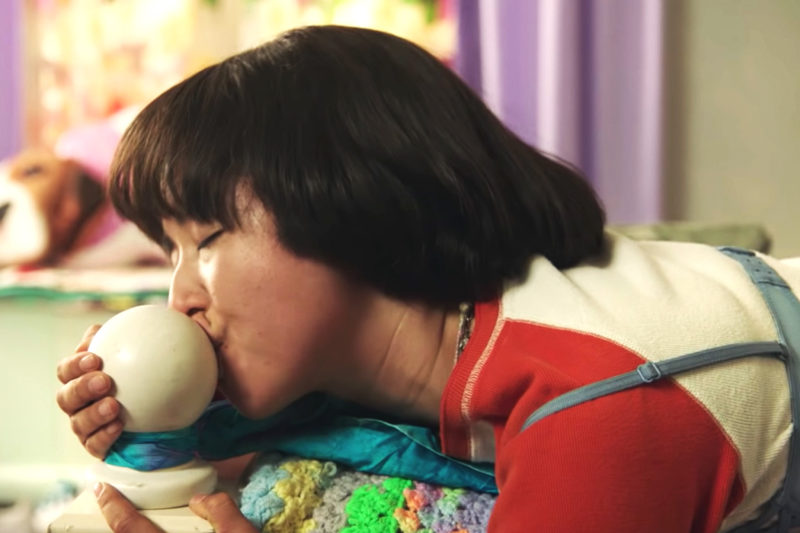 PEN15 made me realize just how gendered messaging around adolescent self-pleasure is and how that affected my sexual experience both as a teen and as an adult. Hulu/YouTube
For more sex education resources during the COVID-19 outbreak, check out our Better Sex Ed guide.  
My education around masturbation came my freshman year of college—years after I became sexually active. Friends were comparing vibrators, and I realized I was the only one at the table who didn't own one. So I went to the closest adult store and purchased some sad-ass missile-like vibrator. I ran home, ready to dive in, only to realize I hadn't bought batteries. Mission Masturbation was delayed by me frantically emptying every remote in the house in search for triple-A batteries.
I can't help but wonder how different that first experience could have been had I been properly educated about masturbation as a teen. Or if I had seen something like Hulu's new series, PEN15. It's the binge-worthy cure to my adolescent anxieties, and a much-needed perspective about girls' sexuality that has nothing to do with pregnancy and everything to do with pleasure, particularly masturbation.
The series focuses on 30-something comedians Maya Erskine and Anna Konkle as they awkwardly relive the seventh grade during the Y2K era. I found a sense of comfort in PEN15, which triggered nostalgia that My So-Called Life and Degrassi never gave me. Finally, a show that celebrated adolescent experience with less drama and more quirkiness, reminding me of my own tween years stuffing my bra and jumping around to B*Witched with my BFF.
The show captures the anxieties of the late 1990s and adolescence: late-night landline conversations being interrupted by the sounds of dialup and first-day-of-school anxiety. I got pulled in, lost in my couch and a can of Pringles. As I watched, I was reminded of how AOL chat rooms and thongs served as both a rite of passage and potentially ruined my life—according to the adults around me. Chatrooms would expose me to predators, and thongs were the devil's underwear and a sign of promiscuity, they'd say.
But as I watched more of PEN15, the faint, distant humiliation of my teenage experimentation and shaming gave way to feelings of liberation, when the show unpacked the taboo of female masturbation.
Movies like American Pie have shown us the overused image of teens with penises aggressively relieving themselves into athletic socks more times than we can count. All the while pop culture censors the clitoris and erases the masturbation of teens with a vagina. Slackers served as my first introduction to vaginal self-pleasure on screen, and it wasn't until recently that I saw this representation again on shows like Netflix originals Sex Education and Big Mouth.
But Erskine puts an end to this erasure in the episode "Ojichan," in which she pleases her 13-year-old self every chance she gets. This episode made me slightly uncomfortable—but not because she was masturbating. Instead, it caused me to think about the fear and stigma I felt in regards to self-pleasure at that age. Fear of doing it wrong or getting caught and then being shamed and prayed over for my "dirty" actions stopped me from trying it.
And it wasn't just fear of adults or getting caught. PEN15 made me realize just how gendered messaging around adolescent self-pleasure is, and how that affected my sexual experience both as a teen and as an adult.
Masturbation is supposed to be what people with penises do—because they have to "relieve" pressure or because males have out-of-control sex drives, we're told. When toddlers touch their penis, it's dismissed and referred to as "discovering themselves." Then as they get older, it may be laughed at or scorned, but at least for boys, it's still considered a coming-of-age ritual: Stroking the penis is a way of stroking the ego and boosting self-esteem.
People with vaginas need a similar form of self-care. But, somehow, we're not thought of as masturbators, particularly as young girls or women. We're only the image that arouses male masturbators. We are programmed to think of our vaginas as a foul, unpleasant territory that has three functions: menstruation, to please others (but never ourselves), and childbirth. Who really wants to touch "down there"?
This left so many of us associating masturbation with shame rather than pleasure. In a scene where Maya confides in her best friend about her newfound hobby, she compares herself to a boy in class and explains that she's gross and perverted because it's "different" for girls.
Anna comforts and supports Maya by letting her know she's not alone in the journey of self-pleasure. They exchange techniques; Anna suggests more circular motions opposed to Maya's aggressive up-and-down approach. This is the girl power I needed in the seventh grade because I sure as hell thought masturbating was limited to inserting my fingers, and was terrified to explore further than that.
I didn't know about my options. I sure as hell didn't get it in sex ed—most students don't. Although masturbation is self-administered, everyone needs to learn the variety of ways to do it. Unfortunately, that's not a part of the curriculum.
By the end of the "Ojichan" episode, I was not only thinking about my own teen fears, but also thinking of my daughter, who's in the seventh grade, just like Anna and Maya's younger versions of themselves. I moved from thinking about the show as reliving a better, more sexually informed version of my childhood to thinking about it as a parenting manual that can help me make sure my kid isn't as misinformed as I was.
In our home, there's a lot of transparency around sexual issues and conversations around how to respect one another's privacy, but I've realized I haven't given her much education around the execution of masturbation. My approach has always been very Masturbation 101, and now I think I need to expand the conversation to include techniques and the content she is exploring to shield her from the same damaging misinformation I experienced.
Thankfully, with shows like PEN15, it's likely that my daughter and her peers will be empowered to have a more fulfilling and versatile sexuality for years to come.