The Republican Who Could Be Virginia Governor Compared Aborted Fetuses to Dead Soldiers
Virginia House of Delegates Speaker Kirk Cox, third in line to become Virginia's governor, is backed by an anti-choice group that believes life begins at fertilization.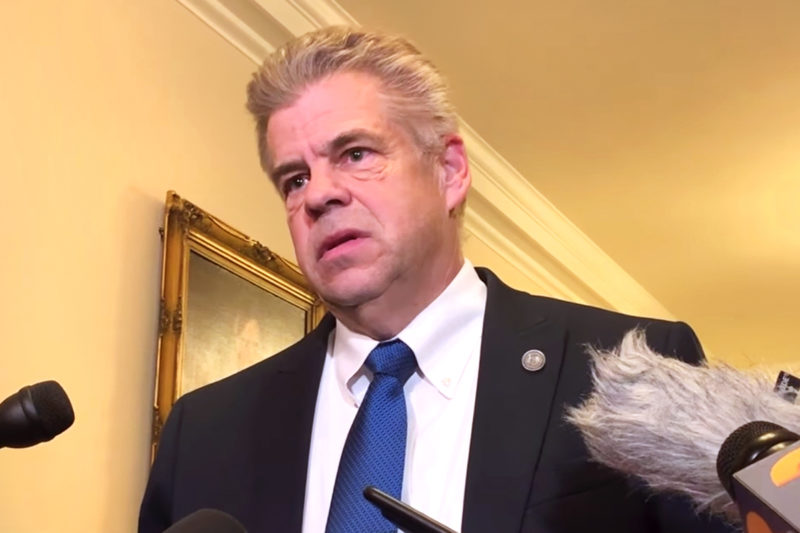 If Northam, Fairfax, and Herring step down in disgrace, Cox is next in line for the governorship. The Virginian-Pilot / YouTube
The turmoil surrounding Virginia's Democratic leadership has opened the possibility—however remote—of a Republican taking the governor's mansion. And House of Delegates Speaker Kirk Cox isn't just a reliable vote against abortion rights—he's also a favorite of an extreme anti-choice organization.
Cox is third in line to Virginia's governorship, meaning he would assume the office if the governor resigned and the lieutenant governor and the attorney general could not take over as governor. This wouldn't matter in almost any circumstance but the one emerging at the state Capitol, where Virginia Gov. Ralph Northam and Attorney General Mark Herring, both Democrats, admitted to wearing blackface in the early 1980s, and Lt. Gov. Justin Fairfax has been accused of sexual assault.
Cox recently gave an impassioned speech on the state house floor comparing the number of abortions since it was made legal in the United States to the number of "men and women that have been lost to war in this country." Cox gave his anti-choice diatribe in response to Democratic legislators in New York passing the Reproductive Health Act (RHA), while Democrats in Virginia pushed to loosen the GOP's many abortion restrictions, including on later abortion care. 
A GOP lawmaker who has backed anti-choice measures in the Virginia Legislature since he took office in 1990, he was named the Family Foundation's Legislator of the Year in 1997 and 2000.
The national Family Foundation defines life as beginning at fertilization, a foundation upon which "personhood laws" rest. So-called personhood laws would outlaw abortion and many forms of contraception. The foundation has backed a range of anti-choice policies, including so-called fetal homicide laws.
Meanwhile, the Family Foundation of Virginia has pushed the anti-choice myth that abortion is a dangerous procedure that requires heavy regulation—a lie that has led to onerous targeted regulation of abortion providers (TRAP) laws that have shut down abortion clinics across the United States.
Victoria Cobb, president of the Family Foundation of Virginia, recently lobbied Virginia GOP lawmakers to block the Equal Rights Amendment (ERA) from coming to a full house vote, the Washington Post reported. Cobb, like many anti-choice activists, charges that ratification of the ERA would make it impossible to stop people from accessing abortion.
The Democratic disarray comes as pro-choice lawmakers were primed to gain legislative majorities in the 2019 state elections. Democrats in 2017 flipped 15 house seats in Virginia, coming within one seat of grabbing a majority. Republicans maintained control of the chamber thanks to a coin flip after a tied election.
Northam hasn't signaled he will step down from the governorship, as Fairfax continues to deny Vanessa Tyson's detailed allegations against him. Fairfax reportedly used an obscenity to refer to her in a closed-door meeting with Virginia lawmakers.
Tyson wrote in a statement released Wednesday that she had met Fairfax at the 2004 Democratic National Convention in Boston, where Fairfax invited Tyson to join him to get documents from his hotel room. It was there that Fairfax assaulted her, Tyson alleges. "What began as consensual kissing quickly turned into a sexual assault," she wrote.
CORRECTION: This post has been changed to correct Victoria Cobb's first name.